Chihayafuru is a Japanese Anime Manga series written by Yuki Suetsugo. The story is about a Japanese schoolgirl who gets inspired to take up Hyakunin Isshu Karuta competitively through her classmates.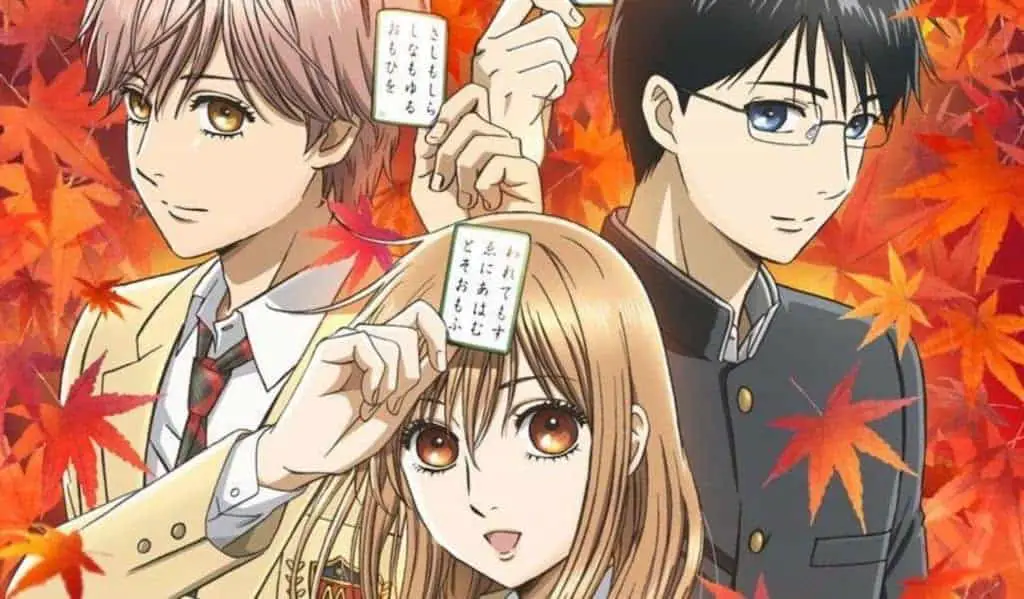 Here is a list of all the filler episodes in Chihayafuru.
S1-Ep 18: The plum trees of my home will always keep their old scent 
Chihaya commits a lot of mistakes even though she tries to play a balanced-style. She is unable to stick to it and recognizes that Sakura Kanai, the opponent, uses the strategy that Komano described. 
S1-Ep 21: This snow that covers all soaks my sleeves for your sake, too
Nishida makes a valid point about Taichi. He says that Taichi's strength and weakness lie in considering Karuta as a mental contest. 
S1-Ep 25: Moonlight, clear and bright
Suo talks about how others might not appreciate Kyoko Yamashiro's love of the Japanese language. While Suo wins and retains the title,  Taichi starts training for practice wings.
S2-Ep 6: The Tatsuta River becomes the finest brocade
Chihaya soon catches up with Amakasu. The Mizusawa players get matches which are the luck of the draw. However, Hokuto guarantees two wins from three by managing to split their cards.
S2-Ep 7: Old friends, strangers, come and walk across the gates of Meeting Hill
Chitose gives up acting, and despite recruiting less than five members, Chihaya allows them to use the room above the club storage. 
S2-Ep 14: People would always ask if I was pinning for someone
 A late-arriving Fukai West team member tells Arata about Mizusawa's progress. Shinobu challenges Arata, but he does not accept the challenge pointing out that it was a day for teams. 
S2-Ep 23: Cherry trees blossom on Far-Away mountains 
Arata defeats Emuro in the Class A semi-final while Shinobu defeats Megumu. The Class A final is between Shinobu and Arata.
S3-Ep 5: Mount Amanokagu
Inokuma tries to prevent Chihaya from having fun. But after seeing her son on the sidelines and mirroring her strikes, she gives away that thought.
S3- Ep 14: The emotions experienced 
Harada-sensei and Kitano-sensei think about Harada's younger days and how he became a Meijin runner-up when he was twenty-six years old.
S3-Ep 16: Takes me away in haste.
Taichi berates Suo for ridiculing Chihaya as they play against each other. But despite not committing a fault, he loses. Chihaya goes to meet Harada-sensei to tell him about Suo's weakness.
S3-Ep 18: The storm will soon carry me 
Unable to focus in the second round of the Queen's match, Shinobu loses to Inukoma. Inokuma reveals her morning sickness because she is pregnant with her third child. 
S3-Ep 19: Bring a life of everlasting life 
Inokuma commits a double fault during the Queen's match and gives a third consecutive win to Shinobu. Suo becomes the Meijin after getting motivated by Yukiko.
S3-Ep 21: Restore my faith 
Chihaya and the gang go to play at the New Year's Karuta Tournament while Taichi goes and plays at the Takamatsu Memorial Cup. 
S3-Ep 23: Like a boatsman adrift 
Thirty-six players attend the Taichi Cup, which is an unofficial tournament. They play in the Genpei style, and all hundred cards are in play.
S3-Ep 24: When winds send waves crashing 
Chihaya starts discussing her future with the new homeroom teacher. Taichi's mother finds out the shocking news about the Karuta Club exit.
Other Anime Fillers:
Adventure Time Filler List
Clannad Filler List
Ergo Proxy Filler List
Eureka Seven Filler List
Eyeshield 21 Filler List
Fairy Tail Filler List
Gravity Falls Filler List