Beef jerky is one of the most popular snacks in America, and if you're here, it means it's your favorite snack. If you haven't tasted wagyu jerky yet, but are curious whether the most expensive beef in the world makes for excellent dried snacks, you're in the right place. Here, we'll take a look at the best wagyu jerky products on the market.
The best wagyu jerky is produced by two companies – Lone Mountain and Swagyu by chef Steve Brown. These are the top choices because of their excellent rating, price to quality ratio, and the reputation of the companies. Other great choices are Snake River Farms and Perky Jerky. You can choose whichever one suits your taste the most.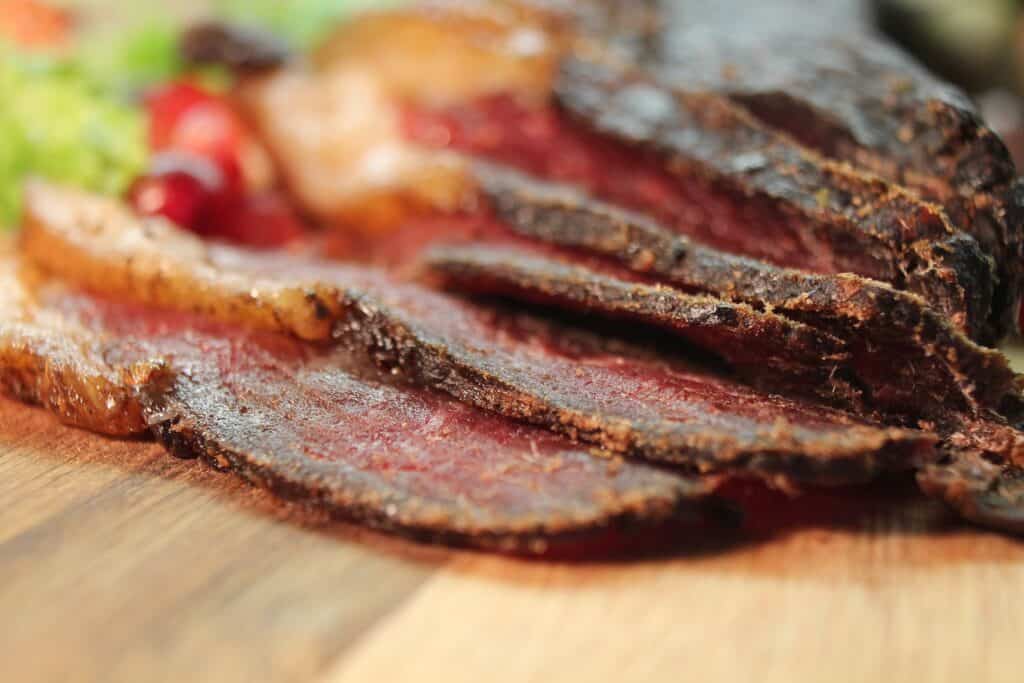 If you want to know more about these companies and generally why wagyu is used for jerky, keep reading. The review may encourage you to get some jerky for yourself afterward.
Is Wagyu Beef Good for Jerky?
Wagyu is the most expensive meat in the world. It comes from Japanese cows of the same name, bred and fed in specific ways. Besides how they're raised, these cows are genetically predisposed to metabolize fat into their meat, making their flesh look like a marbled surface.
Anyone might wonder why use wagyu to make jerky when it's just a process of drying out meat and making it chewier. Jerky may seem like a risky idea for treating wagyu, but it's not.
This kind of beef is great for drying and curing because it makes for a delicious and nutritious snack. Despite being dry, it's got juiciness and the signature flavor nonetheless.
This way, you'll also preserve the texture and flavor of wagyu without having to freeze it and wait for the right moment to thaw.
Still, if you don't intend to eat your jerky right away, don't open the bag and store it in the fridge. In case it needs to sit more long-term, that's the time to resort to freezing it.
How Bad Is Wagyu Beef for You?
Meat from Japanese cows may seem like it could be bad for anyone with high cholesterol or high blood pressure, but it's not so bad. Of course, everything's good in moderation, but there may not be a choice with wagyu. Moderation is the only scenario, considering its price.
Still, this type of beef is not bad for people's health, despite the fat being ingrained in the meat. Here's the rundown on the nutritional value of wagyu, measured according to the amount of one regular 4oz tenderloin steak.
| | | |
| --- | --- | --- |
| Nutrition | Amount | % of recommended daily intake |
| CaloriesCalories from fat | 218126 | 10% |
| Total FatSaturated fatMonounsaturated fatTrans fat | 14g6.3g6g0.5g | 22%32% |
| Cholesterol | 67mg | 22% |
| Sodium | 73mg | 3% |
| Carbohydrates | 0g | |
| Protein | 23g | 38% |
| Iron | 2.6mg | 14% |
| Calcium | 3mg | 0.3% |
Why Is Wagyu Beef So Expensive?
Japanese-bred beef is pricey, mostly because of how it's bred. There isn't just one sort of wagyu in Japan; in fact, there are six. They're all bred throughout the country, some even in Australia and the US. The highest grade beef, however, is mainly from Japan.
Each farm breeding wagyu cows has different methods, but they're all fairly similar. The breeding cattle and pregnant cows are the only ones that can graze fresh grass from pastures. The other is fed with a fresh mix of three grains – rice, wheat, and rye.
In the Western cattle industry, most cows are fed with corn and concentrate because it's the cheapest and feeds many animals at once. Getting meat from a Japanese cow takes at least three times as much as getting meat from a regularly bred one.
If You Want a Delicious Mouthful of Wagyu Jerky, Get the Lone Mountain Package
The Lone Mountain meat company's motto is "Eat life to the fullest." With this idea, they've brought pure Japanese beef and created a business out of it, promising nothing but delicious jerky and fresh meat alike.
Lone Mountain handles only wagyu, which is why they're the top choice for jerky. If anyone knows how to handle supreme cuts of tenderloin or ribeye, it's them. They sell 3-ounce worth of dried wagyu in visually attractive packages and offer a few benefits when you order off their website.
You can get two bags in a pack or opt for buying four and getting two for free. They also offer a crate of beef jerky, which, of course, provides a chance to save some money in the long run and have a decent supply of dried beef.
You can order from Lone Mountain here.
You Can't Go Wrong With Swagyu, Beef Jerky Made by Chef Steve Brown
The chef Steve Brown is famous for opening a fine-dining supper club called CosechaSD in San Diego. He's one of the most celebrated butchers who've also opened their restaurant, and now, he has an offshoot of CosechaSD named Wagyu Supper Club.
As you can guess, the Wagyu Supper Club only handles this kind of beef. Since then, Steve Brown started packing jerky made of this beef, which he aptly named Swagyu. You can order online, off of the Swagyu website, and have two options to choose from – you can make a one-time purchase or subscribe to save money and get their premium jerky continuously.
The Swagyu jerky is sold in a 1-ounce bag, which is less than what they pack at Lone Mountain. Still, this version may turn out to be affordable, too. What's known here is that the Swagyu beef jerky is delicious, juicy, and has the signature umami flavor that's hard to find in ingredients.
The chef Steve Brown recommends pairing wagyu jerky with a glass of bourbon and a cigar. You can order from the Swagyu website here.
Snake River Farms Make Excellent Dried Meat From American Wagyu
Snake River Farms is a renowned American wagyu cow breeding company. Their business started during the 1980s, and they managed to establish themselves as excellent cattle ranchers and high-quality meat connoisseurs.
They sell multiple products and kinds of meat from their cows. If you buy the Snake River Farms beef jerky, you'll be eating the highest grade American wagyu in the country. This jerky is a treat for anyone enjoying a slice of locally-grown global meat. You also must check out Snake River Farms steaks.
The best part about them is that they sell 10-ounce packages for incredibly affordable prices. The only disadvantage is that the meat isn't originally Japanese, which someone might expect from wagyu, but Snake River Farms try their best to raise their cattle in authentic, healthy ways.
Order the American wagyu jerky from Snake River Farms here.
---
Get Two Free pounds of American Wagyu Ground Beef on orders over $99, code AEGFGB3822, ends 3/7/23.
---
Honorable Mention: Perky Jerky's Wagyu Beef Has Multiple Flavors to Choose From
The Perky Jerky brand of dried beef is slightly different from the previously listed brands because they season their cured and dried meats with various spices. For example, you can taste wagyu jerky with three different flavor combinations. 
For some people, the flavors may be too much, but for others, they're excellent. If you're not a fan of the classics and prefer to have some variety, the Perky Jerky wagyu will be a perfect choice. 
This jerky is available on Amazon. You can buy multiple packs of flavors in one or get just one kind shipped over. The three flavors are: 
Sea salt and pepper – this is a classic seasoning combination, but it can bring a lot of flavor and excitement to jerky. You can't go wrong with a salt and pepper combo, so this kind of jerky may be perfect for lovers of simplicity,
Truffles and thyme – truffles are the best when they're picked and used in-season, but when they're added as a flavor to meat, they're good every day of the year. Still, both these flavors are intense and pack a punch. If you like something like this, truffles and thyme jerky is your thing,
Chimichurri – this green sauce from Mexico is an inescapable ingredient in many meals. In short, it's made from parsley, lime, fresh cilantro, garlic, vinegar, oil, and red pepper flakes. Chimichurri is ideally paired with steak, which is why seasoning wagyu jerky with it seems like a great idea. If you like a fresh yet smoky meat flavor, you won't be able to stop with the chimichurri wagyu.
Amazon sends only packages of multiple, 2-ounce beef jerky bags. You won't be able to find individual packaging for each flavor, but for a great price, you'll get a lot more bang for your buck. Order Perky Jerky from Amazon here.
It May Be an Expensive Snack, but Wagyu Jerky Is Worth Every Cent
If you trust the reviews and recommendations, the best way to enjoy wagyu jerky is once in a while, and with a nice glass of bourbon. If you don't drink alcohol, combine your jerky with a warm bowl of ramen or some cooked rice.
Jerky from Japanese beef can be very expensive, meaning that you can't snack on it all the time. However, with all the brands presented above, you'll have enough to share with others, but I'll understand if you decide to keep it all for yourself. The delicious, nutritious dried meat is too good to skip.