Japanese gardens are the standard of Japanese landscaping art. More and more people enjoy the serenity and the aesthetics of such gardens and even venture into making their own at home. If you're one of those people, you'll learn more about the concept of Japanese garden art and where to shop for it, right here.
Japanese garden art consists of stone, bamboo, and wooden sculptures. They could be anything from a bamboo water feature to a large wooden bridge. The most important thing about your Japanese garden is not having too many decorations since clutter limits the energy flow. The best stores online are Nacome, Design Toscano, and Bamboo Accents.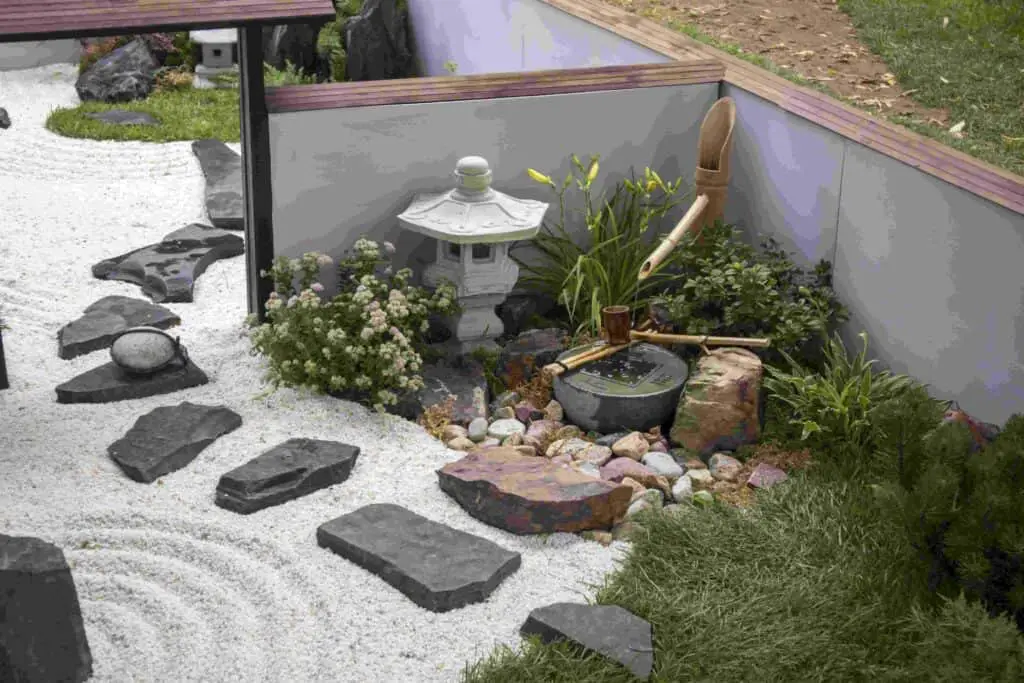 This is the Amazon page for Nacome. It placed first because of its diversity in decor and affordability. They have a separate section for Buddha statues, as they're one of the most common symbols in Japanese gardens.
What Is the Japanese Garden Style and What Theme Does It Follow?
You may first think, "what are those Japanese gardens called?" since they have a distinct style. They're not just regular gardens that contain flowers, grass, and trees. These gardens were designed by Japanese Zen monks and have stayed relevant since their inception into the culture of Japan in the 6th century.
There's always something small you can add to the style of your Japanese garden, but the essential decor follows the same principles in each, no matter how big or small. The essential decor in Japanese gardens is:
Sand – representing flow,
Rocks and stones – representing mountains,
Small plants, shrubbery, and trees – representing nature,
Water features – representing water,
Buddha statues – for appreciating the one who created Buddhism, and hence, Zen,
Lanterns – for practical purposes, mostly. If you wish to spend time in your garden at night, the lanterns will be there. They're typically made of stone,
What Is a Japanese Garden Design About?
The design and concept of Japanese gardens reflect simplicity and calmness, which are the essentials of Zen Buddhism. Zen is a school of Mahayana Buddhism, which was created in China and transferred to Japan in the 6th century.
The concept of Zen emphasizes meditation practice, self-restraint, insight into the nature of mind and things, and the practice and application of the insight in waking life. The insight is meant to help others, so Zen monks in popular culture have been perceived as wisemen with life-changing advice.
The Zen garden design is meant to ease the path of enlightenment for anyone practicing meditation and insight while also being a miniature representation of nature and its greatness. The flow of the sand on the ground is meant to provide focus on one thing at a time while having endless possibilities to create patterns.
The rocks, plants, and water represent the natural environment, as rocks represent mountains, plants represent nature, and water represents the ocean. You're meant to feel as if you're in a personal oasis.
Are Japanese Gardens Considered Art?
Traditional Japanese gardens are considered art. They're one of the pillars of Japanese art and culture since they've been brought to the island, mainly because the Japanese Zen monks developed and established their artistic status over time.
They're considered art because creating and landscaping a Zen garden isn't random or accidental. Every line, decoration, and detail is placed deliberately and meant to develop a sense of mystery, attraction, and give room for insight. While anyone can create a Zen garden, not everyone will know its principles.
The entrance to the garden is the first mystery of all – it's meant to lure you in and get the rest to unfold the more you walk through it. This is very difficult to achieve with art, but Japanese gardens are the artistic display you can stand and spend time in.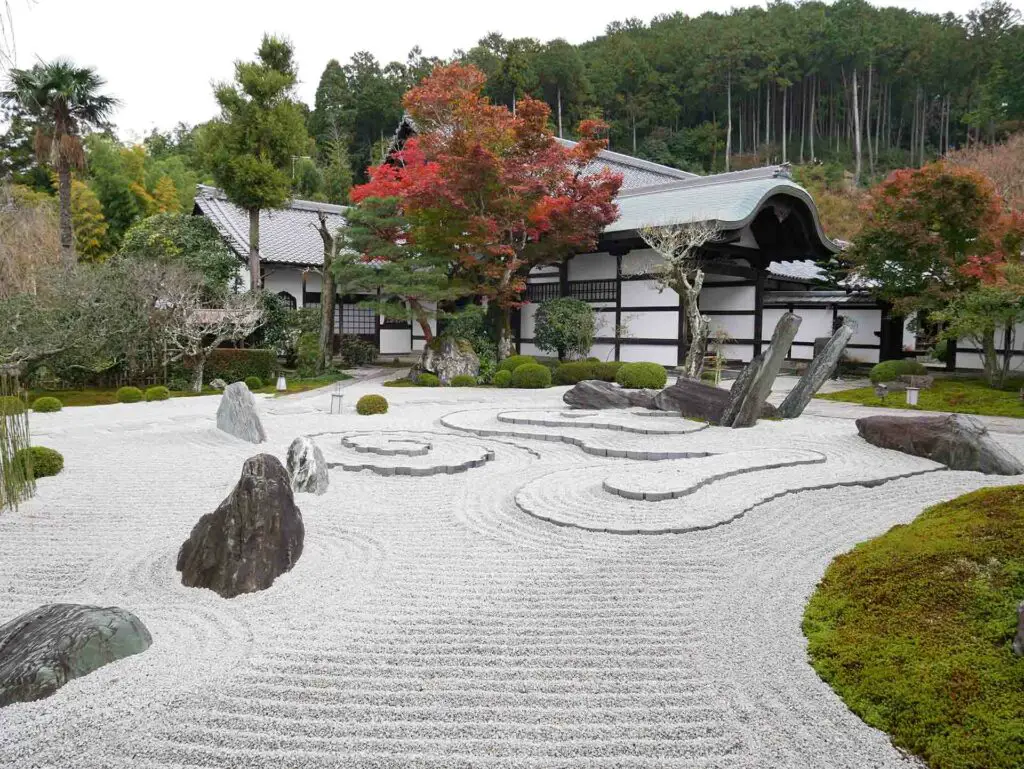 Looking to build your own Japanese garden? Here is a guide to the essential Japanese Garden tools.
Find Interesting Japanese Garden Art at the Nacome Product Store
The Nacome store on Amazon has everything you need for your garden, whether it's inspired by traditional Japanese or any other style. They have gnomes, rocks, water features, and statues for everyone that wishes to give their garden a makeover or some polished details.
This solar-powered pagoda lantern is the perfect fit for your traditional garden. It resembles a real Japanese lantern, except it's not entirely made of rock – that'd likely be way more expensive and hard to ship. This lantern would make a great addition to your Zen area.
Keep in mind that you can also buy similar items on ETSY if that is your preferred shopping spot. For example, this Ornament Chinese Pagoda is water-resistant and will keep the light up during the night creating a nice setting.
A Buddha Statue Is a Great Addition to a Zen Garden
Nacome has an entire collection of Buddha statues for your Zen garden, from classic, stone ones to metal and ceramic. They're affordable and the perfect size for any traditional garden.
Why is a Buddha statue a good addition to your garden? Buddha was the originator of Buddhism, which many people still practice. Zen is a school of one of the two major traditions of Buddhism, and so the figure of Buddha symbolizes the presence of infinite wisdom and serenity.
If you're convinced, check out this 11-inch tall Buddha statue holding a bowl. It comes with natural pinecones to place in the bowl, and it's a beautiful piece for some corner next to a water feature or a few rocks.
On the other hand, if this item doesn't go with the vibe you envisioned, you can find a similar, handmade, meditating Buddha Statue holding a cristal on ETSY. It will surely remind add a calming and peaceful note to your space.
Shop For More Interesting Garden Decor at the Design Toscano Store
The Design Toscano shop on Amazon has many fantastic Zen garden items. Despite its name sounding Italian, this home & garden shop sells well-made sculptures and decor for any type of garden or backyard.
They have a special offer under the Asian statuary category, designed explicitly for Asian gardens such as those featured here. There's also a particular fountain and water features page, so all you need is separated into logical categories.
For example, this pagoda lantern, similar to the one featured on the Nacome page, is solar-powered but bigger and may resemble natural stone more. This ceramic water fountain comes in a black and brown combination and has a natural look and serene feel.
Finally, this impressive statue of the Nara Temple pagoda may be a bit on the pricey side, but it'd make a marvelous addition to your traditional Japanese garden. It could help evoke the serenity and peacefulness of traditional Japanese spaces, but you can also use it as a centerpiece to impress anyone who comes over.
Honorable Mention: the Bamboo Accents Shop Sells Beautiful Water Features
This shop doesn't have an official page, but here's where you can find some fantastic bamboo water features of excellent quality. Besides that, they have bamboo furniture to add to your home, so they're a versatile shop overall.
This simple yet effective bamboo water fountain is made of 100% bamboo, and it's powered by a cord. That means you can turn it off while you're away so as not to risk it getting broken. The only downside is it doesn't come with the bowl. However, that gives you the liberty to choose one yourself and customize the fountain.
Here's another bamboo fountain that resembles a bamboo tap and has a wedge to stop the water from pouring whenever you want. It's also electric powered, so it's possible to turn it on and off at any time. Most of these bamboo fountains don't come with containers, but again, that provides more freedom for you to choose your decor.
If you can't find what you are looking for on Amazon, check out ETSY products. Here you can find Three Tier Bamboo Fountain that comes in different sizes so it can be put inside, on a porch, or backyard in a landscaped garden. There's also a similar-looking Fountain with Plant Holder that can enrich your garden.
Finally, if you want to give your fountains an even more authentic look and feel, placing this bamboo ladle near them will make for a great decorative addition to the area. You can also use it for real, like scoop water out of the fountain or even add more into it.
Water Features Don't Exist In Every Zen Garden from Japan
As mentioned before, water features aren't an essential part of a traditional Japanese garden. However, water and sand represent the natural flow of life, while the sound of water brings tranquility and peace to the environment. It makes for a great addition in gardens, whether they're in Zen style or otherwise.
Even if you give up choosing a classy and simple bamboo water feature, save this page in your bookmarks if you change your mind. You won't make a mistake with any presented options, and you'll have a complete garden to enjoy.
If You're the Type to Enjoy Japanese Zen Gardens, You'll Find Great Decor Online
You can look for various decor outside of your home or online. Try adding some wooden logs or driftwood here and there, or go to the beach and collect some rocks, big and small. You can also create a traditional-looking Japanese garden on a budget since their entire idea relies on natural elements.
Still, if you're not into scouring for leftover wood and rocks, there are plenty of online resources and shops that sell what you're looking for. The stores featured here are just a few of many, but they're currently the best options for any beginners looking to elevate their garden space.