There is something so beautiful about a Japanese-style garden. It offers a quiet place of solitude where you can be alone with your thoughts and nature.  In fact, they are meant to be interacted with and explored in a way that promotes oneness with nature and deep introspection.
I used to think that the only way to have my very own Japanese garden would be to buy property in Japan or hire an expensive designer and landscaper team.  But the more I dreamed of Japanese gardens, the more research I did, and that's when I realized that it's definitely something I could do myself in my own yard!  These are just some of the things that have been useful to me as I've worked on creating my own Japanese-style garden.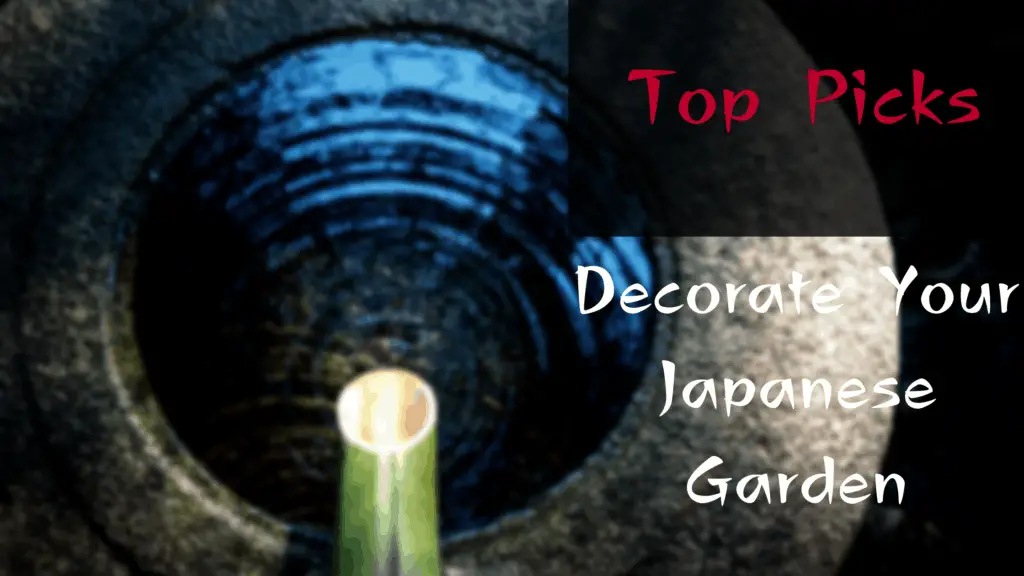 Create Your Own Japanese Garden
My Japanese garden project really began when I found the book Create Your Own Japanese Garden: A Practical Guide.  This book showed me how possible it would be to get started.  Author and Japanese garden expert Motomi Oguchi offers practical advice for creating a Japanese-style landscape in your own backyard and includes precise instructions for creating specific elements and designs typical of Japanese gardens.  Of course, creating and maintaining a fully-realized beautiful garden of any style will require time, money, and equipment, not to mention a lot of planning, so be prepared when you're starting out.  I love that the book includes photographs, sketches, and blueprints from actual gardens that Motomi Oguchi designed to illustrate different design options.  He breaks down the important elements of a Japanese garden in an easy to understand way and the book empowers you to make important decisions about how you want your Japanese-style garden to turn out.
Décor
As exciting and rewarding as it can be to build your garden elements by hand, it's also a lot of work.  Since you'll already be doing considerable amounts of physical labor creating your garden, consider buying some decorative elements like bridges and fountains pre-made to add an easy aesthetic boost to your Japanese garden.
Bridges
Because Japanese gardens are designed to be interacted with, elements like bridges are mainstays of gardens that include water elements and even those that only have "streams" of sand or rocks.  In Zen traditions, bridges can symbolically represent the connection between man and nature, and can thus be an important figure in your meditative journey through your garden.
I like the Outsunny Wooden Garden Bridge as a feature in any garden, whether Japanese-style or European-style.  The beautiful dark stain allows the bridge to blend in with the natural beauty and greenery around it.  It's a solid, safe option that can support up to 400 pounds while adding elegant beauty to your outdoor space.
If you prefer something that offers you a little more creative freedom, Shine Company's Cedar Garden Bridge is another great choice.  Its natural finish means you can easily paint or stain the bridge any shade to match your garden and other décor even better.  Or you can leave it natural – cedar is known to be naturally resistant to moisture damage.  This bridge will have to be more of a decorative element, though, because it is not built to support quite as much weight as Outsunny's option.
Pagodas
It's hard to think of a Japanese garden without pagodas.  Of course, my yard is much too small to build a large pagoda in, but smaller pagoda-shaped lanterns named tōrō are a mainstay of Japanese gardens.  Traditionally they were made of stone, metal, or wood, and they would illuminate paths in Buddhist temples and, later, Shinto shrines.  Eventually, they came to be used inside homes and as garden ornaments near paths, buildings, or water features.
For an elegant dash of traditional Japanese style, I prefer the Pagoda Stupa Toro Garden Lantern by Bellaa.  The polyresin lantern's finish is thoroughly convincing as stone, and the top screws off so you can place an electric tealight inside.  At only seventeen inches tall, it can add visual interest to small corners or to line a pathway or the base of steps.
For a more budget-friendly option, I recommend the Athens Small Round Garden Pagoda Statue.  This tōrō comes pre-aged and is made of concrete finished to look like aged stone.  The concrete gives this statue more weight so it's a sturdy ornament that won't fall over.  It's only 8 ¼ inches tall, and the roof lifts off, making it a great hiding place for a spare key or other small items.
For a more unique style and practical garden ornament, the Moonrays Bronze Solar Powered Garden Pagoda is a wonderful option.  A solar panel on the top blends into the bronze finish and provides energy-efficient power to the lantern inside.  It's just under eight inches tall and can illuminate darker corners or pathways in your Japanese garden.
Fountains
In traditional Japanese gardens, a number of shishi-odoshi, or "scare deer", were used to keep herbivorous animals out of the garden and away from vegetation.  The most famous of these scare deers today is the sōzu, a water fountain frequently found in Japanese gardens.  An upper pipe of bamboo pours water onto a lower pipe.  The lower pipe is set on a fulcrum, so when the water fills the lower bamboo it pivots to pour out the water.  Then, empty, it pivots back into place and the back end of the pipe hits a rock, making a gentle knocking sound that was just loud enough to frighten away deer and other grazing animals.
You may not need to frighten away any deer from your plants, but the bamboo fountain has become a key feature in any Japanese-style garden, both visually and aurally.  There are a number of modern fountains that you can purchase that look like a traditional sōzu and will lend an air of Japanese authenticity to your garden.
That's why I like Bamboo Accents Traditional Japanese Rocking Water Fountain so much.  It is a functioning deer scare set that comes complete with a water pump so you can really run water into the bamboo pipes and achieve the gentle sounds of water trickling and the pipe snapping back into place.  It's worth pointing out that traditionally the lower bamboo pipe would snap back onto a rock but this fountain comes with a small piece of bamboo in that spot.  If you choose, you can easily replace this piece with a rock.  Nothing will make your Japanese-style garden more authentic than a functioning sōzu like this fountain by Bamboo Accents.
Of course, you may prefer something easier on your budget, and these next two fountains are both about half the price of the rocking water fountain.  The Bamboo Accents Low-Profile DIY Fountain comes with a simple pump that can be used with any water source, and the fountain itself is comprised of a small bamboo spigot held up by a thin base.  The eighteen-inch base is made of two bamboo pieces tied together and sits across any container, planter, or basin that suits your décor, giving you complete creative control.
There is also a twelve-inch version, the Bamboo Accents Wide DIY Fountain, which is shorter in length but the base is wider, comprised of three bamboo pieces tied together.  It also has a more open spout, which I like because it looks more like the traditional deer scare.
Rocks
No Japanese garden is complete without rocks, and you will be working with rocks from day one.  You will use rocks in your footpaths.  You will need gravel or sand if you choose to incorporate a zen garden into your larger design.  Rocks are great for water fixtures, whether it's to line a pond or to be a splash zone for your deer scare to empty onto.
Another great use for larger river rocks is to make cairns.  Cairns are man-made stacks of rocks, and though the word "cairn" originally comes from Scotland, cairns have been erected by people from cultures across the globe since prehistory, and they fit in well among the décor of a Japanese garden.
If you have extra river rocks on hand, it's a lot of fun to build your own cairns.  Of course, you have to be prepared for them to fall down and you will have to rebuild them many times.  If you'd prefer a more "set it and forget it" approach, you can purchase pre-assembled cairns that are held together by fasteners and glue.
The Garden Age Supply Natural River Stone Rock Cairn Septuple Sculpture offers a beautiful, minimal shape.  At twelve inches tall, it looks effortlessly balanced blends seamlessly into the landscape.
I also like Ancient Graffiti's Eight-Stone Balancing Cairn for a slightly wilder look.  The eight stones in this stack seem precariously perched, almost defying gravity, offering your garden a more whimsical, even magical touch.
Conclusion
Building a Japanese garden is possible, but it is a lot of work.  However, I'm sure you will find, like I have, that it is a labor of love.  Make sure to check out Create Your Own Japanese Garden for ideas and tutorials, and don't be afraid to purchase decorative elements instead of crafting each piece by hand.  Including fountains, stones, pagodas, and bridges will add to the authenticity of your Japanese garden and make it a meditative space to enjoy for years to come.