Is ramen an Indian dish? It's a fairly good question since this meal is well-known all over the world. Its popularity is a phenomenon, so let's check whether it's originally from India.
Ramen isn't an Indian dish, as many people think. It's a traditional Japanese dish that is very popular in many countries, but especially in India. However, there are some differences in making the same meal in these two countries.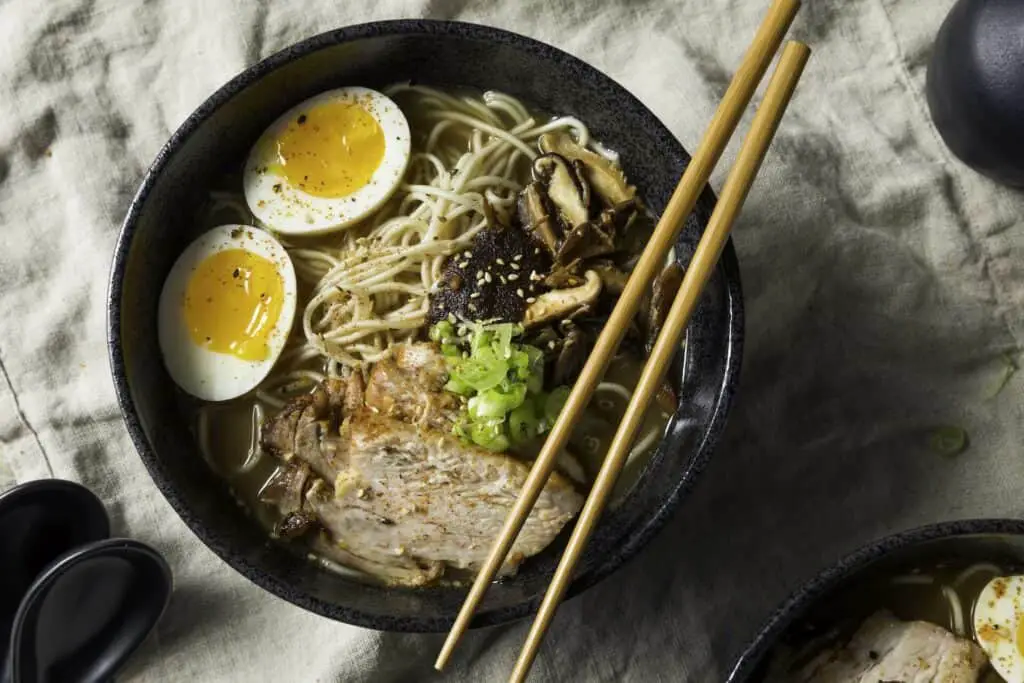 Keep reading and find out everything about the Indian variant of this famous Japanese dish.
Is Ramen Indian?
Ramen, as we already mentioned, isn't an Indian dish. It's a traditional Japanese soup that is a part of pop culture as well – that's how popular ramen is. But let's first see how ramen and noodles got so popular in India in the first place.
Because of rising interest in manga, which depicts the meal as a comfort food appreciated by both young and old, rising awareness of Japanese cuisine, and increased investment in India, ramen is becoming more popular in the country.
India first encountered instant food with ramen. In a society where women were expected to prepare each dish from scratch, noodles have made a revolution. Maggi noodles, the country's first brand to be sold in the 1980s, quickly proved popular with children. This was largely due to Nestle, the brand's owner, going after its target market with merciless advertising featuring joyful kids banging forks on tables and demanding Maggi.
Even now, decades later, ramen noodles are still quite popular in India. They are even sold at restaurants and street food stands there, where they are prepared in a variety of ways, including ramen pizzas and ramen bhel – a snack made with puffed rice, tangy tamarind sauce, and vegetables.
Check the Popular Varieties
Packed instant ramen is far more common and popular than authentic meals. However, the instant version's popularity spread so fast that people just fell in love with it (let's face it, the effortless preparation surely had a lot to do with that). However, this doesn't mean people haven't invented numerous creative dishes using precisely ramen: sandwiches, chile Rellenos, waffles, salads, and even desserts.
What Are the Main Differences Between Indian and Japanese Ramen?
Although many people won't notice much difference between these two countries' dishes, there indeed are some preparation steps that are different. Therefore, the flavor might be completely different, no matter if you're using the most renowned manufacturer of noodles or if you decide to make your own at home. From seasoning to noodles, there are some similarities but mostly differences between Indian and Japanese ramen and let's check them out in the table below.
| | |
| --- | --- |
| Japanese | Indian |
| Noodles are made of flour and wheat | Noodles are made of rice, wheat, or millet |
| Al dente cooked noodles | Softly cooked noodles |
| Soft boiled eggs | Hot green pepper and hot tomato sauce |
| Drained bamboo shoots | Green peas, carrots, and other vegetables |
| Chicken and pork | Tofu |
Indian Spices Combine Perfectly With Cooked Noodles
If you've already tasted the traditional Japanese dish but imagined it to be spicier, don't worry! The Indian variant is just what you're looking for. After all, we all know how Indian food is spicy, so why would ramen be any different, right?
No matter if you're planning on making an authentic or instant version of this Japanese meal with some common Indian ingredients, you'll have top-notch results. You'll taste the crispness and freshness at the same time. On that note, here are the ingredients that will make a difference:
Red chili powder,
Cumin powder,
Garam masala,
Sesame seeds,
Green coriander.
The Indian Version Can't Be Imagined Without Vegetables
Besides all the spices Indian food has, plenty of vegetables are also used in their cuisine. This is new for those who want to change their diet and introduce more vegetables to everyday meals. Also, it's great for vegans because instead of pork, the Indian version contains their cottage cheese – paneer.
So, the Indian version is not only super fast and easy to make, but it's a healthy ramen version as well that surely will be less spicy. Of course, what vegetables you'll use depends on the recipe you follow, but the authentic one contains the following:
Green capsicum,
Onion,
Carrot,
Green peas,
Sweet corn,
Broccoli.
Check a Simple Recipe and Make the Most Delicious Ramen Soup the Indian Way
Once you learn all about ramen noodles, what are the main differences between the two most popular versions (Japanese and Indian), you might want to give it a try and make a dish on your own at home. Luckily you don't have to be an experienced cook in order to make a delicious meal that will provide you with different textures, hot comforting soup, spiciness, saltines, visually beautiful and delicious.
Besides instant noodles, here are ingredients you'll need for amazing vegan ramen:
Two tablespoons of olive oil or light sesame oil,
One carrot,
One green capsicum,
One cup of green peas,
70 g paneer,
One cup of sweet corn,
One cup of moong sprouts,
One cup of boiled broccoli,
One lettuce or bok choy,
Three minced or crushed cloves of garlic,
Four thinly sliced green and white scallions,
Two glasses of water,
Two tablespoons of tomato paste,
Two tablespoons of Sriracha sauce,
Two tablespoons of soy sauce.
Check what seasoning you should prepare:
One tablespoon of sesame seeds,
One tablespoon of vinegar,
One tablespoon of red chili sauce,
One tablespoon of crushed chili flakes,
One tablespoon of salt.
There are also some tasty toppings worth trying:
Moong sprouts,
Cilantro and chopped green onion,
Baby bok choy,
Chili garlic sauce.
Traditional and Indian Variant – Try Them Both and Decide Which Dish You Like More
If you're a Japanese cuisine lover like I am, then you definitely need to try one of the most popular versions of this meal. After all, Indian cuisine surely has much to offer, and although Indian ramen isn't the same as the traditional one, it will provide your palate with flavors you probably haven't tried before.