If you like a bit spicier ramen, you can always go with store-bought ramen with the addition of spicy sauces. However, if you wish for a high-quality and healthy spicy meal, it's always better to make homemade ramen – and I will show you how to make it easily.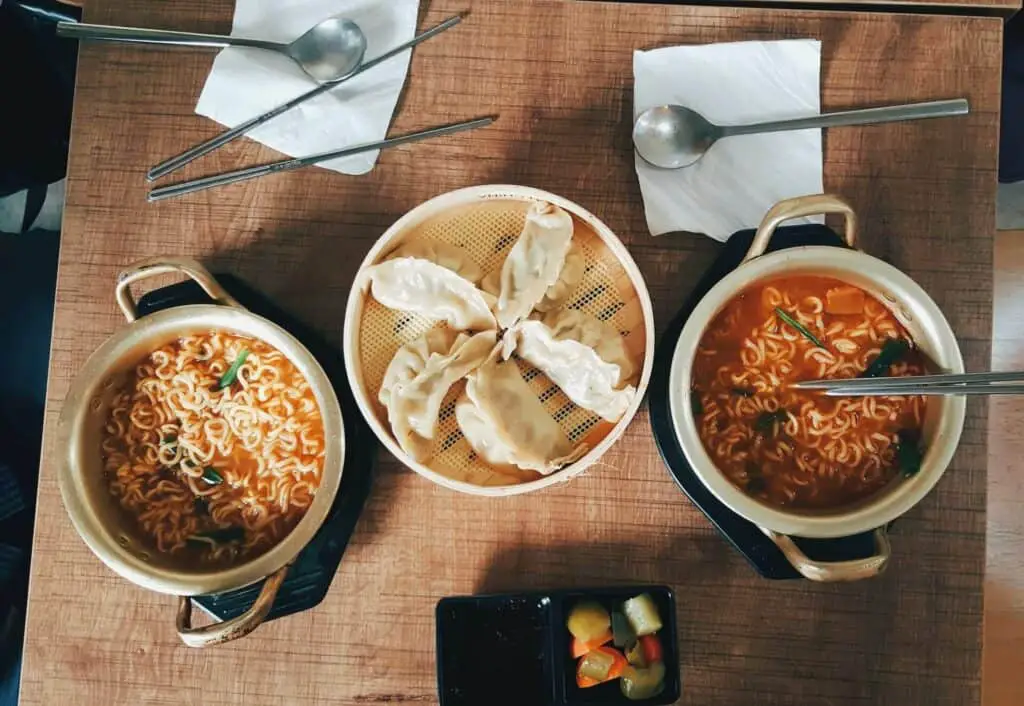 Here is how to make spicy ramen in five easy steps:
Assemble and prepare the ingredients,
Make the spicy sauce,
Blend the mixture,
Add condiments and seasoning to your flavor,
Let the noodles cook for 2-3 minutes and serve.
In the following article, I will explain the recipe in detail but also present one additional recipe for all those who like spicy ramen noodles without soup.
Ingredients You'll Need to Prepare Spicy Ramen
Sesame oil – 2 tbsp,
Ramen noodles – 3 packages,
Sriracha hot sauce – 2 tbsp,
Ginger – 1 tbsp,
Onion – 1 piece,
Roma tomato – 1 piece,
Garlic – 5 cloves,
Garlic powder – ½ tbsp,
Celery salt – ½ tbsp,
Vegetable broth – 4 cups,
Water – 2 cups,
Soy sauce – 1tbs,
Rice vinegar (optional) – 1 tbsp,
Scallions – ½ cup,
Cilantro – ½ cup
Eggs (optional) – 4,
Seasoning.
Step 1 – Prepare All the Ingredients Before You Start
This recipe only takes 10 minutes to make, but you must count on additional 10 minutes to prepare all that you need. Before you start the actual cooking, you should grate the ginger, dice the onions and the tomato, mince the garlic, and chop scallions and cilantro.
If you want to truly recreate the Japanese cuisine taste, note that you should add eggs to your ramen. With this recipe, poached eggs will go the best.
In order to make them right, ensure to prepare them in a frying pan filled with boiling water. Crack the egg into a cup first and then gently place it in the water. Cook between 2 and 3 minutes, depending on the texture you want to get. When eggs are done, use a slotted spoon to remove them.
Step 2 – Prepare the Spicy Mixture
When all is prepared, it's time to begin the cooking process.
Start with simmering sesame oil and sriracha over medium heat. You can mix more or less than two tablespoons of sriracha, depending on whether you like ramen to be more or less spicy. However, if you're making a meal for several people, it's always better to use a smaller amount and then serve the ramen with additional chili sauce on the side.
Put diced tomato and onion into the pan. Cook the mixture for 4 minutes and stir occasionally. After they release the juices, mix garlic and ginger, stir and then add seasoning to your liking. Cook for approximately 2 minutes – you should be able to smell the aroma of the mixture. When you do, pour the water and remove it from the heat source.
Step 3 – Make the Mixture Smooth
For the perfect texture of the ramen, all the ingredients of this mixture need to be blended together. Place the mixture into the food processor, or better yet, a blender, and create a completely smooth paste. When you're done, transfer the mixture back to the stockpot and pour the vegetable broth. Cook until it simmers.
Step 4 – Add Condiments and Adjust the Seasoning
Mix soy sauce and, if you like a bit more tangy flavor, vinegar. Stir and let it simmer for 8-10 minutes. Try the mixture and season it if needed. You want to form the noodles to be cooked in a well-seasoned mix so they can absorb as many flavors as possible.
Step 4 – Add Condiments and Adjust the Seasoning
You can use instant or search for the best ramen on Amazon and buy fresh ramen noodles – keep in mind that instant noodles are easier to find, but the fresh ones are usually much healthier.
Place ramen noodles into the broth mixture and simmer for an additional 2 to 3 minutes or until they soften. After they are done, prepare four bowls and pour the ramen. Place chopped cilantro and scallions on the top and put a poached egg into each bowl. And that is it!
Additional tip: If you are making this meal ahead of time, prepare the broth and the noodles separately so they don't get soggy. Place them into the broth mix only when it's reheating time, and stir them for a couple of minutes.
How to Prepare Spicy Ramen Noodles?
There are many ways to prepare spicy ramen, from the more traditional to the more westernized type of meal. Here is another recipe for a delicious dish that's more of a spicy ramen noodle pasta than ramen soup. 
Ingredients You'll Be Using
Sesame or olive oil,
Chicken or vegetarian broth,
Soy sauce,
Oyster sauce,
Hoisin sauce,
Asian sweet chili sauce,
Rice wine,
Sriracha,
Onion,
Ginger,
Garlic,
Carrots,
Bell paper,
Cabbage,
The protein of choice,
Peanuts.
Step 1 – Prepare the Vegetables
As with the previous recipe, you should prepare all the ingredients on time, which means that onion needs to be chopped, ginger must be grated, and garlic minced. I used cabbage, carrots, and bell pepper for this recipe, but you can adjust the vegetables to your liking. – just ensure you have them ready when you start with the cooking process.
Step 2 – Cook the Noodles While Dry Toasting the Peanuts
Both of these actions shouldn't take more than 2 to 3 minutes. After cooking noodles, ensure you drain them and place them under cold water so they don't continue cooking. As for the peanuts, just stir them for a couple of minutes until they release their wonderful aroma that will make this delicious meal even tastier.
Step 3 – Make the Sauce
The sauce should be made from chicken broth, oyster, sweet chili and soy sauce, hoisin, rice wine, and sriracha, according to your taste. If you're unsure how much sriracha to use, start with two tablespoons and add more if you need more spice.
Step 4 – Start Cooking
The cooking process starts with stewing the chosen meat and onion. I used diced chicken, but it can go very well with pork meat – it's the kind of ramen Naruto eats. When the meat is almost done, mix ginger, garlic, and chosen vegetables.
Put the noodles, peanuts, and sauce into the mix. Ensure the noodles are evenly coated. Cook until it's all mixed well together.
Remember that this recipe shows you how to prepare spicy ramen noodles. However, if you want this meal to be saucier, you can always add a bit of water in which you cooked them – just be sure you add more sriracha so all the spice doesn't get lost.
Final Thoughts
There you go! From all the ramen recipes I've tried so far, I find these two most delicious ones. All you have to do now is buy the ingredients and start cooking, and you'll have a delicious meal ready in no time. It's easy to prepare, flavorful and healthy – what more can you ask for?