Ramen has always come first to mind when I think of tasty, convenient, and easy-to-make comfort food. With a keen eye for the best in the market, it thrills me to round up some of my best ramen options from Amazon.
Based on the flavors, price points, and ingredients, the following are my top five ramen on Amazon. The best ramen on amazon:
Nongshim shin black noodle soup
Maruchan ramen noodle soup (Chicken flavor)
Mama shrimp ramen noodle
Nissin RAOH (Tonkotsu flavor)
Millet and brown rice ramen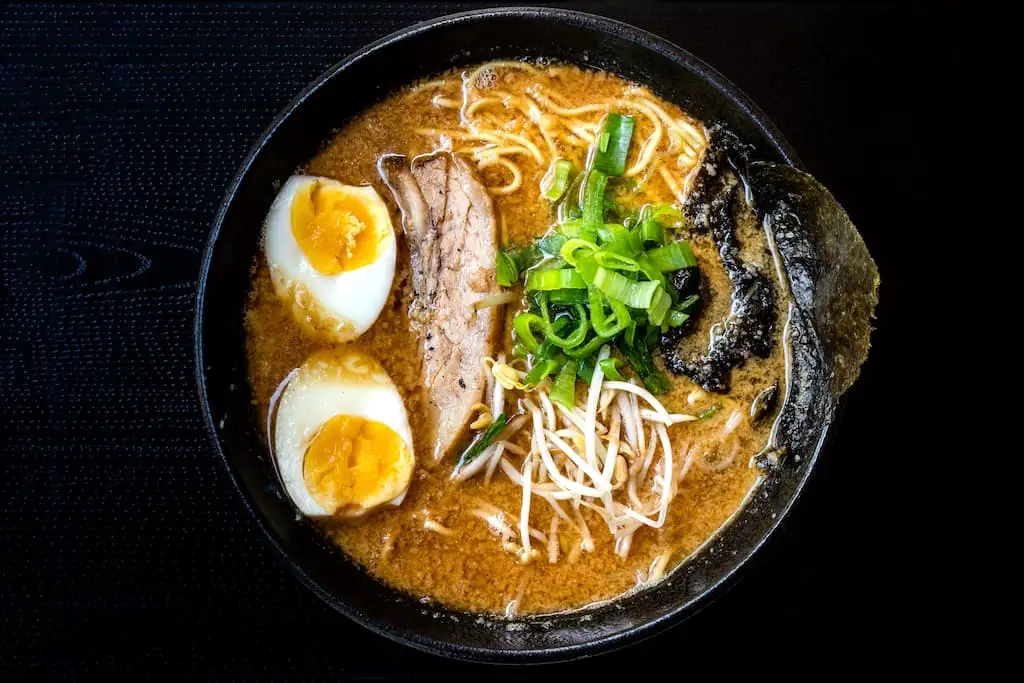 With this selection, I will try making it easier for you to shop for instant noodles. I have selected various flavors that are budget-friendly, perfect for any Asian food lover. Read on to find out why the above are my go-to ramen. 
The Top Ramen Choices on Amazon
I have always loved Asian food and am naturally inclined to ramen. The bonus is the fast cooking time, great taste, and various flavors from mild to spicy. With years of sampling and writing reviews about different ramen brands, I have compiled some of the best-selling options to help influence your buying choice.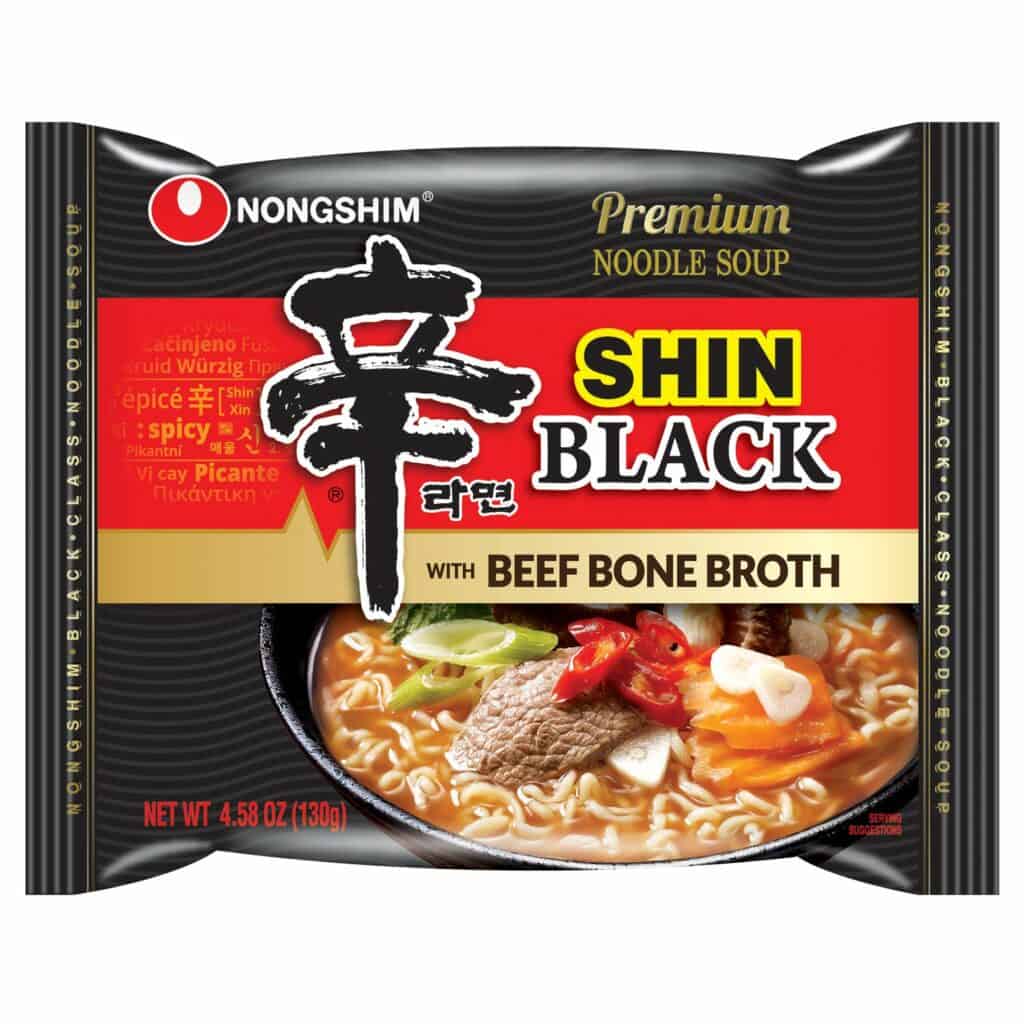 When I was still trying out different brands, Korea's Shin Ramyun was my regular option. I found various versions to explore, but this black variety has a particular kick to it. The aroma always gives out a somewhat Asian restaurant experience whenever I make it at home. 
The savory flavor makes it famous, and it always stands out from other less spicy types. I like the additional components like beef chunks and vegetables (Bok choy and mushrooms). The beef broth is particularly one of the product's highest selling points, and it comes spiced to give the ramen its overall flavor. 
I also enjoy the taste of green onions, red pepper, garlic, and delight in the meat chunks. Besides the tang, I find it a simple soup that takes a few minutes to prepare and a plus it that it is healthy without excessive fat. Compared to other ramen products from Nongshim, the "black" is one of the spiciest. 
Thanks to the chili, the hot soup gets a bright red tinge, great since I like my ramen fiery and flavorful. However, it primarily appeals to peppery food lovers, although other users state that the spice isn't too overpowering. Secondly, unlike other noodles from the same brand, other users are concerned that the "black" is slightly more expensive.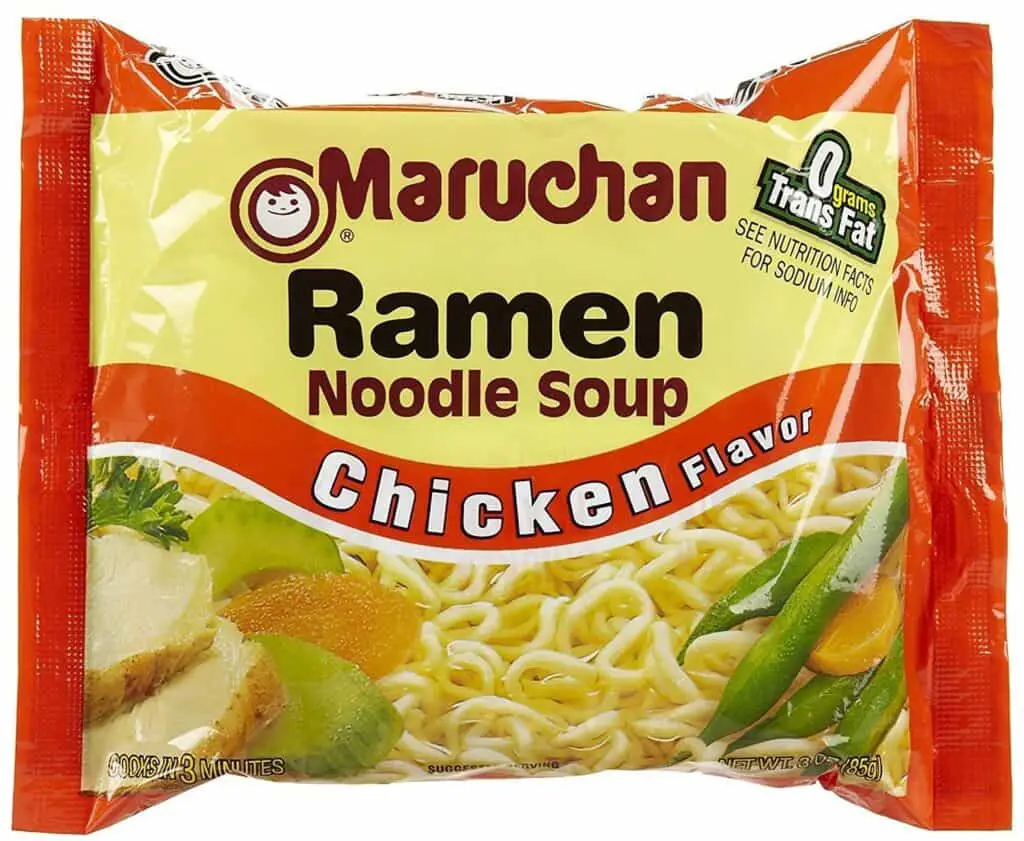 Maruchan noodles started winning hearts in the early fifties even as a small enterprise, and it's now a big brand in matters ramen. Despite the various products in its noodles line, a personal favorite is the chicken flavored soup which is also famous among other consumers. This meal has always been a great choice when I want instant comfort food for myself or the whole family. 
Maruchan noodles usually have a distinct tang for all their products, indicating that they are attentive to their customers' needs. They have a savory chicken flavor, perfect for a quick meal at any time of the day. If I want to add my favorite foods as accompaniments, I usually include veggies or meat. The best part about these noodles is that they are thick and satisfying compared to other options. 
Luckily, the Maruchan noodle chicken flavor weighs 8 ounces and comes in a pack of twelve pieces. Overall, it is yummy, and I hardly hear any complaints from users. I find the noodles affordable, and the unique chicken flavor is a plus. Furthermore, being a native dish to Japan, people worldwide are embracing it, and it is incredible how it has maintained its original taste over the decades.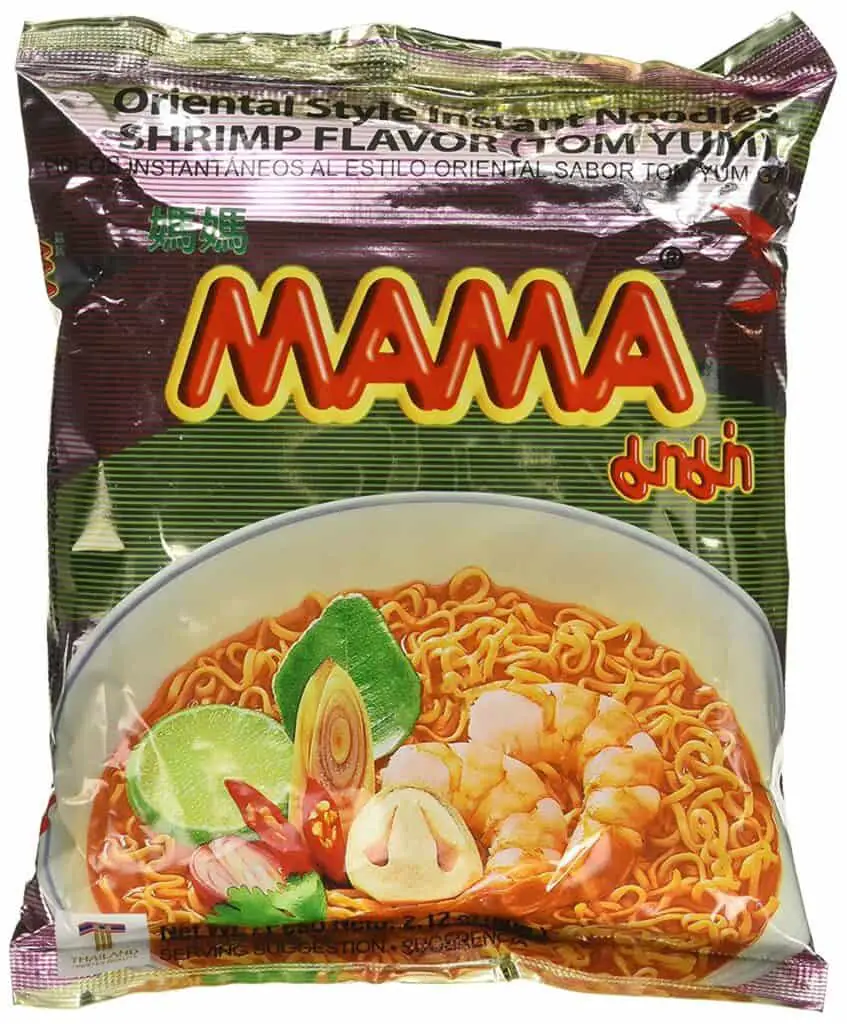 Mama Tom Yum Shrimp flavor is another top pick for me since I love Asian noodles and seafood. This brand comes in incredible flavors, but I am inclined to this due to its unique taste. For this option, Amazon offers thirty packets which is a cheaper alternative because it is in bulk. 
I find it more convenient, unlike buying a few packets at a time where I have to keep ordering for more. I like that they are soft and seem creamy when done with a signature tart taste, great since I have no issues with lime. It is healthy, takes only three minutes of my time to cook, and I have options to add any other accompaniments to make it taste better. I recommend cheese, poached eggs, or yummy vegetables. 
If you prefer your soup spicy, you can use the provided flavors; else, only add a small amount. Generally, it comes with a robust chili packet, and the other has hints of lemon, giving the ramen a tart taste. The only forewarning with the Mama Shrimp Flavor is the tangy flavor. Some consumers are skeptical of the lime, although it will be a plus if you love tart tastes.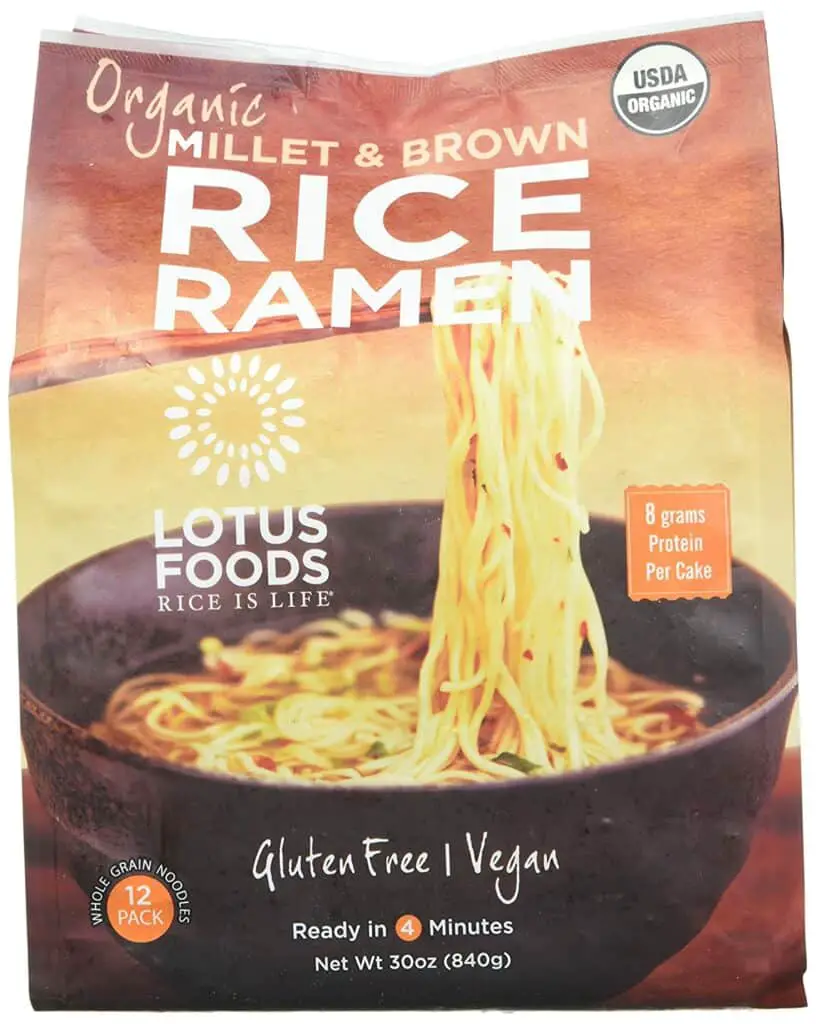 My roundup is keen that every consumer finds the perfect product. In this case, if you are picky with your food ingredients, say for medical reasons, the rice ramen is the product you need. Since the primary component is rice, it is one of the few gluten-free ramen options, unlike most flour-based products in the market. 
Therefore, if you previously had to miss out on noodles due to the wheat, you can now enjoy this soup. Besides rice, the noodles also contain millet, and when the two mix, they form a plate of wholesome grain. Thus, apart from the excellent ramen taste, you get a nutritious meal, gentle on your tummy and easy to digest. Also, note that rice noodles have lower sodium content than regular ramen. 
If you are a keen eater, you will notice the food's nutty feel, although still smooth. On the downside, some users complain that the product is pretty demanding, unlike the regular instant versions. Truthfully, if you are uncertain of preparing it, the chances are high that you may over or undercook it, making it either chewy or soggy. I advocate for a four-minute maximum cook time, although other ramen take only three.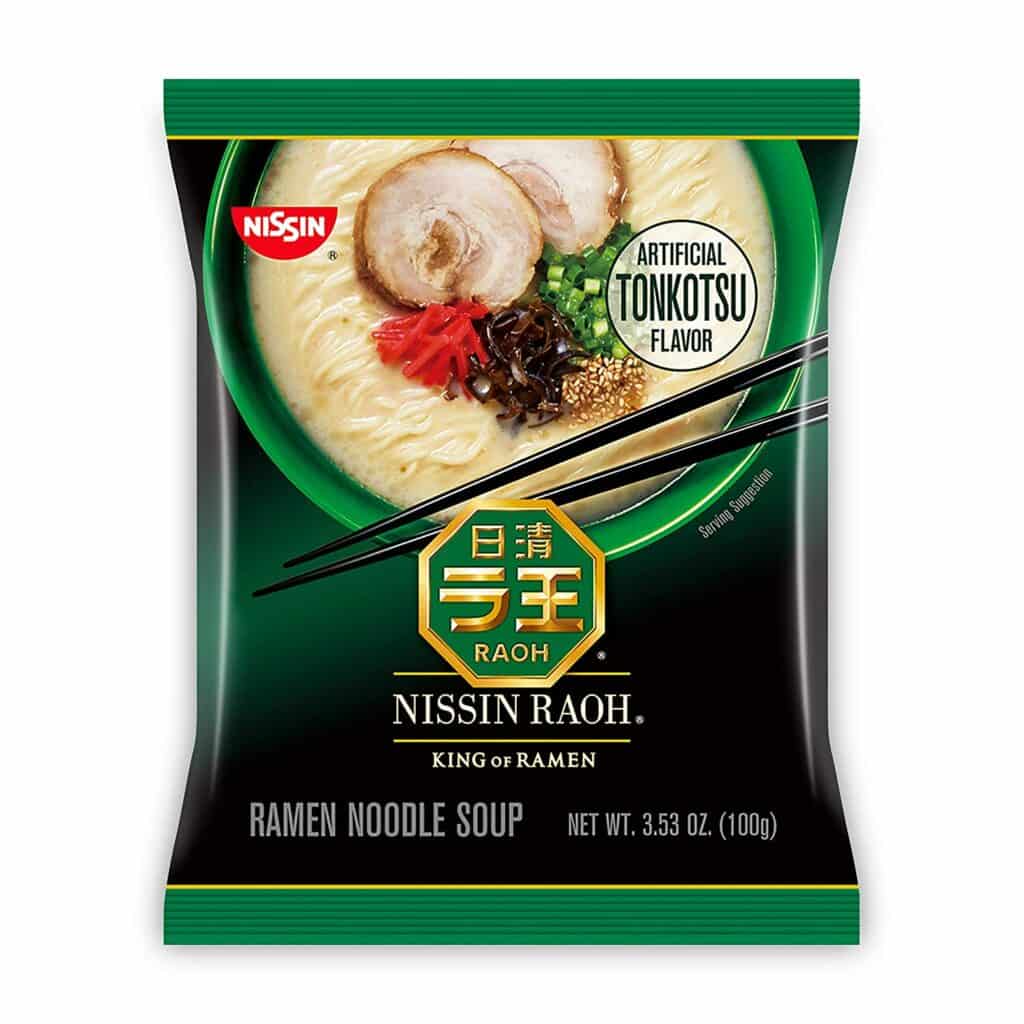 Nissin noodles aren't ordinary ramen. They are the RAOH of noodles, meaning "King of Ramen" in the industry, and you will understand why if you try any product in the RAOH line. Nissin is among the top-selling brands in Japan, making this choice ideal for any noodle fan. It comes in various flavors, Soy Sauce, Miso, and Tonkotsu.
Nissin RAOH noodles have a savory taste with natural umami. The ramen is high-quality and remains a trusted brand by significant restaurants. It requires about four minutes to cook thoroughly. Additionally, the technology involved makes them long-lasting and helps them retain their natural flavors. 
Tonkotsu has die-hard fans, including myself, and it may be the best flavor out of the three Nissin RAOH options. I like that it has moderate salt and additional packets containing seasoning and oil to enrich the broth. The ramen is also relatively thicker but slippery and smooth to eat when ready. 
Thus, it is enough even when I take it as a main dish. If you want to try out Tonkotsu for the first time, the preparation is straightforward. You only need two cups of water and let it cook for about four minutes. You can then serve it alone or top it up however you like. 
Before You Buy Ramen
Ramen has evolved from an instant meal to an essential component of fine dining. Given the thousands of products on Amazon, it is only wise to know what you are looking for first before you make the order. It can be daunting and overwhelming, but luckily, I have compiled some handy tips. 
There are three ramen flavors, Shoyu, Shio, and Miso, and all the shops use them to obtain their base tastes. Shio, sea salt, is light ramen, great when it's warm when you plan to add heavy toppings like meat and prefer your noodles spicy. You can also include boiled eggs, seaweed, fish, or pork. 
On the other hand, Shoyu goes with soy sauce, and you can pair it with meaty toppings like fried chicken and seafood. Lastly, you can go for the miso ramen that blends with mushrooms and vegetables. You can also choose Tonkotsu, a product of pork bones, or curry ramen with a rich curry powder taste. 
Apart from the flavor, other considerations like health are imperative. For instance, if you have some dietary restrictions or are vegetarian, you may have limited options in the market since most ramen are wheat-based and primarily contain animal products. You may therefore have to find flour-free noodles and whole grains are perfect alternatives. 
Also, note that your cooking style is essential to avoid overcooking, making it too soggy or undercooking, giving it a chewy feel. Lastly, if you don't like your ramen fiery, you can add a small amount of the packed peppery spices. 
Wrap Up
There are my favorite ramen products on Amazon, and after trying them out, each has an outstanding feature. For instance, my top choice, the Nongshim shin black noodle soup, has beef broth and is extra spicy how I like it. Secondly, the Maruchan chicken ramen is a thick and satisfying option with a native taste.
The Nissin RAOH is also my go-to, thanks to its exceptional Tonkotsu tang. On the other hand, since I love seafood, the Mama shrimp had to make this list. Lastly, if you are on a gluten-free diet and avoid wheat, you can go for the millet and rice ramen that is healthy and whole grain.