If you have ever wondered what it's like to meet a real geisha, then let me tell you how you can do so during your visit to Kyoto. Whether you just want to glimpse one, or you want to have dinner and be entertained, this is what you need to know.
Kyoto is the best place in the world to meet geisha, particularly in Hanamk-koji-Dori, Gion, and Shiji-Dori, Pontocho. If you want to meet a geisha then you should travel to Kyoto where you will find geiko (fully-fledged geisha) and Keiko (in training geisha).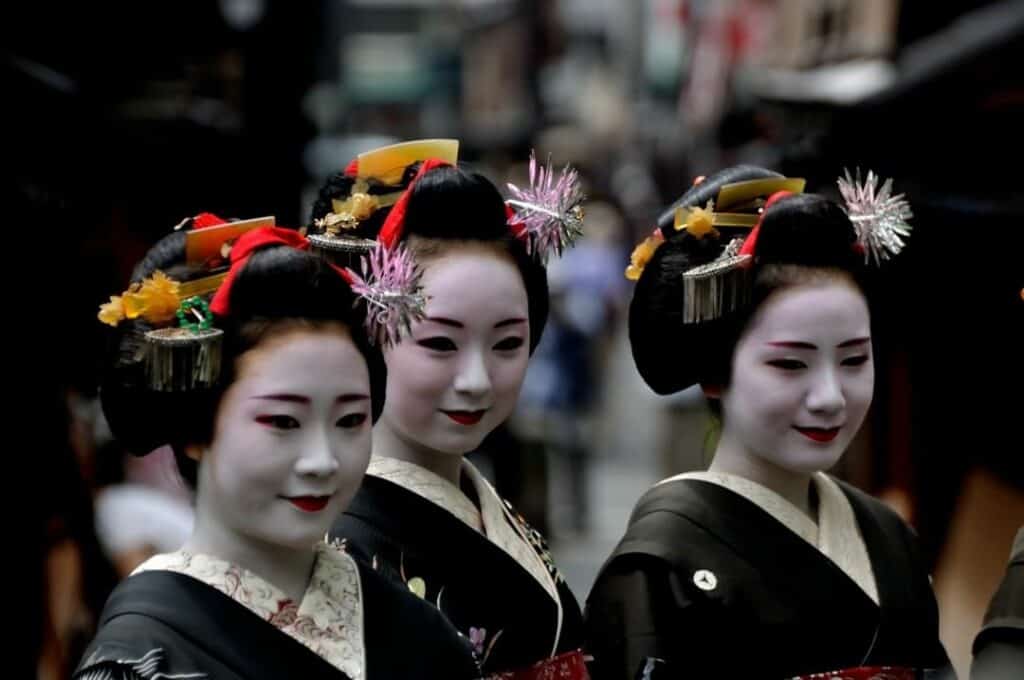 However, hiring a geisha is not an easy thing to do. Firstly, it is a costly thing to do and secondly, you can only hire geisha if you have been recommended by an existing client. So read on to learn about options for all budgets.
Check out my guide if you want to Transform Into a Traditional Geisha at Home.
Where Will You Find Geisha in Kyoto?
Kyoto is very famous for its geisha community, therefore it's not a very well kept secret. You may have heard of the famous Hanamikoji Street where you can catch a glimpse of geisha. While it's certainly true, you might be disappointed with how busy it is there.
A better place to view geisha would be from the Shirakawa area, that's not far away. This area tends to be a lot quieter than Hanamikoji Street, and it's also very scenic. These are your best options to view geisha as they travel to and from work, or between clients.
Please consider thinking twice about taking photographs of Geisha or trying to interrupt their journey. Geisha are highly professional individuals and will not appreciate being harassed like this. This is their job and they do deserve to practice in peace.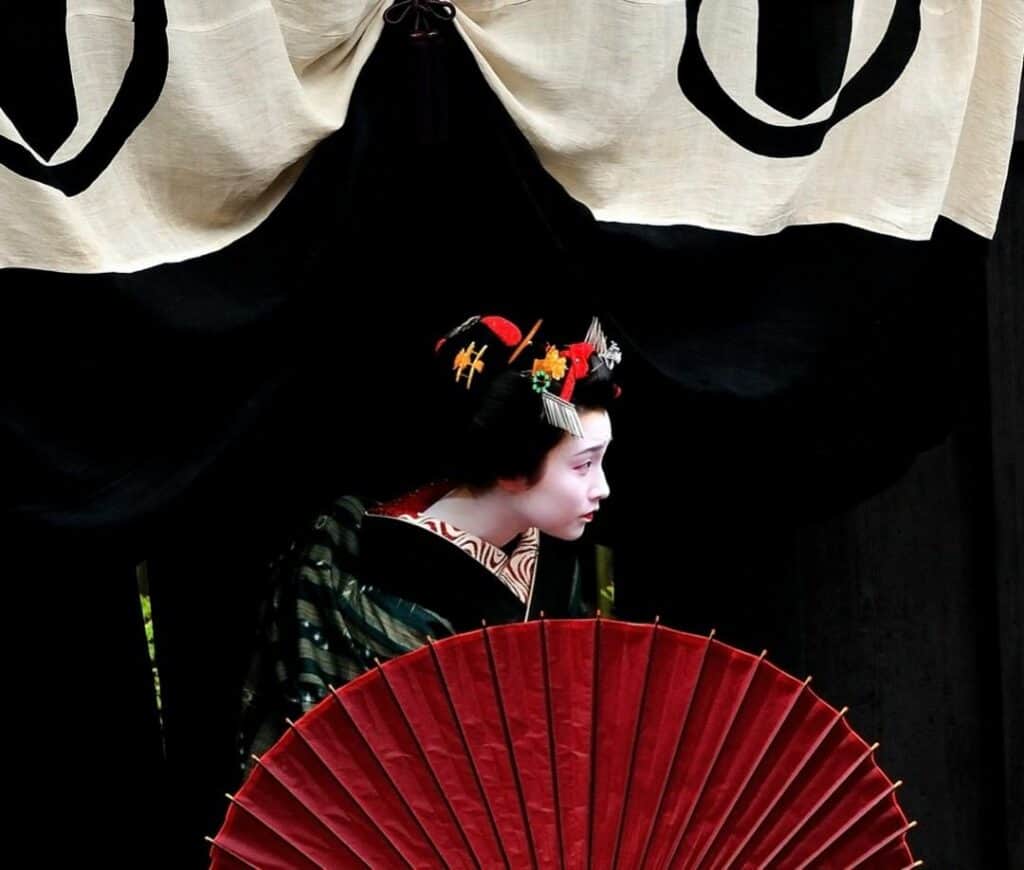 We've touched briefly on the locations where you can find geisha, these are called hanamachi which means "flower towns." These areas have a longstanding history with geisha culture.
In these flower towns are where you will find the okiya, where the geiko and maiko live. Ochaya, special teahouses where geisha work, and also ryotei, which are traditional restaurants where geisha can be hired for entertainment.
In Kyoto, there are five hanamachi areas. These are the areas where you will most likely find geisha. As the businesses rely on particular okiya for their maiko and geiko, they are usually located nearby, within walking distance.
The first two of the hanamachi are located in Gion. There is Gion Higashi and Gion Kobu, this is where you will find the famous Hanamikoji Street. Word of warning, photographing geisha in the Gion district is banned and enforced with costly fines.
These rules are not enforced in other flower towns, but you should be courteous and observe them anyway. Japan is a culture that thrives on respect, as a tourist in their country it's important to observe their rules and don't overstep.
The other three areas where you will find geiko and maiko are Pontocho, Miyagawacho, and Kamishichiken. Kamishichiken is located near the Kitano Tenmangu Shrine.
Best Tips for Seeing Geisha
Geisha usually work in the evenings. Their primary job is to entertain dinner guests at parties. They might be hired for a business meeting or dinner with regular customers. Regardless, you likely won't spot geisha until dinnertime.
The best time for spotting geiko or maiko is around 5:30 pm onwards. Geisha will make their way from the okiya, or their home, to either the ochaya or ryotei where they will entertain dinner guests.
One way to tell where events are happening is to look out for food delivery pies at ochaya. Since ochaya are primarily teahouses a late delivery of food is an obvious sign.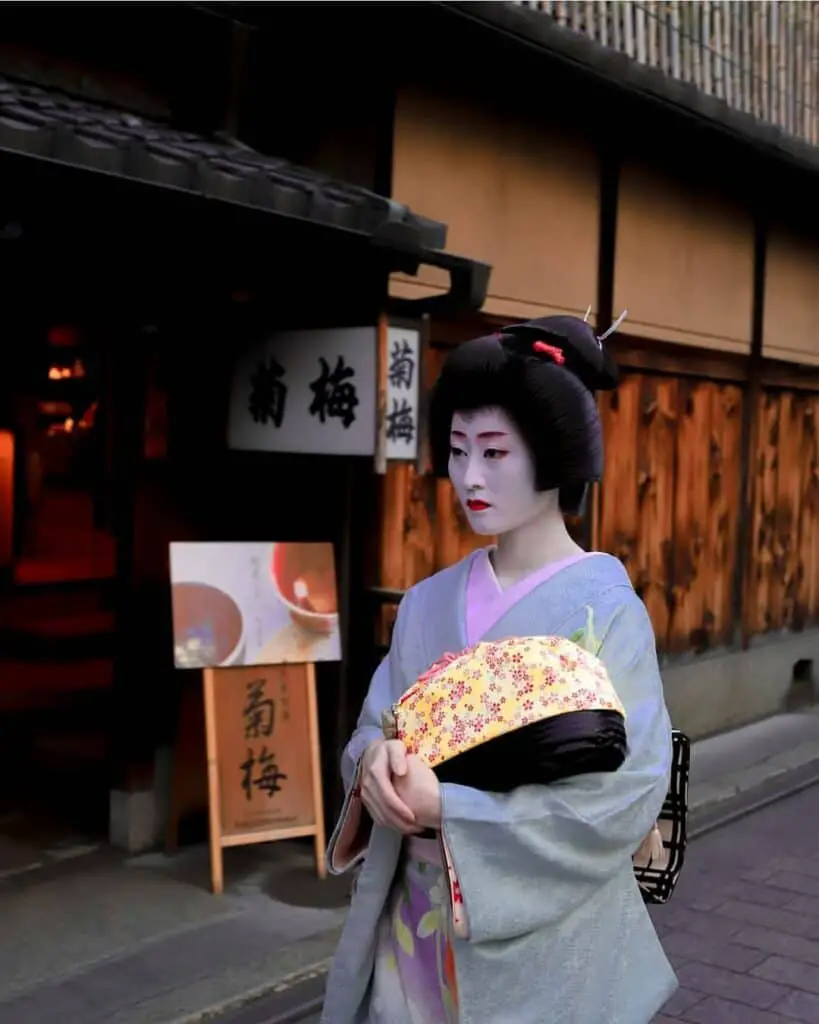 If it's a Monday then you might not be able to see a geisha at all. Appointments are not usually made for Monday evenings, so there won't be any reason for geisha to be out.
At the other end of the evening, you can expect the reemergence of maiko and geiko at dusk. Around 9:30 pm and 10 pm is when events will be wrapping up. Geisha might see their guests off at the door before heading home themselves.
So the best time to see a geisha is before and after work. Remember, photos are prohibited in the Gion district, but overall it is unlikely that the geisha will want to be photographed. Depending on the time of year there might be other photo opportunities available.
If you see someone that looks like a geisha walking around during the day, they probably aren't a real geisha. The easiest way to tell is whether their kimono is made of silk or cotton. Geishas wear real kimonos made of heavy silk, if it is made of cotton then it's called a Yukata and they aren't geisha.
This can be a good thing, however, some shops will dress tourists as geishas. They may be much more willing to take a photograph with you than a real maiko or geiko would be. These are usually very good imitations as well.
How To See Geisha On a Budget
Perhaps you want more of an experience than just seeing a geisha walk to work. I don't blame you, these are highly talented individuals that have a lot more to offer than their unique look. Luckily there are public performances that geisha take part in each year. 
Each of the five hanamachi has annual Odori dance performances. These are ticketed events, but much more affordable than a private experience. However, they only run at specific times of the year.
You will need to plan your trip around these performances if you want to see them. Or perhaps you will get lucky and your trip itinerary aligns with one of them.
The performances are usually held for a week or more and multiple performances are held each day. So, even though they are highly popular it should be relatively easy to get a ticket. You can pick up a ticket from local convenience stores, the tourist information center at Kyoto station, or online.
The first of the five performances are Kitano Odori which runs from late March until the beginning of April. The geisha from Kamishichiken perform three parts: a play, a series of dances, and the Kamishichiken serenade finale. The finale piece always stays the same but the play and dance performances can change.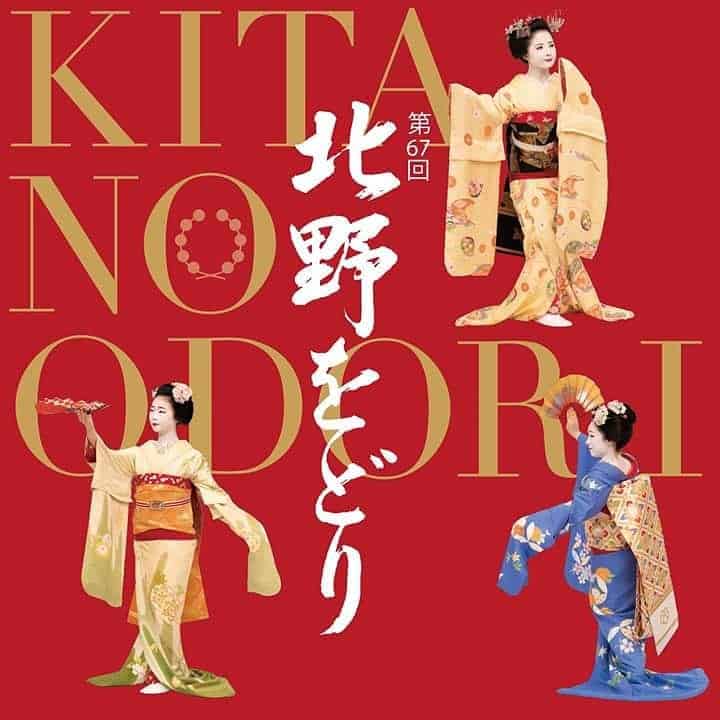 The story play can range in style from a drama like Kitano no Mori no Monogatari, which is about animals in the forest near Kitano Tenmangu shrine. A romance about two lovers trying to prove they are meant to be together which is called Enishi no Miya.
This over 60-year-old tradition began in 1952 to commemorate the 1050th anniversary of the Kitano Tenmangu Shrine. There are two performances each day, so a wonderful thing to do if you are visiting in the spring.
The next performance happens shortly after Kitano Odori in early April until late April. Miyako Odori takes place and literally means Dance of the Capital. The dance was conceived as a way to lift spirits after Tokyo became the capital of Japan.
The dances began back in 1872, four years after the capital city status was removed from Kyoto and given to Tokyo. However, they are also sometimes referred to as the Cherry Blossom Dances. This is because the dances coincide with the cherry blossom season in Japan.
1872 is the first time that geisha performed in public in Kyoto. There are 4 hour long performances each day and they are held at Gion Kobu Kaburenjo Theatre. The performances are still very popular among locals to this day,
Although Miyako Odori takes place throughout April, it's not the only performance during this time. Kyo Odori takes place at the same time but runs from the start of April until the middle of April.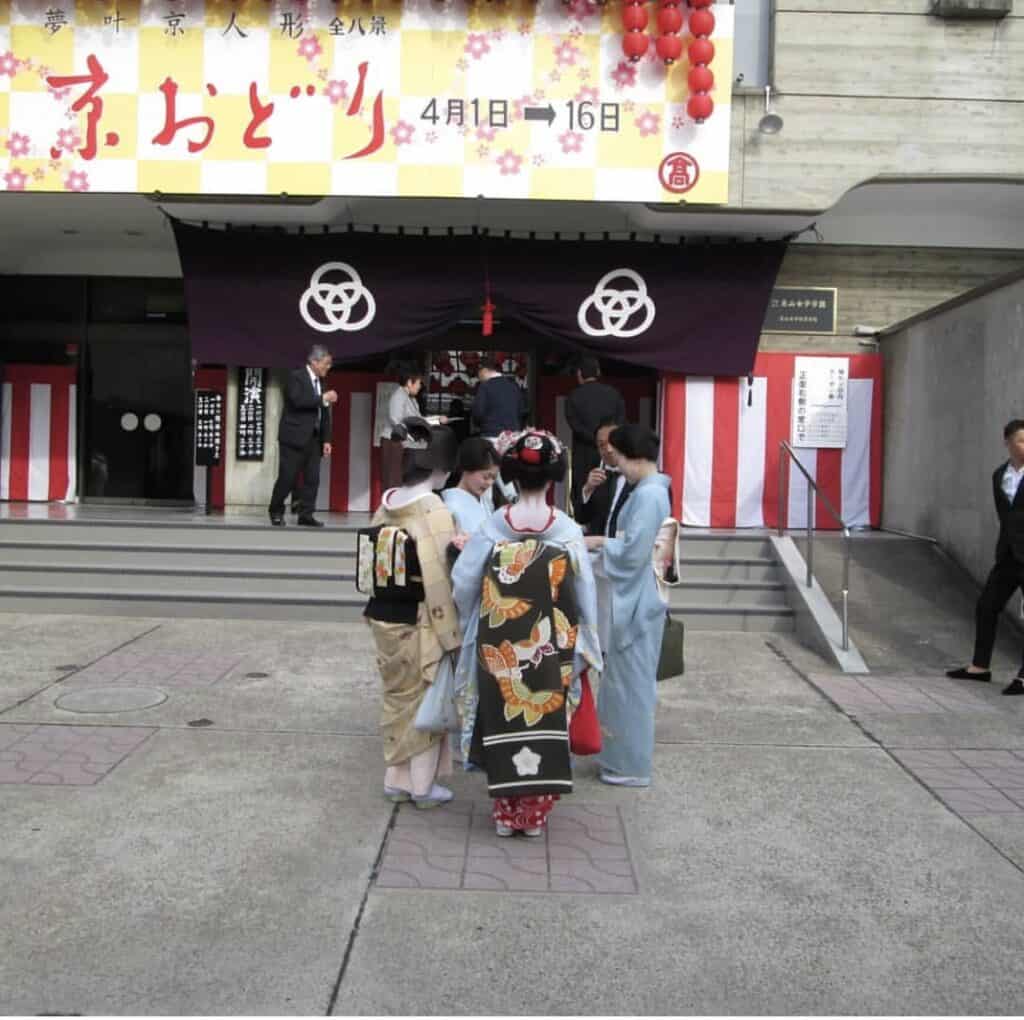 Kyo Odori takes place at the Kaburenjo Theatre and performances started in 1950. This is a performance from the maiko and geiko of the Miyagawacho district. For an additional fee, there is a tea ceremony that takes place before the show.
The show itself is split into a performance of seven scenes. Because of the area's strong links to Kabuki theatre, the performance is believed to be inspired by Kabuki theatre. It is the final act that is the most impressive, it's a performance that involves all the performers at once.
After Miyako Odori finishes the next performance takes place during the month of May. Kamogawa Odori is a performance by dancers from the Pontocho area. It takes place at the Kaburenjo theatre, which is right next to Pontocho.
The Kamogawa Odori also started in 1872 and was briefly canceled during World War II. However, it was soon reestablished after the war ended and has continued ever since. Historically it has occurred twice a year, once in the spring and once in the autumn.
Now it only occurs in the spring but is still one of the most popular performances throughout the five hanamachi. Boasting celebrity clientele such as Charlie Chaplin! Part of Kamogawa Odori's charm is that it tries to modernize while protecting traditions. This means that Kamogawa Odori sometimes features western music.
The performance itself is split into two parts. The first part is a dance drama, while the second part is a pure dance routine. This is performed by both geiko and maiko.
The final of the five hanamachi performances bucks the trend of occurring in the spring. The Gion Odori is instead an autumnal event. It takes in early November to coincide with the leaves turning.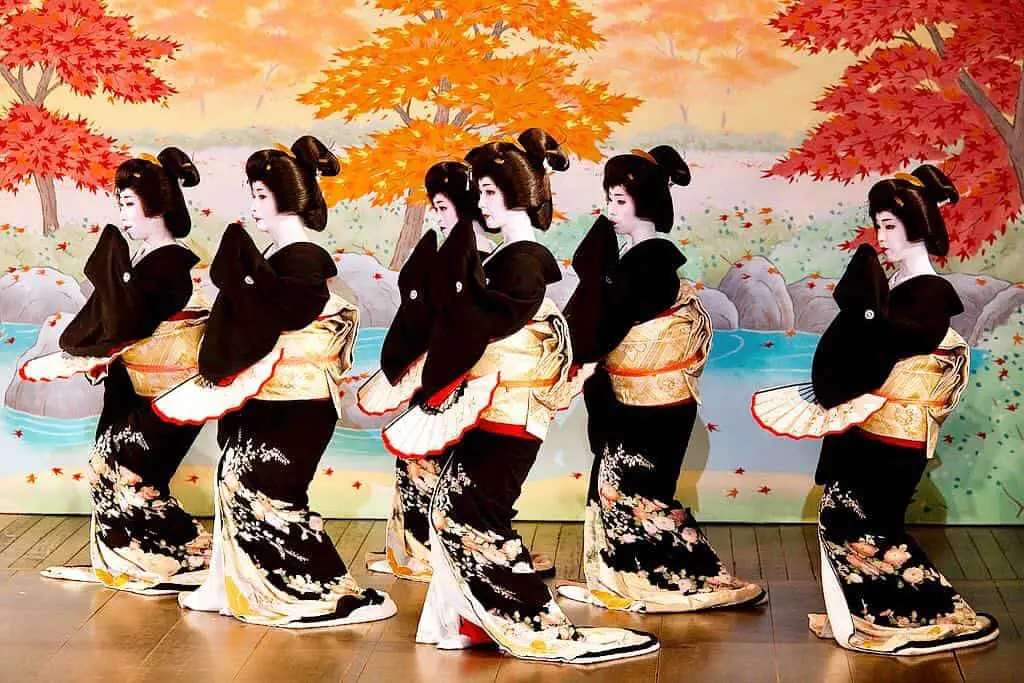 This is the shortest of all the events, running for about a week. However, it is your only chance to see one of these hanamachi performances outside of spring. There are two performances held in the afternoon each day.
This event first began in 1894 under the name Mima Odori. This performance is intended to feel more intimate and personal, separating it from the larger spring performances.
Obviously seeing these performances is heavily restricted by the time of year you visit. What do you do if you can't visit during these seasons and you don't have the hook up to get a private experience?
Luckily I know of one more way you can share in the magical world that is geisha.
Traditional Arts at Gion Corner
Part of the charm and appeal of hiring a geisha is the exclusivity of the experience. That's why as a tourist in Japan it may feel like getting blood from a stone to meet one. Thankfully there is an accessible way to meet maiko, in training geisha. 
Gion Corner is a theatre that features a display of seven of Kyoto's traditional performing arts. Of the seven there is a tea ceremony and a dance which will be performed by two maikos. Gion Corner is located in Yasaka Hall which itself is right next to the Gion Kobu Kaburenjo theatre – where the Miyako Odori takes place every year.
Gion Corner is very touristy, therefore its prices are a little on the expensive side. The performance itself is held every day and is around an hour long. Each of the seven traditional arts is performed in easy to digest form.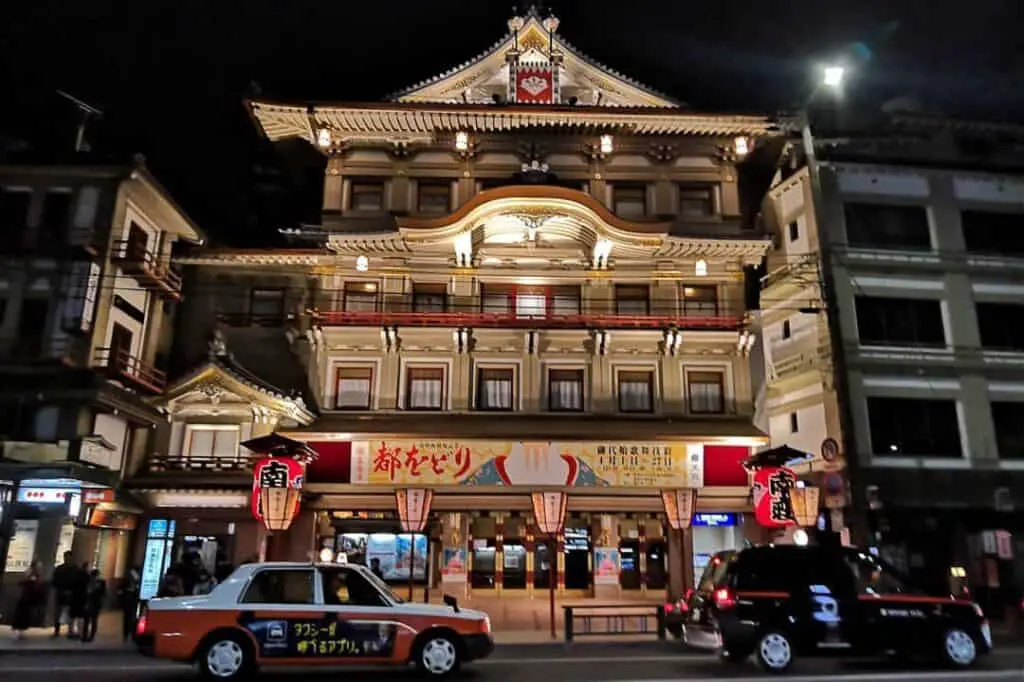 The seven arts performed are:
Kyogen Theatre – a form of theatre that portrays life in a comical manner.
Koto – an ancient six-string Japanese instrument played with ivory plectrums.
Gagaku Court Music – indigenous Japanese music and dance that was performed at the Imperial Court, shrines, and temples.
Flower arrangement – an art form for creating arrangements with flowers and other materials.
Bunraku Puppet Theatre – a short performance of the art founded in Osaka during the 17th century.
Tea Ceremony – a stylized tradition of steeping and serving tea to guests.
Kyo-mai dance – an elegant dance performed by maiko and geiko in a beautiful ornate dress.
You are only going to find maiko as part of these performances. So if you are looking for a fully-fledged geisha you will have to look elsewhere. However, these performances are held every day at Gion Corner and are a wonderful snapshot of traditional Japanese Culture.
Well worth being added to your travel itinerary while you are in Kyoto. The once capital of Japan is steeped in amazing history that's worth experiences. Of course, geishas are a part of that history and you might be wondering how to get a private experience.
How To Arrange Private Geisha Entertainment
If you've got the money then you might be able to book you and your guests a private room with geisha entertainment. Do be aware that this does not come cheap. On the low end, the cost for dinner with two geisha and one jikata (this the shamisen musician) could cost around 1000 dollars. This can however be even more costly depending on the experience of the geisha, the restaurant, and the food and drink consumed.
Regardless of how much money you have to spend, arranging a special evening with a geisha will still be tricky. It is unlikely that a tourist will be able to outright book an evening with a geisha. Typically people have to be recommended by current clients to be able to get their foot in the door.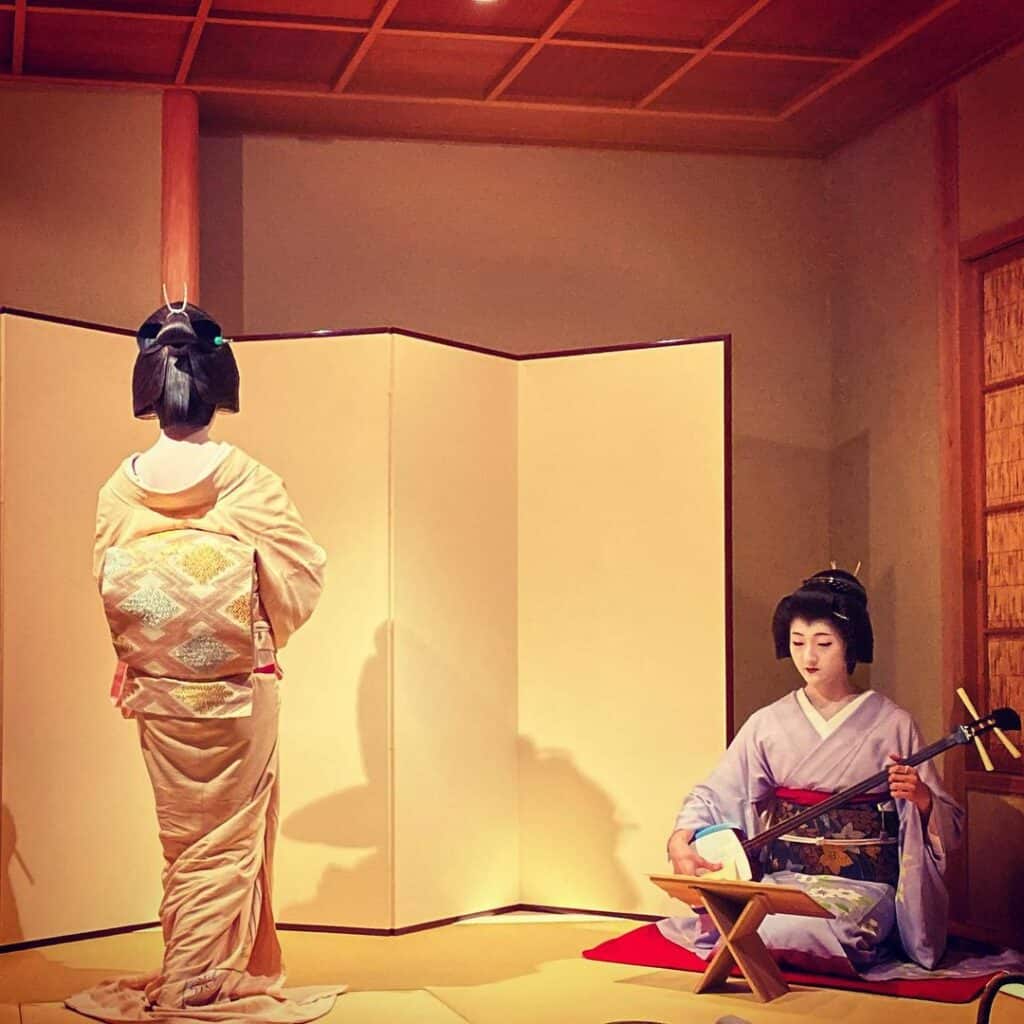 This red tape can make it harder for a tourist to book a geisha, but it does not make it impossible. Speak with your hotel concierge, they might be able to arrange it. Alternatively, you could arrange it through a tour company.
This won't come cheap and you will probably want to hire an interpreter as well so that you and the geiko or maiko can converse. If you book through a tour operator they might provide an interpreter as part of the package, be sure to check.
An alternative to privately booking a geisha, and avoiding the costs associated with it is to book dinner at Yasaka Dori Enraku. This is a traditional Japanese restaurant that turned its attention to the international market. Making it the perfect destination for a tourist who wants the intimacy of a geisha performance.
You can buy a ticket for a maiko dinner show which includes everything you would expect at a private show. There will be a traditional dance performance, you will get to chat to maiko about their lives, take photos, and even partake in ozashiki. Ozashiki is Japanese for party drinking games.
As is customary in Japan, when you eat, you drink and this is no exception. Maiko will join these drinking games and it is their job to make you have a good time.
How To Behave Around Geisha
It might seem a little peculiar to be told how to behave, but there are some awkward misconceptions surrounding geisha. It's also good to know how to act as the Japanese tend to be very polite. As a tourist, we do not want to disrespect anyone so there are a few dos and don'ts.
The first thing to address is what geisha are not. They are not prostitutes, despite what you may have seen in films or read in books. If this happens to be your reason to want to hire one, you will be sorely disappointed.
They are professional entertainers, who practice traditional Japanese arts and they train for years. They are artists who have practiced and passed down their art through generations.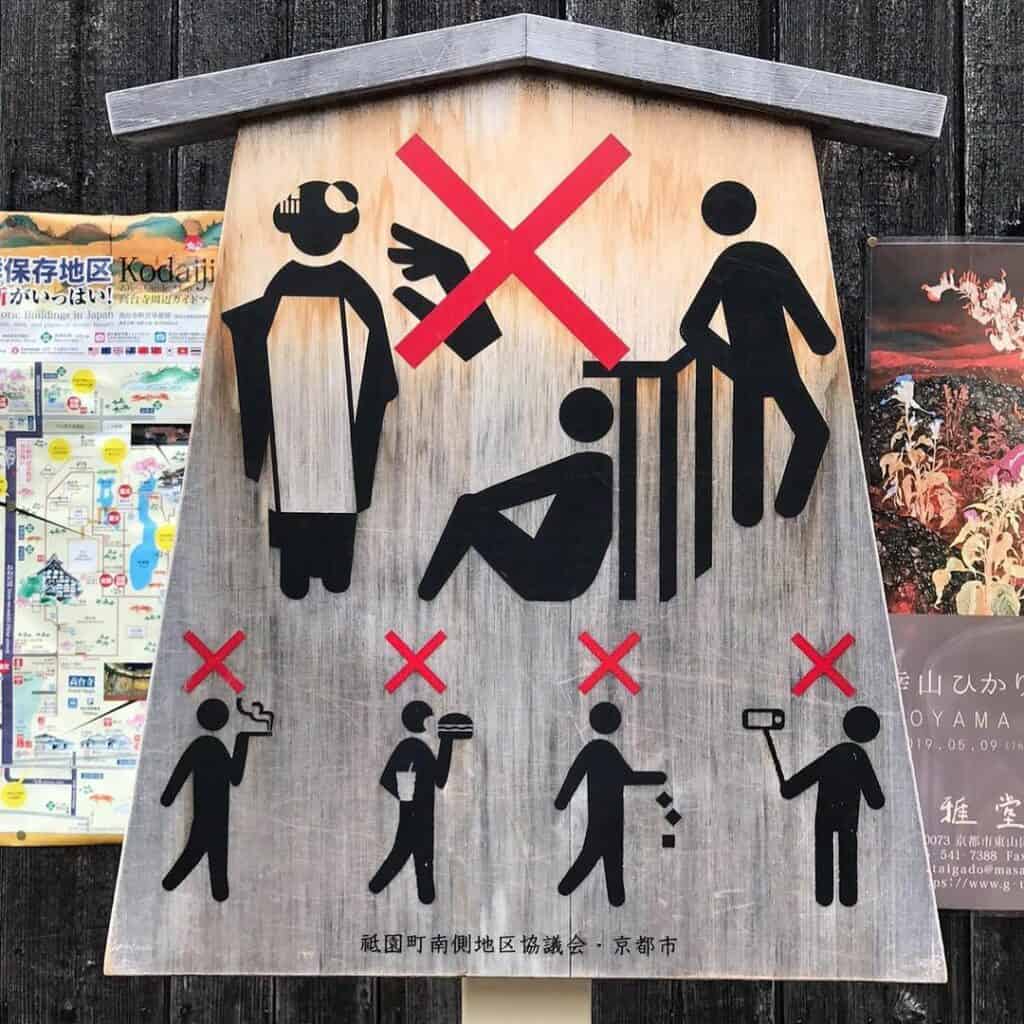 Don't interrupt geisha in the street, they will most likely be on their way to an appointment. Geisha take a long time to apply make-up and perfect their appearance. It would be impolite to try and grab a picture with geisha at this time.
Taking pictures is heavily frowned upon, and in some locations banned with a fine attached. If you are with a geisha during a private engagement they are more likely to be happy to take a picture with you. If you are trying to get them in the street, they will most likely be unhappy to take a picture.
Don't stalk geisha as they move from locations. Aside from the obvious risk of causing her undue panic, it would be seen as disrespectful.
Don't enter a tea house unless you are supposed to. These are costly private functions and usually very exclusive. To be allowed you must be the guest of a known patron, or introductions have been made previously by a current client.
If you are lucky enough to spend a special evening with geisha then you should enjoy your night heartily. Geisha are experts in casual conversation so you should engage as fully as you can. Allow them to lead the conversations they will know how to avoid any lulls.
Be prepared to drink a lot, part of a geisha's role throughout the evening is to keep you topped up. The drinking games she will play with you usually end with the winner downing their drink.
Don't expect your geisha to know English. There is a chance she might, but it certainly isn't a requirement of the job. Geisha are expected to converse in the Kyoto dialect.
Geisha are known for working well into old age. Ask your geisha any questions about themselves, their culture, or lighter topics. Geisha do vary in age, most maiko graduate to geiko in their 20s but many do not stop practicing.
Conclusion
There are many different ways to experience geisha in Kyoto but sadly it seems to be a vanishing culture. There used to be around 80,000 geisha across Japan but that number has dwindled to closer to 4000.
That means it is becoming harder to find real geisha and this includes Kyoto. The romanticization of their culture has led to intrusive levels of tourism trying to glimpse a look into their world. By all means, you can visit Kyoto and view geisha performances, but it's crucial not to overstep.
However, if you can plan your trip to Kyoto around the Odori then you are in for a wonderful treat. Particularly if you go in the spring, there's a chance you can see multiple performances! So start planning today and make sure a trip to Kyoto is at the top of your to-do list.