When I started investigating what a geisha is, I never realized how much training and education it takes to pursue this prestigious career. So, I decided to take a concise but casual course to help me transform into the role. 
I found that the items below were the most useful in transforming into a traditional geisha, even though it was just for fun.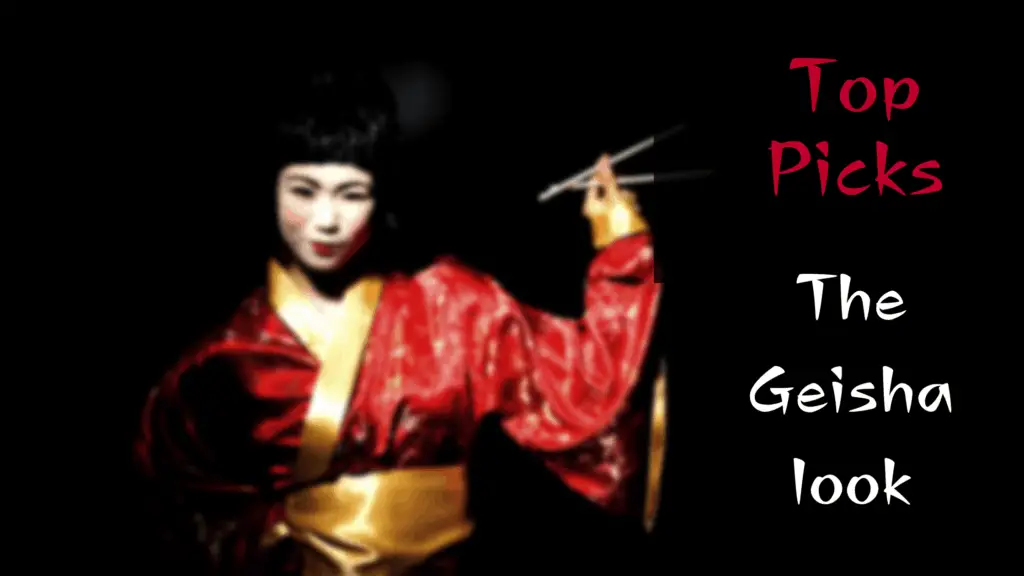 White Make-Up
One of the most attractive features of the geisha is the way that they paint their faces. It predominantly consists of a white base with bright red lips. After searching online for some suitable products, I found that the Mehron make-up color cups were perfect for what I need. 
The cups aren't too big, only 0.5 ounces each, but they come in various colors, most notably the red and white that I require. Being smudge-proof made them a big hit with me, especially when it gets hot, and I start to sweat. When it came time to remove the paint, it was simple with a little bit of cold cream and make-up remover. 
The Costume
The ensemble is made up of several items with a specific design. I had to look for a wig, hairpiece, sandals, kimono, socks, umbrella, and fan. It took some time to find all the correct items, but it was worth it. Once I assembled everything and stood in front of the mirror, I looked exactly like a geisha.
Wig
After considering several options, I finally decided on the deluxe woman's Asian geisha wig. It's a one-piece that is already styled with a ponytail bun on the back. I liked this one the most because it has a youthful design and suited my face perfectly. 
It's very natural looking and soft to the touch and comes with an adjustable elastic strap, so I could make it fit snugly without worrying that it will fall off. It wasn't the cheapest, but I felt that it was quality that would last me many years to come. 
This wig is also made with the net on the inside and helps the airflow to my head to combat sweating or itching.
Hairpiece
To add to the look of authenticity, I decided to get a floral headpiece to put onto my wig. The CRB Fashion Women's Japanese Kimono Flower Kanzashi Hair ornament tie clip was exactly what I needed. 
It's a simple yet elegant clip with three embellished flowers and a hanging decoration that ends with tiny bells. It comes in a variety of colors and is very affordable. Once I put in on my wig, it drew the whole look together.
Sandals
It was a real challenge finding the perfect sandals to complement my outfit, as there were so many choices. I finally went for the Kyoetsu Women's Koppori Geta Sandals for Kimono Maiko with Embroidered Strap. 
These are raised sandals that, for me, looked the perfect part for a geisha. It took some getting used to walking on the platforms, but the front is carved in, making it easier to take the small steps required of a courtesan. The rubber sole is a great design feature as it prevents slipping. 
Even though they look clunky and heavy, the soul is hollow, so it's effortless to walk. I really enjoyed the unique decorative roses on the side of the soles. It's not a shoe that you would wear anywhere else except for the occasion required of a geisha, as comfort is not a priority.
Kimono
After contemplating various kimono types, I decided to choose one that is best suited for beginners. The Kimura Jitsugyo Easy Wearing Traditional Yukata Robe was perfect for somebody like me who has no experience in donning a traditional kimono. 
The set comes with the robe, a pre-tied obi sash, geta sandals, and an instruction manual, which I found was convenient. The fact that the obi sash was pre-tied saved me a lot of time and frustration. I also like the fact that there were so many colors and prints available. 
I decided to buy a couple so that I can have a different one for various occasions. I also really enjoyed the fact that the Yukata is 100% cotton, making it breathable and cool in summer.
Socks
When searching for Japanese Tabi toe socks, Figo flip-flop socks solve my dilemma regarding wearing my sandals in style. There is a split between the big toe and the rest of the foot. 
When I put on my geisha sandals, they fit perfectly and were comfortable without chafing. Even though they had a few different styles and colors, I chose the traditional white as is befitting the position. 
Parasol/umbrella
One of the accessories required is a parasol to add to the charm of a geisha outfit. The quaint nylon and bamboo umbrellas bring a little romance to the ensemble. They are very affordable, and you can get these items in several different shades. 
I got myself three different ones to match my different colored kimonos. A parasol would be used traditionally to protect from the sun and the rain. However, these are made from paper and are only suitable to protect from the harsh rays during the day.
Fan
The final accessory to complete my costume was a fan. Let me tell you; there are so many different designs and styles that it took me forever to pick just one. Some of them are bold with solid colors and the edges, while others are delicate with floral designs and pastel shades. 
On average, they are 8.27 inches long and very lightweight. Some come with a tassel while others are plain. After much indecisiveness looking at stunning patterns, I decided to go with the Amajiji Vintage Retro fan. I love the fact that it has bold solid colors in the background with delicate artwork across the front. 
It has a tassel, making it more appealing, and each one comes with a unique silk pouch for storage. The fan is both beautiful and functional, and since it is relatively inexpensive, I bought a few different ones.
Gathering Knowledge
To further understand what a geisha's life is like, I decided to read a few books to get more insight. Even though several publications were available, I finally settled on a book written by one of the most successful geishas of her generation. 
The book entitled "geisha, and life" was written by Mineko Iwasaki, who was only five years old when she left her parent's home to begin her training. I was fascinated by this life story that took me through 25 years of her life filled with extraordinary events and rich rewards. 
She's claimed to be one of the most prized geishas in Japan's history, and at the age of 29, she retired and decided to marry. Some people say that that was the beginning of the demise of the geisha culture. 
The book drew me into its colorful depiction of the beauty and wonder of Gion Kobu, which seems like a place that existed in a world apart. I enjoyed this true story of beauty and culture that is rarely revealed to the Western world.
Creating Geisha Art
Feeling inspired by the story I read, I decided to create something beautiful of my own by purchasing stunning geisha themed coloring books. I found several relatively simple designs covering various images ranging from Koi fish to dragons and a few general geisha pictures. 
However, I wanted something a little more intricate, and I found this inside the geisha and Japanese beauty coloring book. The pictures' details are exceptionally delicate, and I love filling each space with a different color, creating unique artworks that are later framed and hung throughout my house. 
Not only were these stunning creations in my eyes, but I found them extraordinarily calming and de-stressing. I highly recommend going back to your childhood roots and coloring in some of these beautiful drawings to find inner peace.
Decorative Figurines
I wanted to also bring a little bit of the geisha spirit into my home to remind me of the dedication and sacrifice that these women go through to become the perfect entertainer. 
So I went on the hunt for some statues or decorations to use. I was not too fond of several options as they had a cartoon undertone to them. I finally settled on the Oriental furniture 14″ geisha figurine w/Ivory flower sash.
 It was the only one that I liked since it was the most realistic out of all the ones available. I must admit it's a little pricey, but the detail is beautiful with authentic hand-painted faces and hands.
I feel that it's worth the money as its beauty is stunning, and it's over a foot tall. The best thing is that it's part of a collection of 12 elegant, handcrafted figurines, which I can collect until I have the full set. These, coupled with my hand-colored drawings, brought a little of Japan into my home.