Sushi is a popular food that has many variations and kinds, but it's always a bit tough to create it at home. You'd have to get the consistency of the rice right so you can make rolls much easier and know which ingredients go well together, so your meal doesn't end up bland.
Here are the best sushi-making kit recommendations for any level and user.
Here are our top 5 picks:
AYA Sushi Maker 2
Delamu Bamboo Sushi-Making Kit
BAMBOOWORX Sushi-Making Kit
Ioleem 15-Piece Sushi-Making Set
Ultimate Sushi Kit
Here, we'll look at each kit in-depth so that you can choose the right fit for your needs.
1) AYA Sushi Maker 2 – Our Top Pick
Sushi-making kits are a relatively new addition to home cooking tools, and AYA is the leader in this field. They have various tools and packs, from restaurant-style to eco-friendly sets. The one we find the best is the Sushi Maker 2.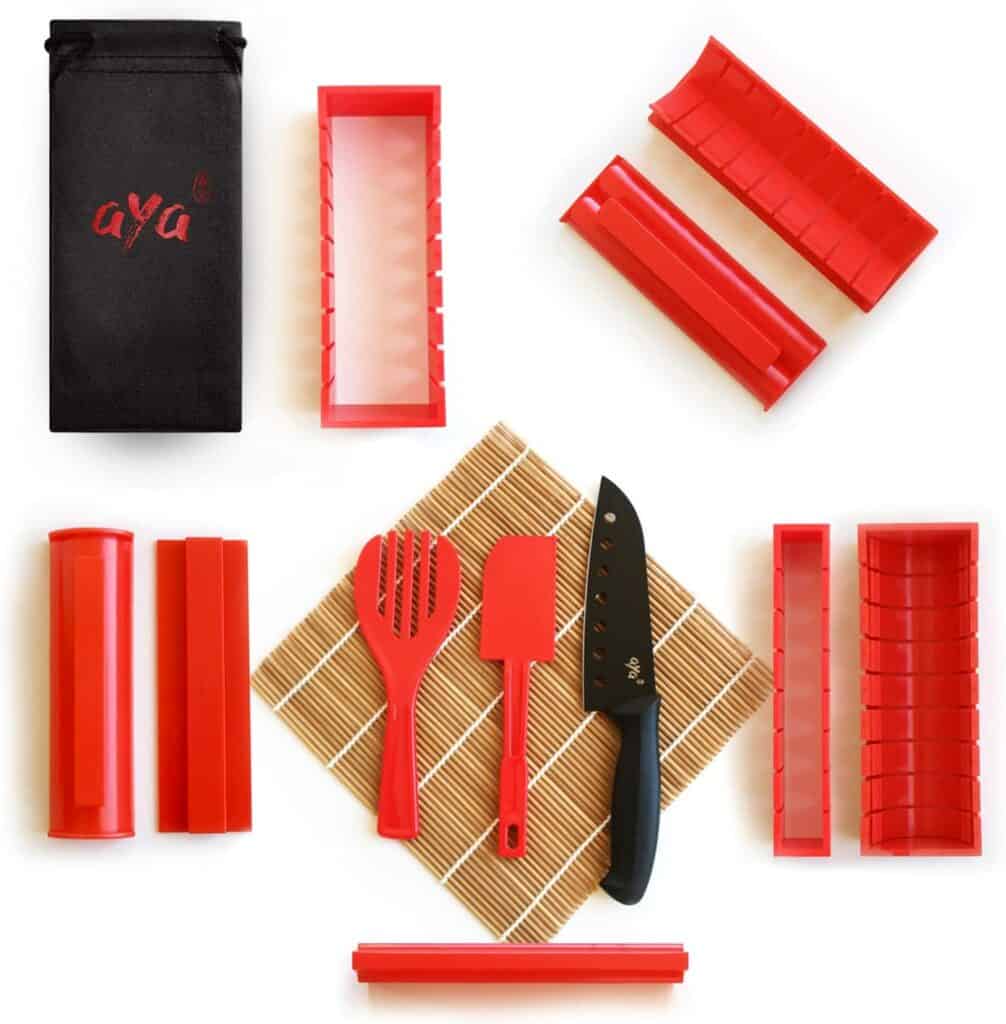 Check out prices now on Amazon.
Highlights
This 12-piece set is ideal for kids, beginners, and those that have some experience with homemade sushi. This set creates perfect, restaurant-style rolls and comes with variations of several rollers, also known as a bazooka. The greatest part is – you get video tutorials and recipes with this set and a knife that won't leave you wondering how many pieces are in a sushi roll.
Features
Has four different bazooka rollers: heart, square, round, and triangle
Comes with a spatula and spreader to scoop and spread the rice in the bazookas or on the rolling mat
It also comes with a sharp, professional knife for cutting the rolls
There's a bamboo mat in the set, for a more freehand roll-making
You get a video tutorial on how to use the set and with various recipes
All parts, except for the bamboo mat, are dishwasher safe and easy to clean
It's BPA and FDA approved
It comes with a lifetime warranty
What We Like About the AYA Kit
The best part of the AYA Sushi Maker 2 set is how easy it is to use. It's efficient, quick, and easy to clean, and the professional knife is a fantastic addition to the set, since it's hard to come by excellent knives at such a cost.
It's also beginner and kid-friendly, so you can throw a sushi party with your friends or help your children develop their interest in cooking and world cuisine by crafting some rolls with them. It's also one of the most incredibly affordable kits out there.
What We Don't Like About It
While there are enough tools in this set, the instructions for using them aren't very clear. The video tutorials also don't seem to cover every piece in the set, which is disappointing.
| | |
| --- | --- |
| Pros | Cons |
| A comprehensive set of 12 pieces | Unclear instruction paper |
| Dishwasher-safe | Incomplete video tutorials |
| Comes with video tutorials | |
| Lifetime warranty | |
| FDA approved | |
| Long-lasting | |
| Suitable for all ages and skills | |
| Affordable | |
2) Delamu Bamboo Sushi-Making Kit
This set isthe highest quality bamboo kiton the market.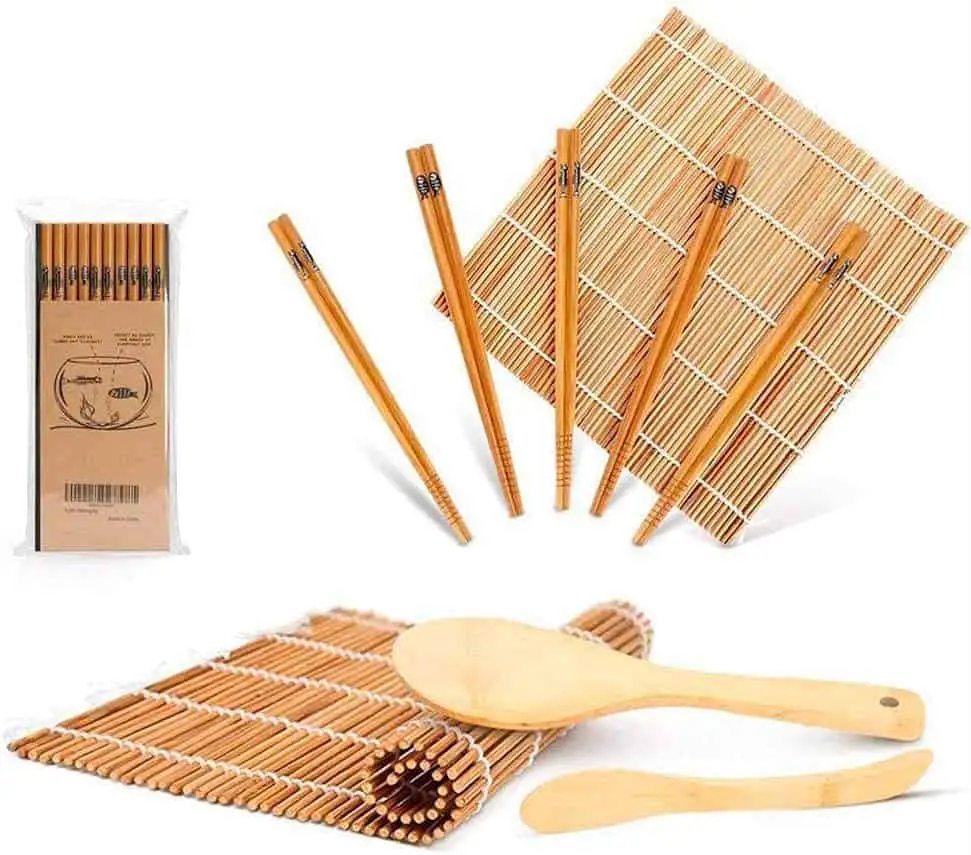 Check out prices now on Amazon.
Highlights
Compared to other bamboo kits, the one made by Delamu is by far the highest quality one. Their rolling mats are thick and sturdy, and they age well. There won't be any splinters or string unraveling when you prepare your food. This set is also beginner-friendly and comes with PDF instructions.
Features
Comes with two high-quality rolling mats made of premium bamboo with polished edges
You also get a rice spreader, a paddle, and five pairs of chopsticks
Easy-to-use kit
Pretty affordable
Has PDF instructions that you can get to your email
What We Like About the Delamu Bamboo Kit
This bamboo rolling set isfantastic as a gift for someone you love. The packaging is elegant and practical. The perfect quality of the mats ensures the kit lasts for a long time without any splits or damage. The PDF instructions are suitable for all skill levels and easy to understand. Overall, this is an authentic and aesthetically pleasing set.
What We Don't Like About It
Bamboo mats aren't dishwasher safe, so cleaning them might be a hassle. They're also awkward to store because of their size and shape, but if you have enough storage space, you'll be fine.
| | |
| --- | --- |
| Pros | Cons |
| 2 high-quality bamboo mats | Not dishwasher safe |
| Easy to understand PDF instructions | Tough to store |
| Beginner-friendly | |
| Comes with a paddle, spreader, and chopsticks | |
| Non-chemical | |
3) BAMBOOWORX Sushi-Making Kit
This is the most elegant, giftable, and affordable kit you could find.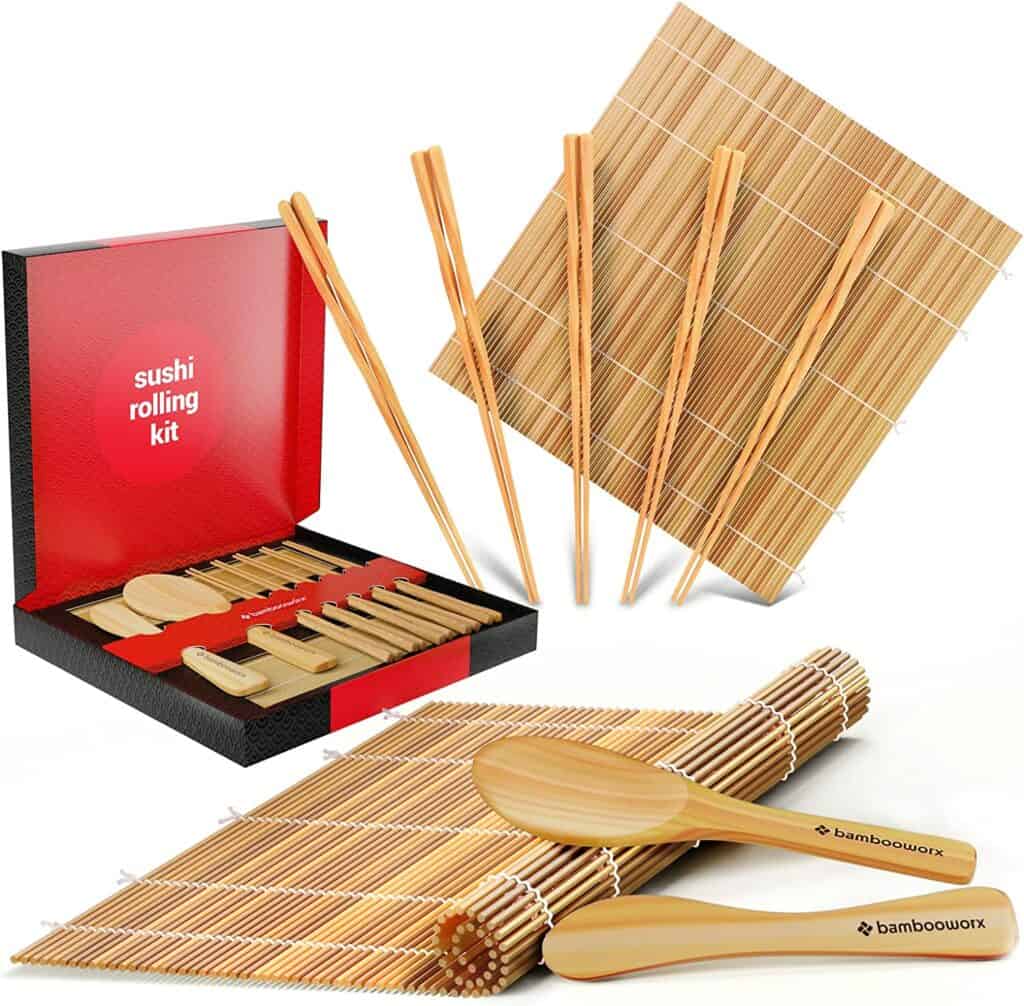 Check out prices now on Amazon.
Highlights
BAMBOOWORX has managed to sell this excellent-quality set for the smallest budget possible. Compared to AYA and Delamu sets, this one is super affordable yet doesn't lack any quality or equipment. It's similar to the Delamu set, except around twice its price, and it comes in an exquisite black and red packaging that's a perfect last-minute gift idea.
Features
Two excellent-quality bamboo mats
Comes with an additional spreader, paddle, and five pairs of chopsticks
Incredibly affordable
Elegant, giftable packaging
Beginner-friendly
Easy-to-use
Long-lasting
What We Like About the BAMBOOWORX Kit
What's not to like? It's an ideal kit that gives users the freedom to learn rolling sushiby hand yet helps make the nicest rolls out there. It's durable and made from excellent bamboo. Your friends will love the gift, and you'll enjoy preparing dinners at home quickly and efficiently.
What We Don't Like About It
The BAMBOOWORX set is a bit high maintenance. It requires care and attention, considering the mats aren't dishwasher safe. They need to be hand-washed, and the manufacturer recommends using mineral oil to maintain the wood's shine throughout its lifetime. If you have the time to wash and clean this set as it deserves, you won't have any problems.
| | |
| --- | --- |
| Pros | Cons |
| 2 excellent-quality bamboo mats | Not dishwasher safe |
| Extremely affordable | Needs mineral oil treatments once in a while |
| Simple to use and learn | Doesn't come with instructions |
| Durable | Needs to be stored carefully |
| Comes with paddle, spreader, and chopsticks | |
| Fantastic gift idea | |
4) Ioleem 15-Piece Sushi-Making Set
This set is the ideal beginner's sushi maker with fantastic additions that can be used in the kitchen for other recipes.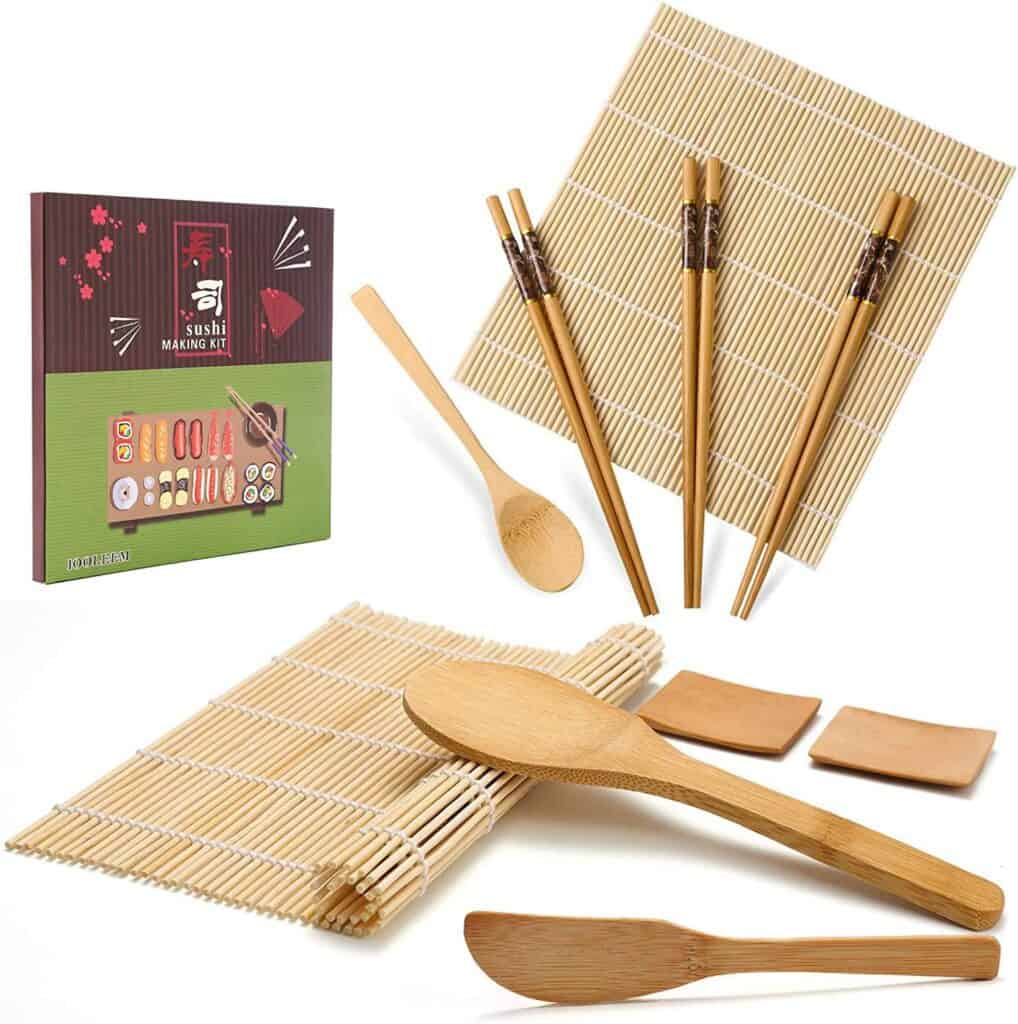 Check out prices now on Amazon.
Highlights
There's a lot to say about the Ioleem kit, but if there can only be one thing, it's that it is fabulous. Colorful, crafty, and the ultimate beginner's toolkit to make you a chef. It has 15 pieces, and most can be used in other ways besides crafting maki rolls or scooping rice.
Fast, efficient, easy-to-use, and relatively affordable – that's the short description of this kit.
Features
2 mats, one thin and one thicker
A rolling bazooka for perfect maki rolls
Rice spreader and paddle
Storage bag
Cucumber and avocado slicers
Dipping plate
3 pairs of chopsticks and 2 chopstick holders
Printed recipe
What We Like About the Ioleem 15-Piece Kit
This set has it all. You'll save a lot of time with the diced and the avocado slicers and wash them in no time. The rolling mats come in two varieties, and you also get a bazooka to spare yourself the trouble of using the freehand method. It's the ultimate quick, efficient, and beginner-friendly set.
What We Don't Like About It
While the slicers are the most convenient features, they're also not as durable as we'd like. They get dull fairly quickly, but fortunately, the set isn't too expensive, and these slicers can be easily replaced (or just use a knife.)
| | |
| --- | --- |
| Pros | Cons |
| An all-encompassing 15-piece rolling set | Non-durable slicers |
| Glue-free | |
| Odor-free | |
| Ideal for beginners | |
| Slicers to save time on vegetable prep | |
| Fairly affordable | |
| Easy to wash and handle | |
5) Ultimate Sushi Kit
The ultimate sushi kit to get you 'rolling'. The kit contains everything you need to create a whole range of exciting and flavour-packed sushi rolls and maki.
The ultimate kit also includes a super stylish bento box to present your homemade sushi and keep it fresh.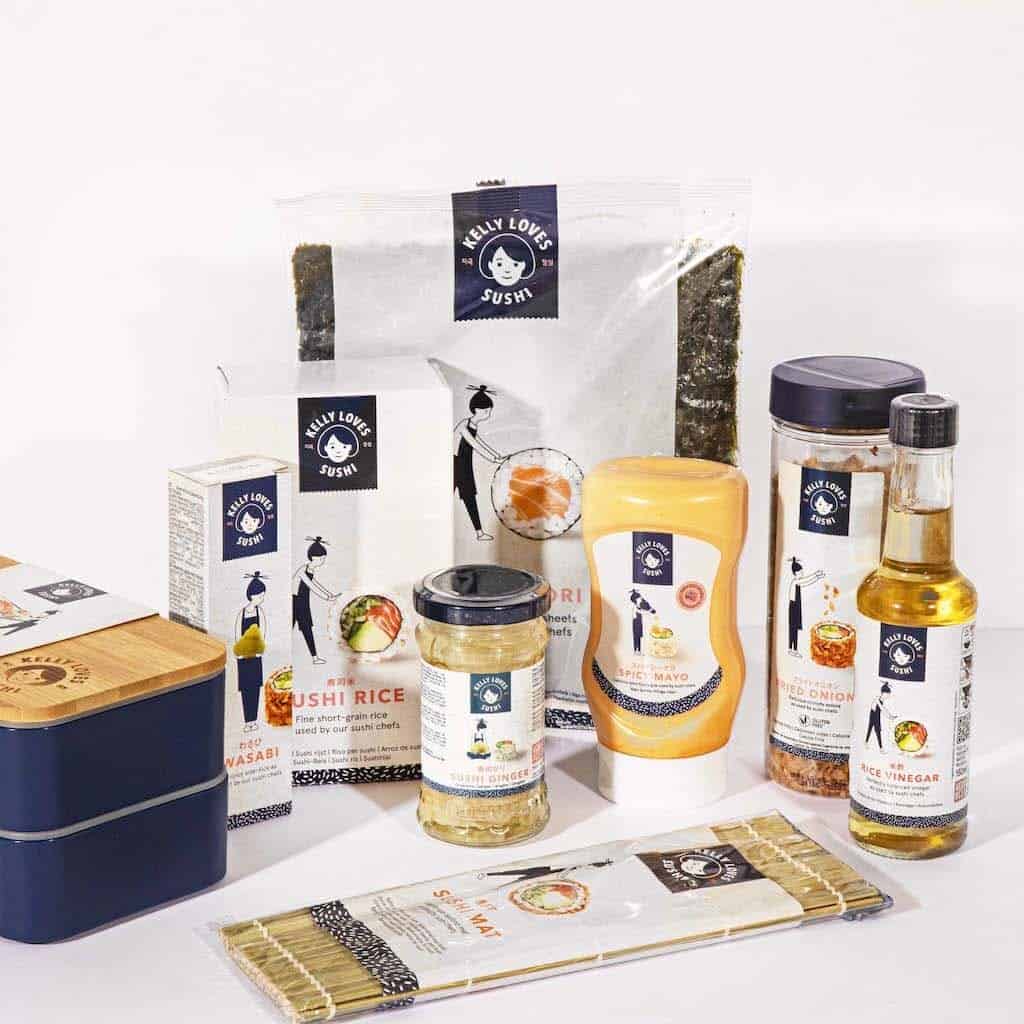 Features
Comes with a high-quality bamboo rolling mat made from premium bamboo 
You get all the ingredients you need such as sushi rice, nori sheets, sushi vinegar –  Just add your choice of fish or vegetables and get creative
The kit provides all the finishing touches like spicy mayo, ginger, crispy fried onions, wasabi
Easy-to-use kit for seasoned sushi makers and beginners 
Affordable
The ultimate sushi kit also includes a compact and convenient Bamboo lid Bento Box for maximum freshness 
What We Like About the Delamu Bamboo Kit
This ultimate sushi kit is fantastic as a gift for someone you love or for the perfect weeknight meal. The packaging is modern and vibrant.
The attention to detail in including the Bento box and toppings takes homemade sushi to another level!
As a whole, this is an authentic and stylish set.
What We Don't Like About It
The kit can only be used a few times until the ingredients are used up. Also, the bamboo mat is not dishwasher safe, so cleaning them might be a hassle.
| | |
| --- | --- |
| Pros | Cons |
| High-quality bamboo mat | Does not have soy sauce  |
| Easy to understand instructions | Does not include fresh fish |
| Beginner-friendly | |
| Comes with a Bento box, ingredients, and toppings  | |
| High-quality full-size ingredients  | |
Click here to buy the Ultimate Sushi Kit: https://kellyloves.com/products/ultimate-sushi-kit 
What To Look for When Buying a Sushi Rolling Kit
If you're unsure which of these kits is the most suitable for you, here's what you need to look for in all of them to make a decision.
Ease of Use
The first thing to look for is how easy to use your chosen set is. Perhaps, as a total beginner, you might be nervous around a plain rolling mat, so you prefer to get one with a bazooka. Decide what kind of tools will suit you the most, and the difference between rolled sushi will be clear.
Also, paddles for scooping rice and spreaders are excellent tools that seem redundant but are actually essentials. If a set has these, it's a complete and beginner-friendly toolkit. When you cook rice, you'll only worry about what the best rice vinegar for it is and not how to spread it.
Dishwasher-Safe Components
Of course, the best part about any dish or kitchen utensil is its dishwasher-safe component. Unfortunately, bamboo mats aren't suitable for machine washing, so the recommendation is to hand-wash them instead. This is essential if you want your mats to stay intact and durable.
Ensure your plastic components don't give out any odors and that they're FDA approved. You can easily check that on the kit's packaging.
Compact Packaging and Easy Storage
Maybe the most important aspect of a good kit is its packaging and storage abilities. It's tough to store bamboo mats properly, so if your set comes in good packaging, that's the ideal toolkit.
Final Verdict – The Best Sushi-Making Kit
The AYA Sushi Maker 2 Kit
Our top choice is AYA's Sushi Maker 2 kit because it's versatile, has plastic components, various roll shapers, a professional knife, and a bamboo mat. You won't wonder what sushi is the best, because it will be the one in your home. It also comes in a nice package and a vibrant red color, so it's ideal for gifting, too.
FAQs
How do I wash my sushi-making kit?
If you buy a kit with primarily plastic components, you'll have an easy time taking care of them. Just chuck them in the dishwasher and call it a day. If you buy bamboo mats, spoons, and chopsticks, it's best to wash them by hand. Some mats also require mineral oil treatments to maintain their quality and shine, so the dedication is a bit higher.
What's the difference between bamboo and plastic kits?
Most plastic rollers are user-friendly and suitable for people of all ages and skill levels. They're shortcuts to creating the perfect maki roll and quite easy to maneuver once you get the hang of it. Bamboo mat rollers are for those that can handle rolls a bit easier and have some experience with sushi.