Bonsai trees look intricately wonderful, like they're from a miniature fantasy world that's been hidden away from humanity all these years. But, the reality is that expert growers have manipulated the growth of regular trees to mimic larger trees as a miniature version.
The question is, are bonsai starter kits worth it? If you appreciate delicate beauty and have a tendency for nurture, then for sure – bonsai starter kits are totally worth it. The great thing is that you can find plenty of ready-made bonsai starter kits to put you on the right path.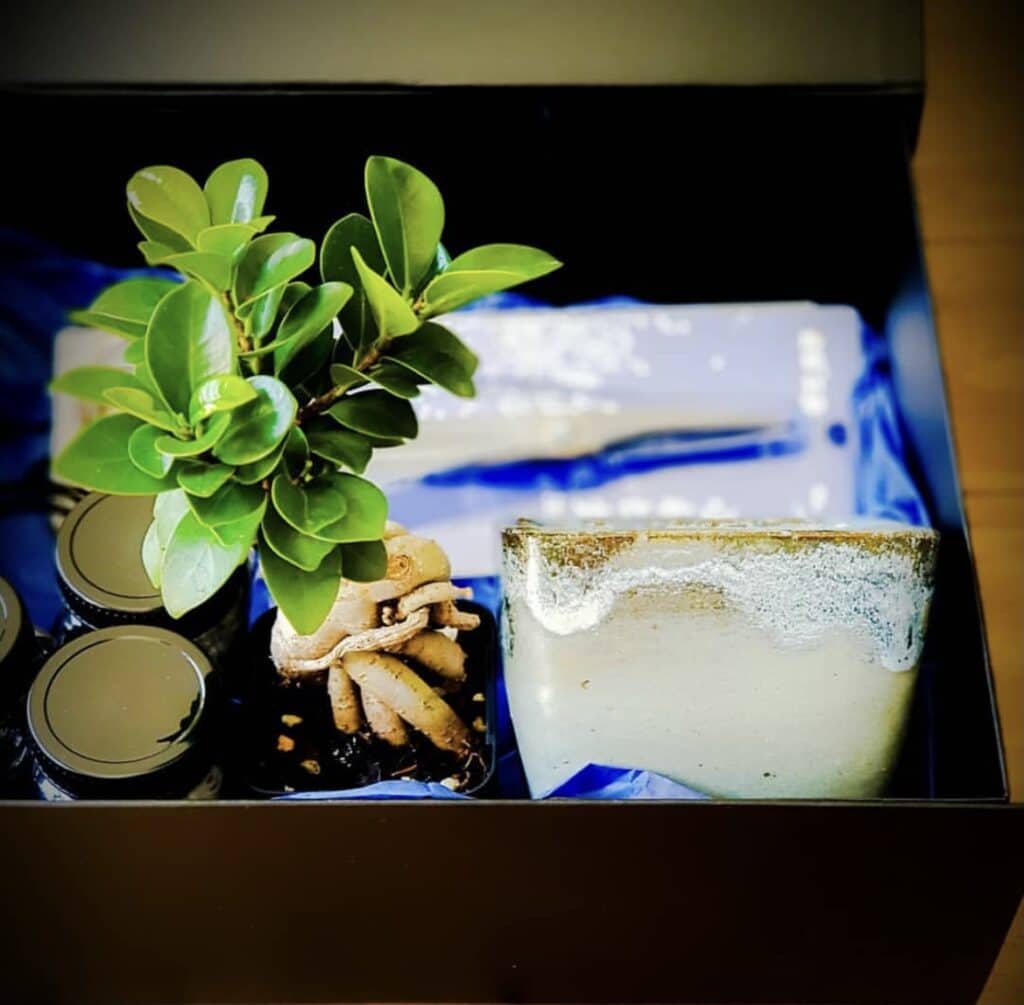 With a bonsai starter kit, you'll have all the tools and knowledge to grow a bonsai tree of your very own.
So in this article, I will run through several bonsai starter kits that should ignite your new passion. Plus, I'll advise you on several other factors that need to be considered before taking the leap.
The Meaning of Bonsai And Its History
Many people assume that the art of bonsai began in Japan. In actuality, the Japanese adopted this tree growing practice from the Chinese – which they called penzai or penjing. These Chinese methods mentioned do not exclusively refer to growing small trees but other plants on a miniature scale. 
The real meaning of bonsai in Japanese is related to the art of controlling the growth of regular trees into beautiful miniature versions. Growers use specialist pruning, cutting, and growing techniques to keep their tree's roots small and prevent overgrowth. 
It is the case that other cultures, such as Vietnam, also have a history of growing trees in this way. However, bonsai seems to have taken the lead as a popular term for this type of growing throughout the west and popular culture.
It is thought that bonsai growing began around the 6th century when Japanese scholars visited China and were exposed to penjing. It was typical for scholars and other prestigious travelers to bring back ideas from China – a country with a very ancient and sophisticated culture. Bonsai tree growing was one of the fantastic ideas that the Japanese developed from their travels.
How To Choose The Best Bonsai Starter Kit?
Japan has a rich and exciting culture. From instant ramen to Kyudo, it has always been a deeply cultured island nation. 
Horticulture and gardening are two prized skills in Japanese culture, as is demonstrated by art forms like kokedama. Bonsai tree gardening can look quite an intimidating pastime from afar, and you may wonder how on earth do they manage it? 
There's no need to worry; as long as you have a genuine interest, time, dedication, and patience, you should be able to grow your own bonsai with enjoyment and satisfaction.
We must say that there's not particularly one best starter kit out there, as everyone that wants to grow will have their own particular preferences in mind. 
So here are several bonsai starter kits that we recommend to begin your bonsai journey…
Ashbrook Outdoors Bonsai Starter Kit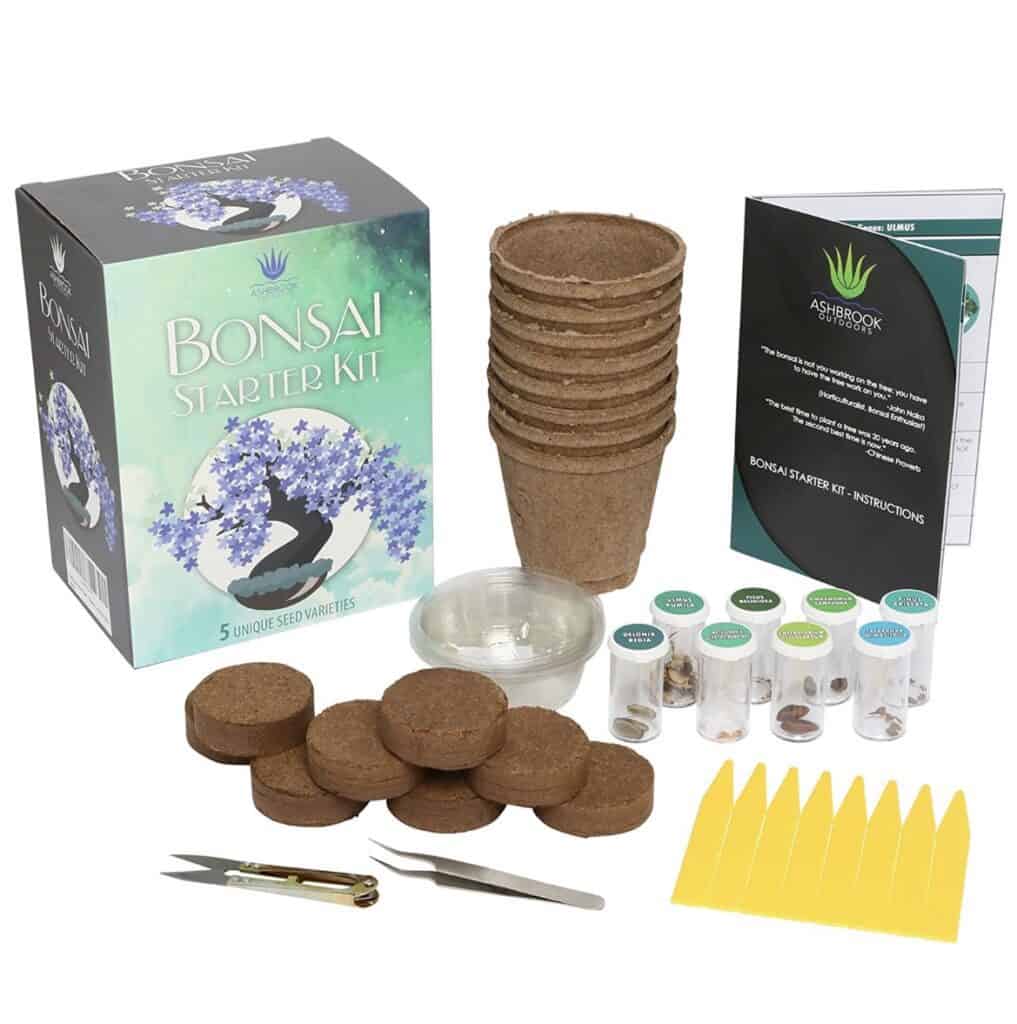 To begin with, we're checking out this Ashbrook Outdoors Bonsai Starter Kit. It allows you to grow eight different bonsai trees with loads of colors and details to appreciate. 
Whether it's just yourself, the whole family, or even people in the office who are growing these trees – you're sure to gain great satisfaction carrying out this bonsai project. An excellent tip to get started with this kit is to soak the seeds in water until they float or begin to swell. This method promotes better growth, and bear in mind; it might even take 24 hours for the seeds to change.
Lastly, we should mention you get high-quality bonsai tools included in this kit. Plus, there are a total of 43 pieces in this kit – so there are plenty of things to tinker with.
Planter's Choice Bonsai Starter Kit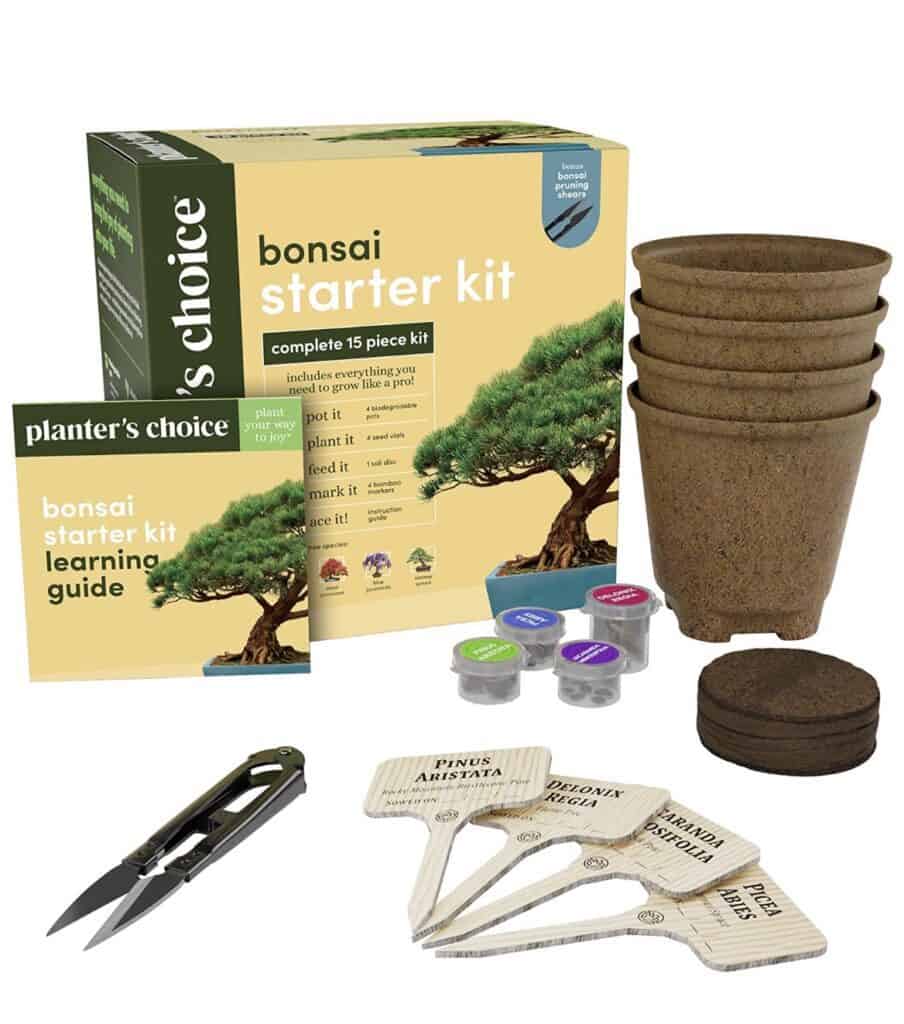 Here is another excellent value for the money and high-quality bonsai starter kit from Planter's Choice.
The types of seeds you receive include Black Poui, Norway Spruce, Flame Tree, and Rocky Mountain Bristlecone Pine. So there's plenty of variation to get excited about when nurturing your bonsai trees to their ideal sizes.
You also receive four biodegradable pots for growing, and there are bamboo plant makers included. So this is a package that should appeal to anyone with environmental concerns. Furthermore, the instructions are simple but comprehensive, meaning the most inexperienced growers will grow these four beautiful bonsai tree varieties.
Satsuki Azalea – Pink Blossom (Starter Kit)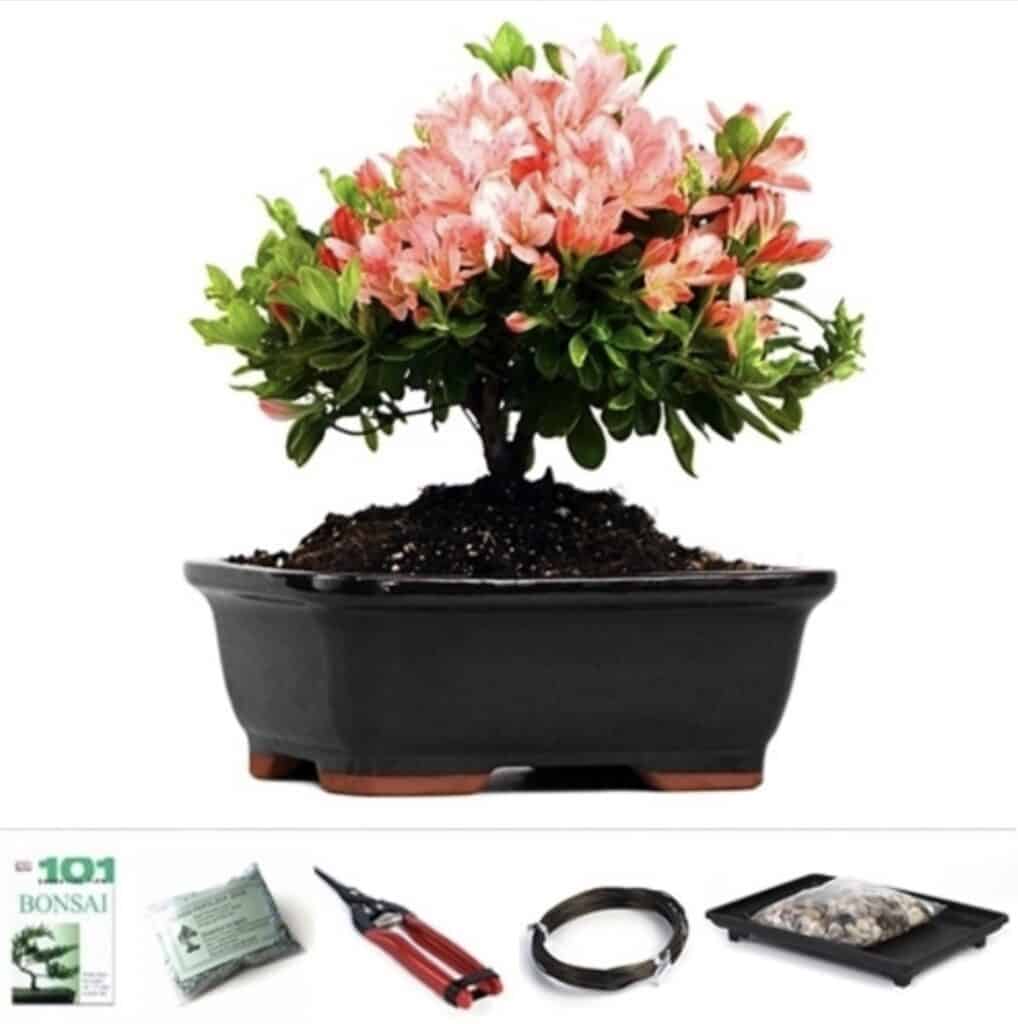 For growers that appreciate pink, here we have a pink blossom bonsai starter kit. The tree's technical name is Satsuki Azalea, for those interested, and it comes with various items to get you started.
The kit includes three ounces of bonsai fertilizer, a humidity tray, traditional shears, aluminum bonsai training wire, Bonsai 101 Essential Tips, and the tree itself. So you should have no trouble pruning and maintaining this beautiful bonsai tree.
Plus, I believe that this bonsai kit not only would suit beginners, but even more, experienced growers should gain enjoyment from growing this particular species. 
Trained Rock Juniper Starter Kit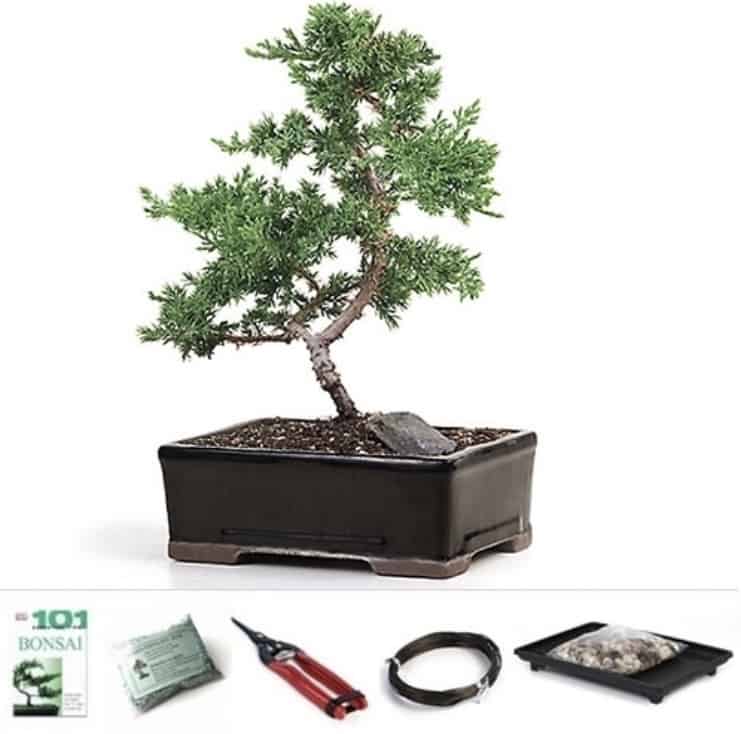 Here we have another bonsai starter kit that comes with a tree, not seeds. The Trained Rock Juniper Starter Kit is a proud-looking type of bonsai tree that could give your office a more masculine edge. Or, it could work just as well as part of a collection at home or wherever else you like to grow bonsai trees.
This kit also includes all the items needed to start your bonsai journey. It consists of the Bonsai 101 essential tips, bonsai fertilizer, a humidity tray, bonsai training wire, traditional shears, and the Trained Rock Juniper tree.
Chinese Elm Starter Kit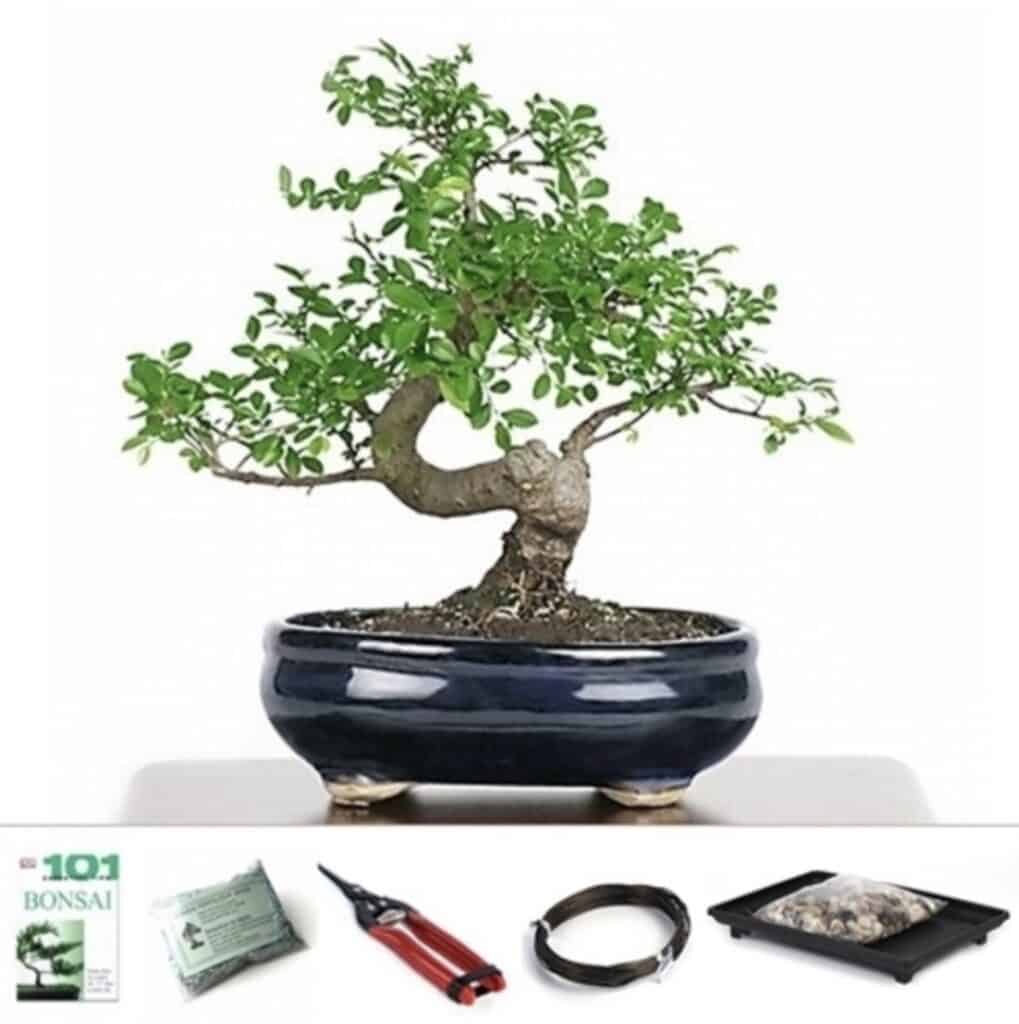 Chinese elm is a tree species that are native to eastern Asia in countries such as China, Taiwan, South Korea, Vietnam, and of course, Japan. 
When I think of a stereotypical bonsai tree, the classic image of a Chinese elm springs to mind. It comes with an assortment of items, including the Bonsai 101 essential tips, bonsai fertilizer, a humidity tray, aluminum bonsai training wire, traditional shears, and the Chinese elm tree.
Whether you're just getting started or a seasoned grower of bonsai trees, Chinese elm is a must-have for your collection.
Japanese Red Maple Bonsai – Shindeshojo Starter Kit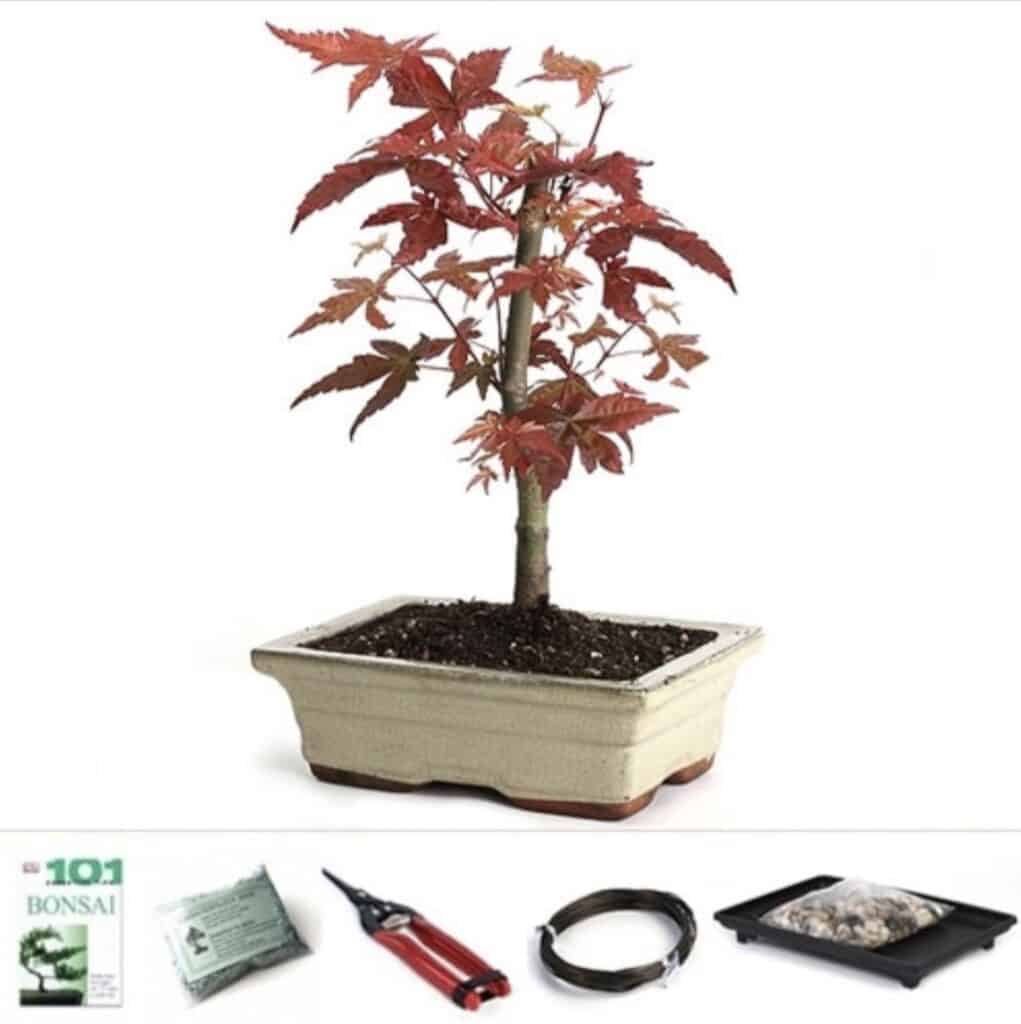 If you're searching for a bonsai tree with a wow factor, then this Japanese Red Maple Bonsai Shindeshojo Starter Kit could be right up your street. 
Japanese Red Maple is commonly used in an ornamental fashion, whether in bonsai form or grown as a larger tree. Its leaves look light and delicate with an earthy red tone to them. This kit includes traditional shears, Bonsai 101 Essential Tips, fertilizer, humidity tray, training wires, and the Japanese Red Maple Bonsai.
Hand-Mart 4 Bonsai Tree Seeds with Planter Box Starter Kit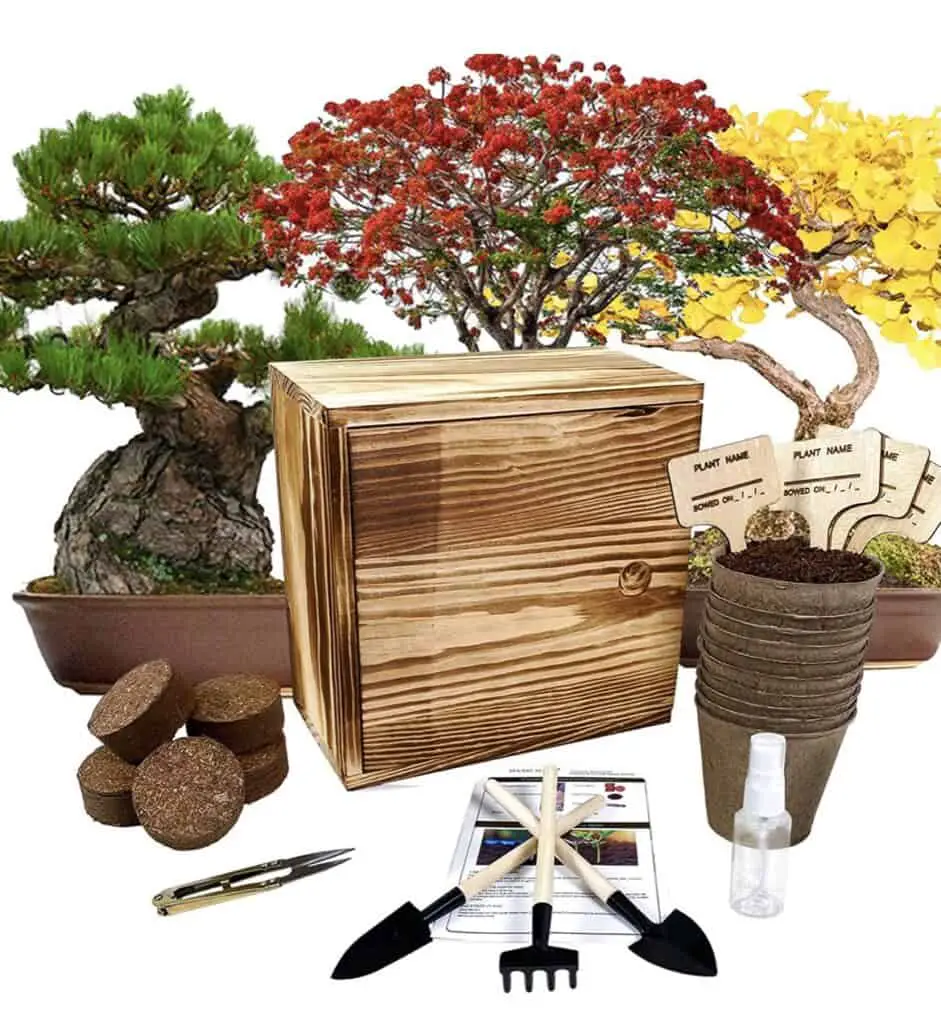 Now we're checking out another starter kit that comes with seeds – so you have to grow the bonsai trees from scratch. And if you're up for the challenge, we thoroughly recommend this all-in-one bonsai growing starter kit from Hand-Mart.
This kit includes four bonsai seeds, five coir expanding-soil discs, ten degradable peat pots, four printed plant markers for naming and dating, and a trowel. You also get a transplanter, a cultivator, a pruner, a sprayer, a detailed instruction manual, and a wooden gift planter box.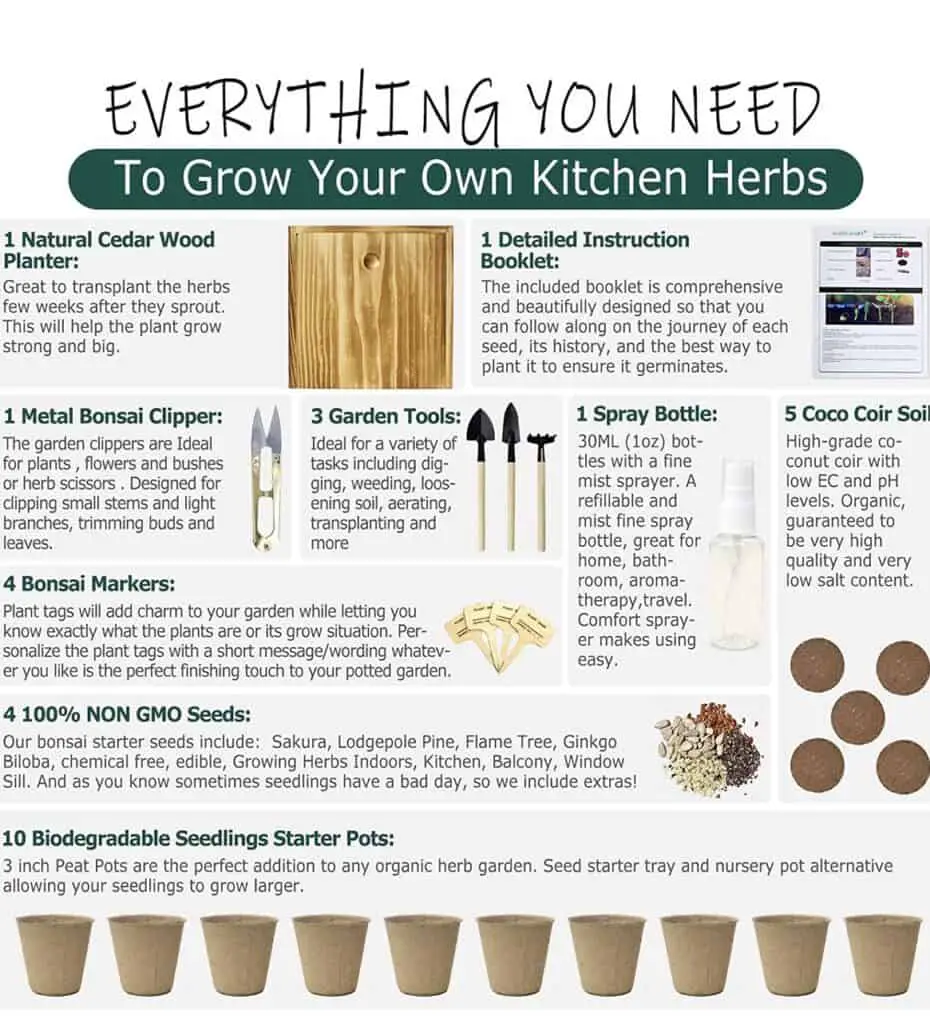 The seeds you receive are:
Lodgepole Pine Pinus contorta
Flame Tree Delonix regia
Ginkgo Biloba Maidenhair
And sure enough, if you grow all these seeds successfully, you'll have a nice variety of bonsai trees to appreciate.
Choose The Right Bonsai Tree
The most crucial step at first is choosing the right tree that you want to nurture. But even more importantly, the tree you select has to be well suited to the climate you live in. 
For example, the Hawaiian Umbrella is an ideal choice of bonsai tree for warmer climates. However, you might want to opt for a Lebanon Cedar, an Eastern White Cedar, or an Eastern Red Cedar for colder climates.
You should also be thinking about trees that will fit in with your home and garden's styling. Therefore thorough research should be a priority before you do anything else. 
To Seed or Not To Seed?
There are two clear directions you can opt for when choosing a bonsai starter kit. The first option is to get one that includes seeds. If you go for this option, then you'll have to grow your bonsai from scratch. 
If you're not confident enough to grow a bonsai from seeds, the other choice is to buy a young bonsai tree and then a starter kit that caters to this. There are also bonsai starter kits with young plants included too.
In my opinion, getting a young bonsai tree and learning how to take care of it is the best way forward if you're a beginner. Then, once you've gained the confidence and skills to look after the tree, in the future, you could choose to grow a bonsai tree from scratch.
Ensure You Get Detailed Instructions
The last thing you want is a bonsai starter kit with limited and vague instructions to follow. The more detailed and extensive the instructions are, the better chance you will have at successfully growing your bonsai tree.
Ideally, you should be given a comprehensive step-by-step guide that enlightens you on all the common phrases you will face when nurturing such a tree. It should also give you solid advice on suitable methodology and what not to do.
Nowadays, you should expect to get a guide in physical form and an extensive and interactive online guide.
Ultimately, I think the qualities anyone must have when growing bonsai trees is patience, consistency, and in this case, a willingness to learn.
What Not To Do
The worst thing beginners can do when wanting to grow a bonsai tree is to select an advanced level growing kit. There are many growing kits out there for more experienced growers, where many of the trees or seeds included take a lot more skill to nurture and grow successfully.
Make sure your kit is a beginner's version, as this way, you'll learn and develop the fundamental skills and practices needed to grow a bonsai tree.
Watering Your Bonsai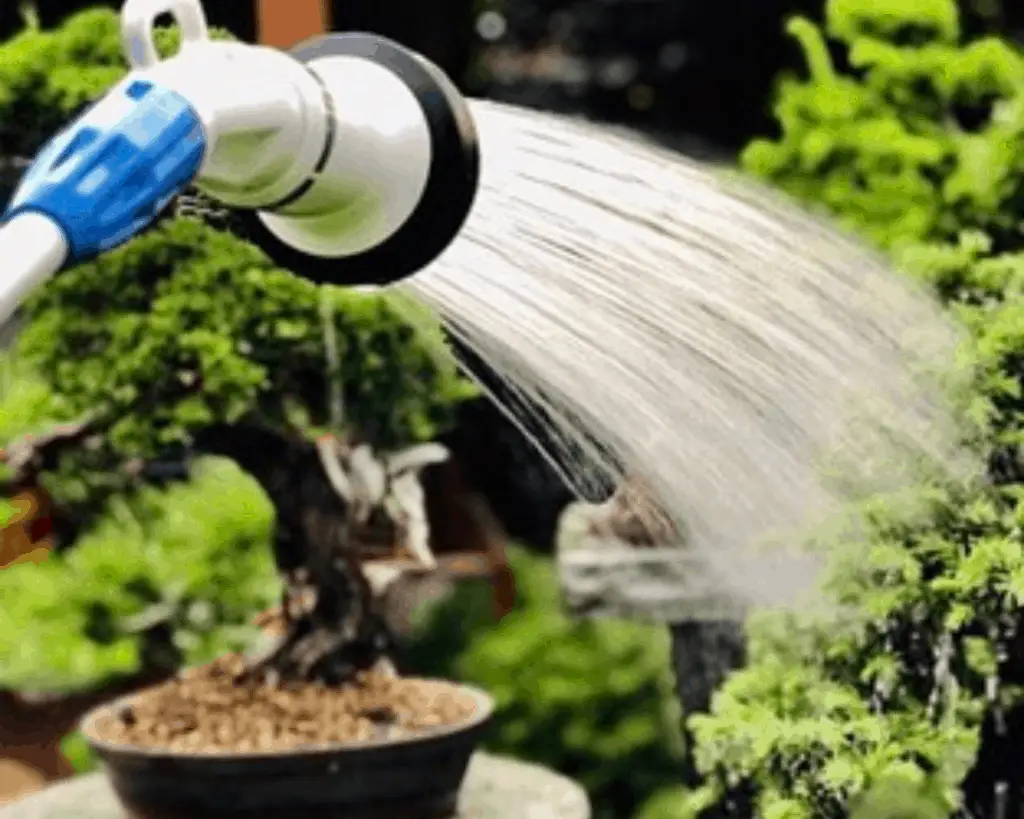 Watering your bonsai is an essential part of its care. And, whether you do it right or wrong will determine how well it grows or not. 
There are many factors to consider before you know how often and how much water you need to give your specific bonsai tree. But in most cases, you shouldn't water your bonsai's soil if it is still damp. You can test the dampness of your soil by just dipping your fingers in there.
When the soil is almost dry, that's the time when you need to water your tree. Unlike other plants, bonsai's should never be watered routinely – like daily, for instance.
Also, soil mixture counts for a lot when you want to determine how regularly you water your plant. One go-to soil mix that works as a good starting point for bonsai trees is 25% lava rock, 25% pumice, and 50% akadama. And, you should think about adding a little more akadama if you want the soil to retain more water.
So when your bonsai's soil is almost dry, you're ready to water. To do this, you need to make sure all of your tree's roots are completely soaked. 
You can either water your plant from above until water seeps from the holes at the bottom of the pot. Or you can opt to partially submerge your bonsai's pot in a bowl of water. In my opinion, the watering from the above method is best as you can tell when the roots are adequately soaked. To over-water your bonsai is just as bad as underwatering it – so aim to get the balance just right!
For best results, some experts say to avoid using cold water and use chemical-free rainwater. 
Potting Tips
One great potting tip to ensure your bonsai's best growth is to make sure its pot's diameter is one-third the length of the height of your bonsai. Therefore, it's handy to have a ruler or measuring tape handy as part of your bonsai growing tools. 
Plus, if you want to be thorough in your preparations, you could invest in different size pots so that you have larger replacements readily available.
Final Considerations
If you have the time, patience, and willingness to nurture such a beautiful plant, bonsai growing can be such a rewarding pastime.
You can learn a lot from bonsai growing both practically and spiritually. It's a peaceful art that can help relieve stress, add beauty to your home, and even develop confidence in your abilities to complete long-drawn-out challenges.
The best bonsai starter kits will give you all the tools and information required to grow your first bonsai tree. But, it's just as important to do your own extensive research to understand what you're getting into fully.