Japan has been known for its production of some of the best sweets and snacks in the world, but did you know that the country's Hibiki is also considered some of the best in the world?
So what is Hibiki? Hibiki is a blended whiskey made in Japan. Hibiki, made by Japan's Suntory Whisky House, is Suntory's flagship product, originally made to commemorate its 90th anniversary. In production since 1989, this blended whisky is available in three different varieties and ages, and many connoisseurs consider it to be one of the best in the world.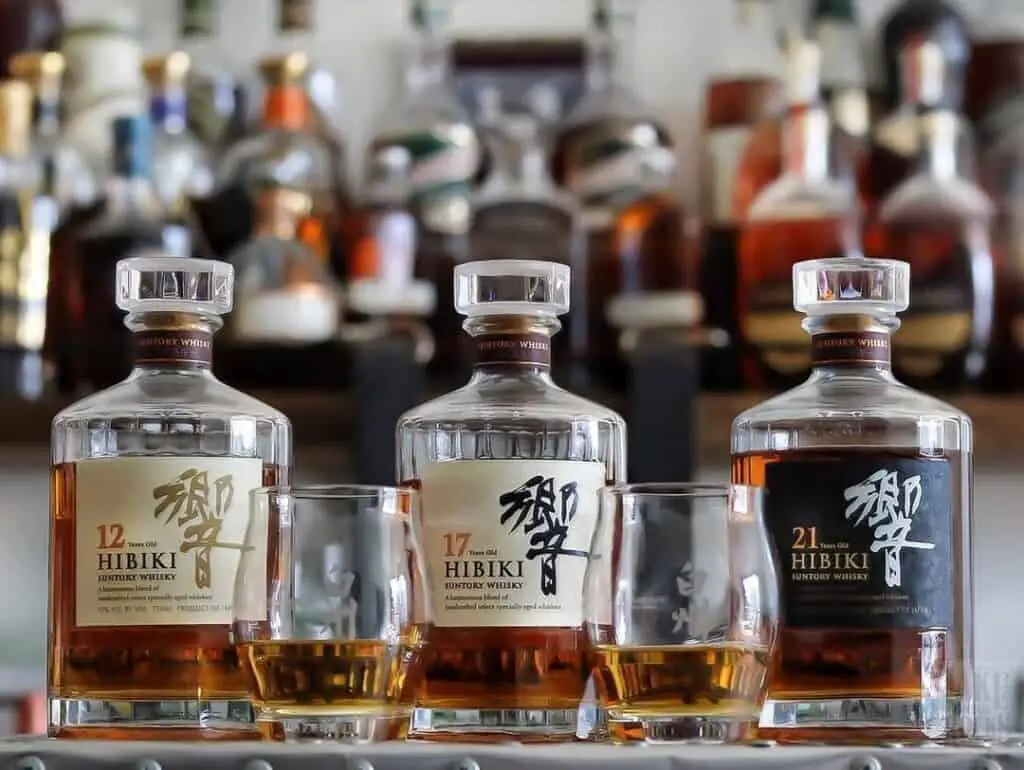 Describing Hibiki in words is a bit of a challenge when you consider how exquisite the flavor profile of this fine liquor is, especially over the course of a few sentences. I'm going to attempt to dive deeper into what you can expect from Hibiki, with the goal of doing it justice. I'll also address some of the most common questions that people have about it.
Over the course of this guide, I'm going to explore what goes into making Hibiki, which is beloved by alcohol connoisseurs worldwide.
What is Hibiki?
Hibiki is a Japanese word that means either echo or resonance, though it is also the name of one of the finest brands of alcohol to grace the earth, and it's essentially the alcohol equivalent of wagyu beef. While the Suntory distillery has been around since 1923, Hibiki was first produced in 1989 as a way to commemorate the 90th anniversary of the distillery.
Hibiki features a range of three different age statements. The most affordable one is Hibiki Japanese Harmony, which has no age statement. The mid-range offering is the Hibiki 17 Years Old batch, and the high-end version of Hibiki is Hibiki 21 Years Old, which is almost as old as the marque itself.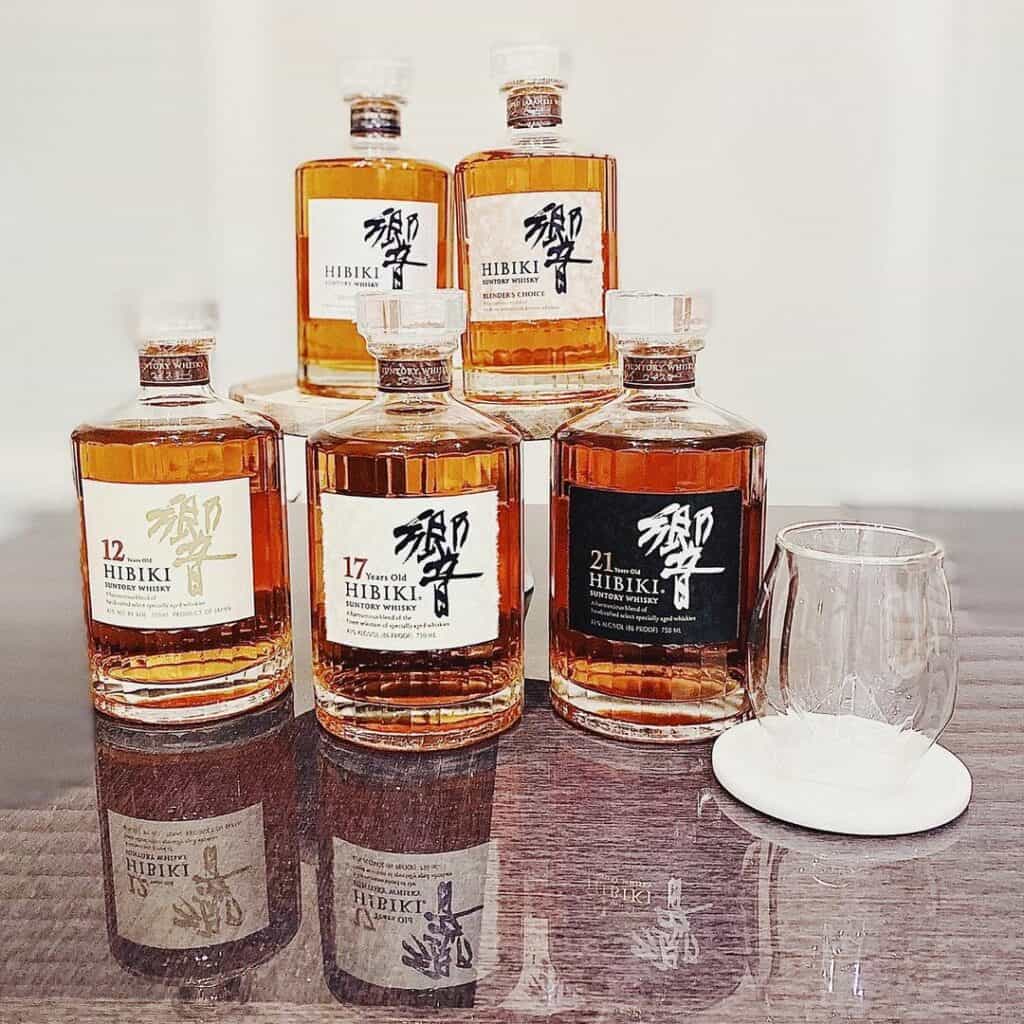 This whisky was the brainchild of one of Suntory's Master Blenders, Keizo Saji. He wished to create a whisky that represented the excellent quality for which Suntory had a reputation. With the help of the Chief Blender at the time, Koichi Inatomi, they both checked and sampled around a million different whiskies from casks at Suntory.
By picking and choosing their favorite flavors, they ended up blending together thirty whiskies, and they created an excellent mix that had all of the hallmarks of a top-quality whisky. The goal was to create an incredibly mellow whisky that combined high-end flavors with a smooth finish with relatively little bite.
However, once the formula and recipe were nailed down, it was only the beginning of the Master Blenders' hard work. The distillery's Master Blender is responsible for trying out over 300 samples of whisky every day, ensuring that they match the high standards and flavor of the marque.
Suntory believes in retaining the skills of previous generations, and the blenders are responsible for teaching their successors the subtle art of their craft. This ensures that the quality of Hibiki blends doesn't change over the course of generations, and if it does change, it will do so for the better.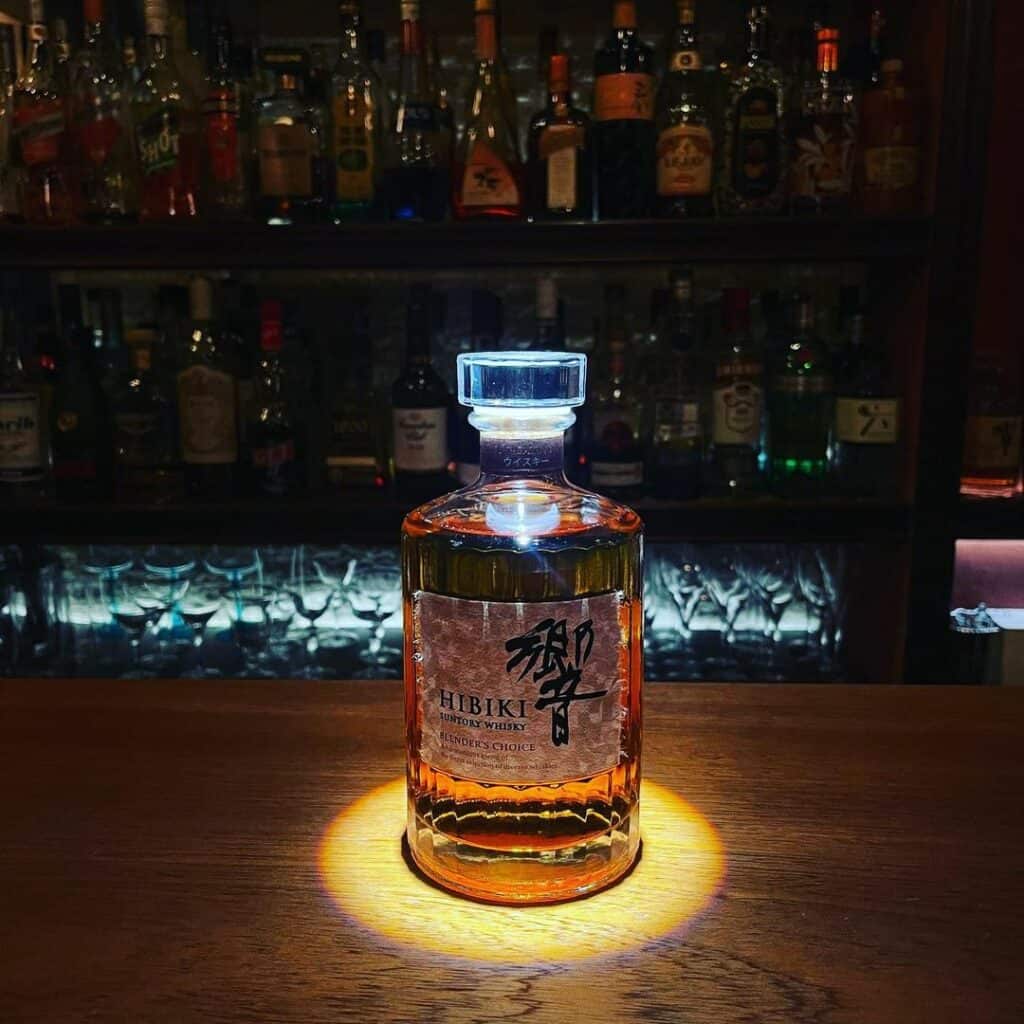 Along with the quality of the liquor itself, Hibiki is crafted so that it can be an experience, down to the bottle. For example, the bottle features 24 sides, representing the 24 hours in a day and how they relate to Hibiki. The bottle also features an elegant band around the neck in purple, which is considered the noblest color in Japan.
The best thing about Hibiki is that it has a deep enough flavor profile to allow you to enjoy it in a variety of different ways. This will ensure that you can appreciate the fine taste of this malt without having to compromise. Let's take a look at some of the best ways to enjoy this malt.
How to Serve Hibiki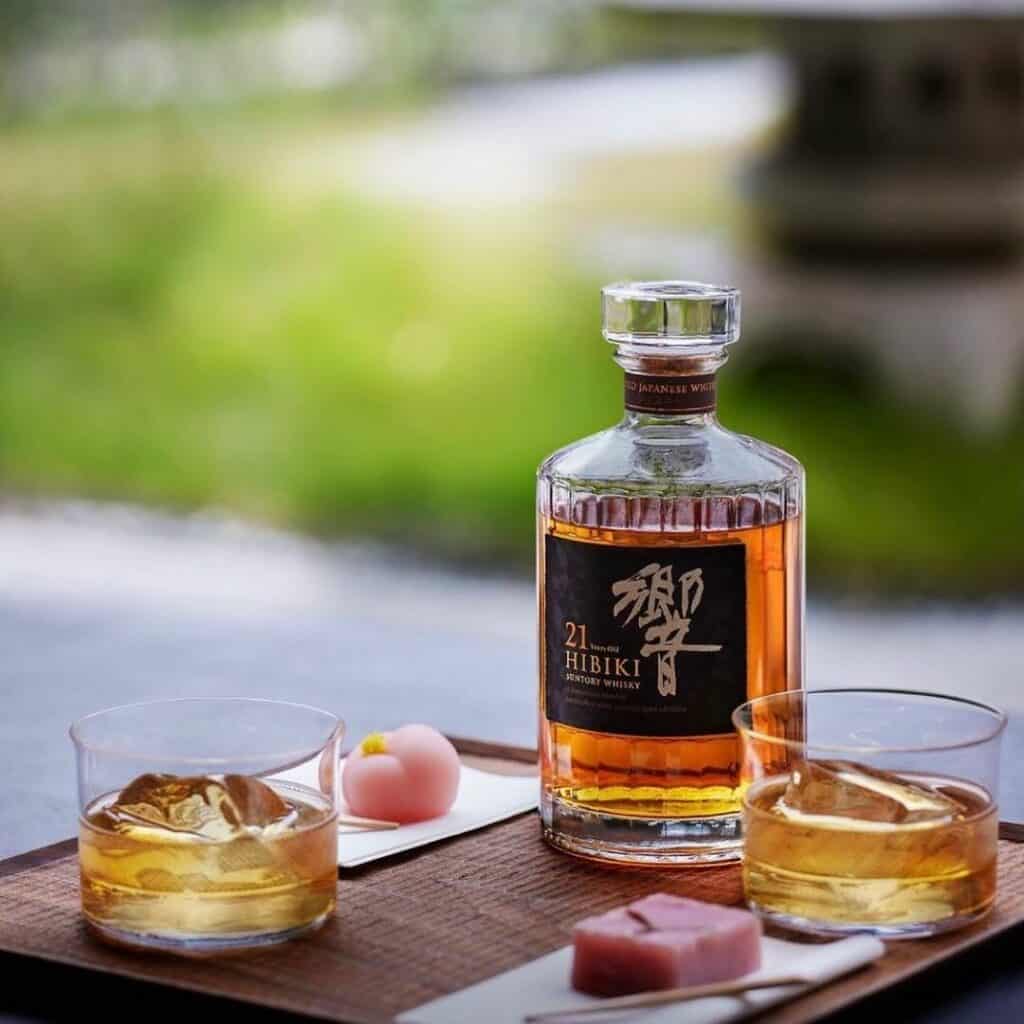 Highball
If you want to enjoy Hibiki as a highball, start by filling the glass with ice and then chill it. After that, pour in some chilled whisky and stir it. After that, add three or four parts chilled soda water per 1 part whisky. Stir once from the bottom of the glass and add a twist of either lemon or grapefruit.
Neat
Serving Hibiki neat will allow you to appreciate the complex flavor profile of the liquor. Start by pouring your Hibiki into your glass and keep a chaser ready. Try to alternate between the chaser and the whisky to ensure that you don't get too used to the flavor and so you can enjoy it fully with every sip.
On the Rocks
Hibiki on the rocks will add a much-needed chill to the whisky, making it an impressive experience with every sip. Start with a large cube of ice in your glass and then pour in the whisky. After that, stir it and keep a chaser ready. Be sure to chill the glass in advance to make the most of it.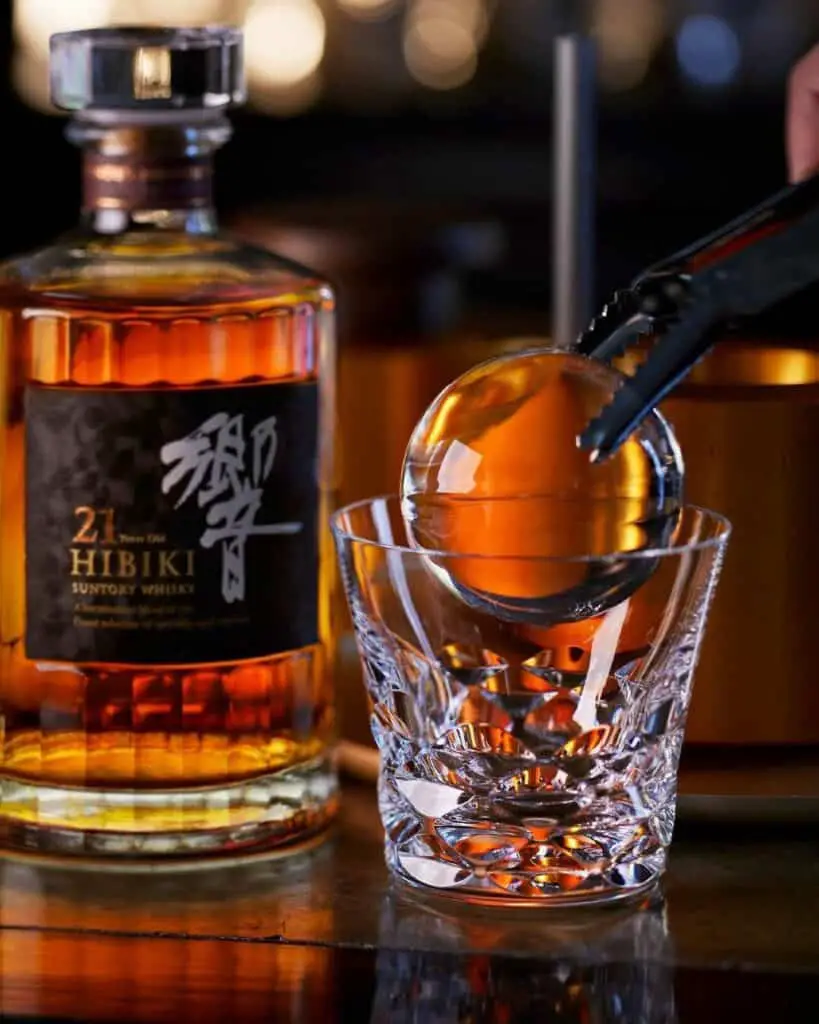 Half Rock
A half rock is essentially a whisky and water on the rocks. This allows you to experience more of the deep flavor profile of Hibiki. Put an ice cube in a chilled glass, fill it with whisky to taste, and then stir it. After that, add an equal amount of mineral water to the glass to balance out the whisky.
Stir it all together with a bar spoon to ensure an equal distribution of whisky and water, and you're then free to enjoy your half rock with Hibiki.
Whisky and Water
Whisky and water is a drink best reserved for the end of a long day. Start by filling your glass with ice and then chill it. After that, pour in your whisky and then stir it well. Let it chill once more. Add mineral water at a ratio of two parts water to one part whisky. After that, stir it with your bar spoon.
Hot Whisky
Your final option is to enjoy your Hibiki hot. Start off with a heat resistant glass and fill it up with hot water. Start off by filling the glass with whisky until it's about a quarter full. After that, add about twice as much hot water. After that, stir it all together and enjoy your drink.