In order to make a perfect sushi roll, you'll need the right ingredients, knowledge of how to do it properly, and, of course, the right tools. Over time, we've made countless rolls using numerous different tools, including various sushi mats. Based on our rather extensive experience, we've made a list of the best rollers you can find.
Here are our top four choices:
Delamu Bamboo Sushi Mat
BambooMN Deluxe Sushi Mat
BambooWorx Sushi Mat
Hasegawa Plastic Sushi Mat
We will present every detail of our observations, so you can make an informed decision when the time for purchasing a new roller comes.
1. Delamu Bamboo Sushi Mat- Our Top Choice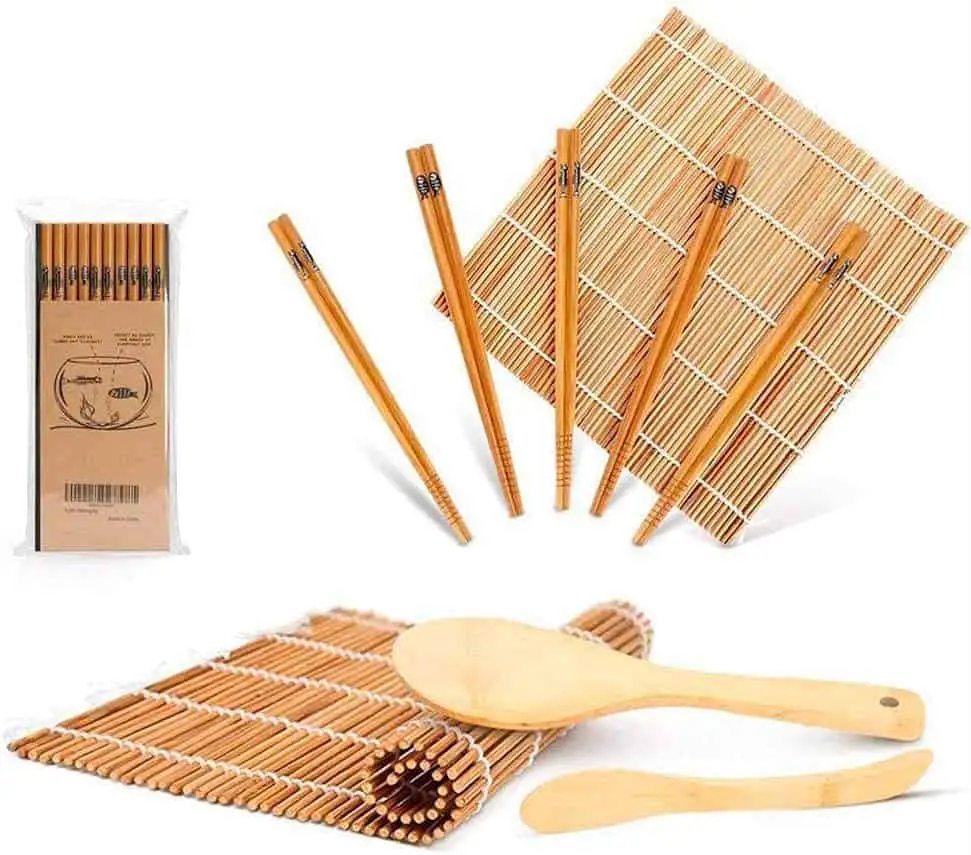 Check out prices now on Amazon.
Product Highlights
If you're searching for a perfect traditional sushi mat (makisu), you'll find it with Delamu – whether you're a professional chef or just a beginner. Combined with the rest of the Delamu kit, it will allow you to make perfect sushi rolls, even from the first try.
Features
Made from natural bamboo – bamboo mats dry fast and are considered an eco-friendly material,
Regular-sized mat (9.5 x 9″)
Guarantee is provided – you'll be able to purchase this product with confidence,
Part of a nine-piece sushi-making kit – besides two mats, you'll also get a rice spreader, rice paddle, and five pairs of reusable chopsticks.
What We Like About Delamu Sushi Mat
It's Amazon's choice of the best sushi mat category for a reason. It brings high-end quality but is exceptionally easy to use. It will allow you to shape a sushi piece tight, whether you decide to make a standard roll or hand roll sushi.
Additionally, the Delamu mat comes with a PDF beginner guide. With it, you won't meet any difficulties, even if it's your first time making this Japanese delicacy.
It's also easy to clean and proved to be highly durable. You'll be able to use this kit long after the purchase. Keep in mind that the price of this makisu is a significant convenience for many, as it really brings an excellent quality-to-price ratio.
What We Don't Like About Delamu Sushi Mat
When you finally get ahold of this product and start unpacking it, you may be unpleasantly surprised by the odor it emits. Still, it's easily fixable – just place the kit in hot water for a night.
Also, there should be less space between rods. It would provide an even easier sushi-making experience and prevent mold and mildew formation. However, wrapping the mat with saran before each use should eliminate this disadvantage. Whether making uramaki or maki rolls with it, you won't even have to deal with rice sticking to the surface.
| | |
| --- | --- |
| Pros | Cons |
| 100% natural bamboo | Accentuated scent |
| Easy to use | Wider space between rods |
| High-quality | |
| Simple to clean | |
| Reasonably affordable | |
2. BambooMN Deluxe Sushi Mat
Check out prices now on Amazon.
Product Highlights
BambooMN mats are a good choice if you're looking for a makisu to start you off. Unlike the Delamu set, where you're getting two same mats, BambooMN offers you different mat types, which you can use depending on your current needs and preferences.
Features
Regular-sized – with dimensions 9.5 x 9.5″, it's a bit longer than the Delamu product,
Part of a five-piece set – aside from two mats, you'll get one rice paddle, one rice spreader, and one dish intended for sushi sauce,
Two mats are not the same – they come in different colors, green and beige; green is made from rounded rods, and natural from flattened ones,
Premium grade – they're made from bamboo matchstick roods bound together with a cotton string.
What We Like About BambooMN Deluxe Sushi Mat
As with Delamu, making rolls with BambooMN makisu won't be challenging at all – and simplicity is what most customers look for. With these mats, we succeeded in making professional-looking sushi rolls from the start. However, they are effortless to use, so any beginner will get a hold of them quickly.
We also loved that mats aren't the same type – which one you'll use should depend on sushi weight. The natural one is thinner and is better used for rolls with delicate wrappings. The green one is heavier and thicker and is better used for the thicker rolls, such as the Californian roll.
Additionally, these mats are affordable and come with a three-year warranty. If it gets damaged, you'll be able to get a new one free of charge (you'll only have to cover shipping costs).
What We Don't Like About BambooMN Deluxe Sushi Mat
Compared with Delamu makisu, however, this product is less durable and a bit harder to clean. Additionally, keep in mind that a flat mat has evident better quality than a cylinder one.
You also may experience a problem with rice sticking, which can be a significant inconvenience during the making and cleaning process. We suggest you treat the mats with oil before using them for the first time.
| | |
| --- | --- |
| Pros | Cons |
| Easy to use | One of the mats lacks finishing |
| Natural bamboo | Less durable |
| Different-type mats | Not as easy to clean |
| Affordable | Pre-use treatment needed |
3. BambooWorx Sushi Mat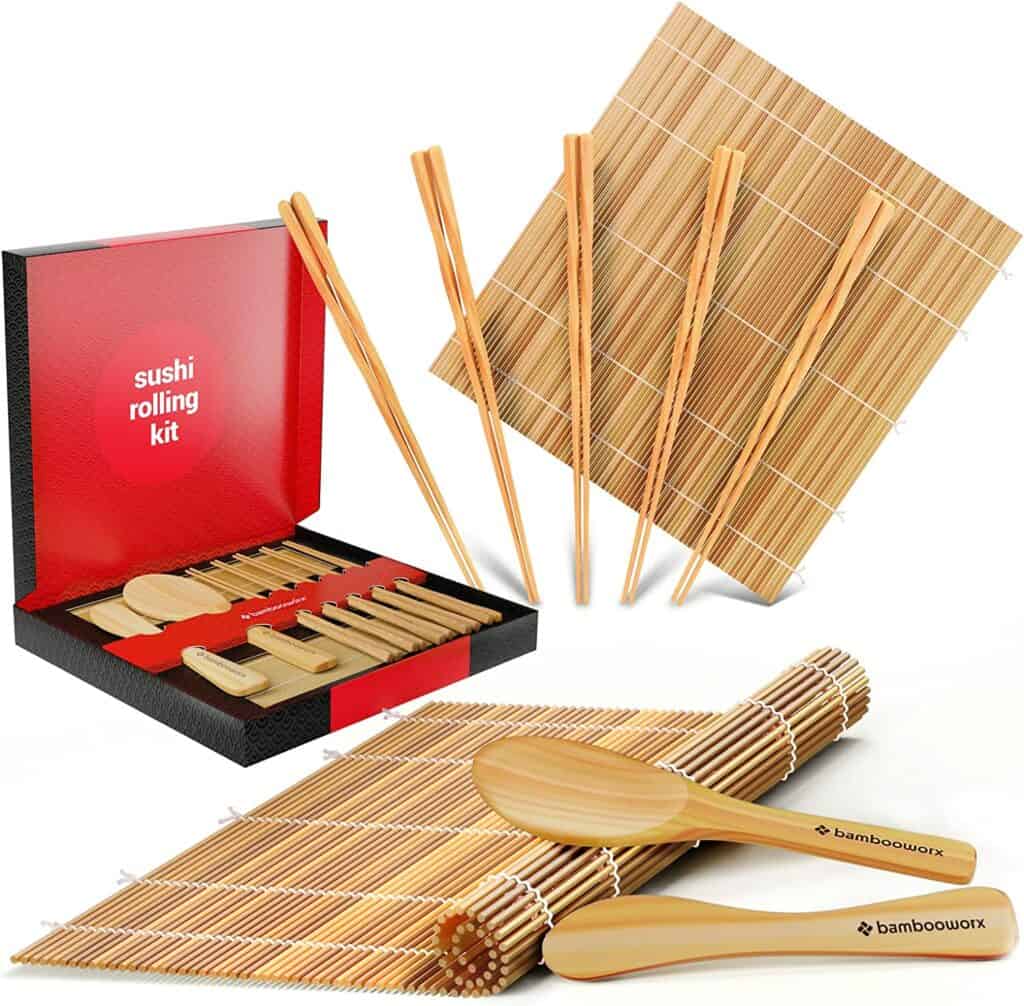 Check out prices now on Amazon.
Product Highlights
The beautiful package this makisu comes in is perfect if you plan to gift it to a loved one or simply enjoy elegance in your home. In addition, if you're looking to save up a bit, note that this is the most affordable item on our list.
Features
Regular-sized mat (9.5 x 9.5″),
Made from 100% natural bamboo,
Part of the nine-piece kit – set contains two mats, one rice spreader, one rice paddle, and five pairs of chopsticks
Comes in an elegant gift box.
What We Like About BambooWorx Sushi Mat
Even though these masts are a bit sturdier than previous ones, they are very easy to use and an excellent choice for beginners. If you're looking for a mat that will help you learn how to make sushi rolls properly, BambooWorx makisu might do the trick.
The product itself and the packaging are good quality, especially if you take the price into consideration. The Delamu mat, the leader on our list, is twice the BambooWorx makisu's price.
What We Don't Like About BambooWorx Sushi Mat
The biggest disadvantage is the product's high maintenance. You must start taking extra care of these mats from the very beginning. Otherwise, it will mold easily, and you'll begin to notice cracks and splinters.
Therefore, ensure you wash them by hand, dry them thoroughly, and season and reseason them occasionally, with the help of mineral oils.
| | |
| --- | --- |
| Pros | Cons |
| Beginner-friendly | Demands occasional seasoning |
| Extremely affordable | Prone to molding |
| Great gift idea | Potential splinter formation |
4. Hasegawa Plastic Sushi Mat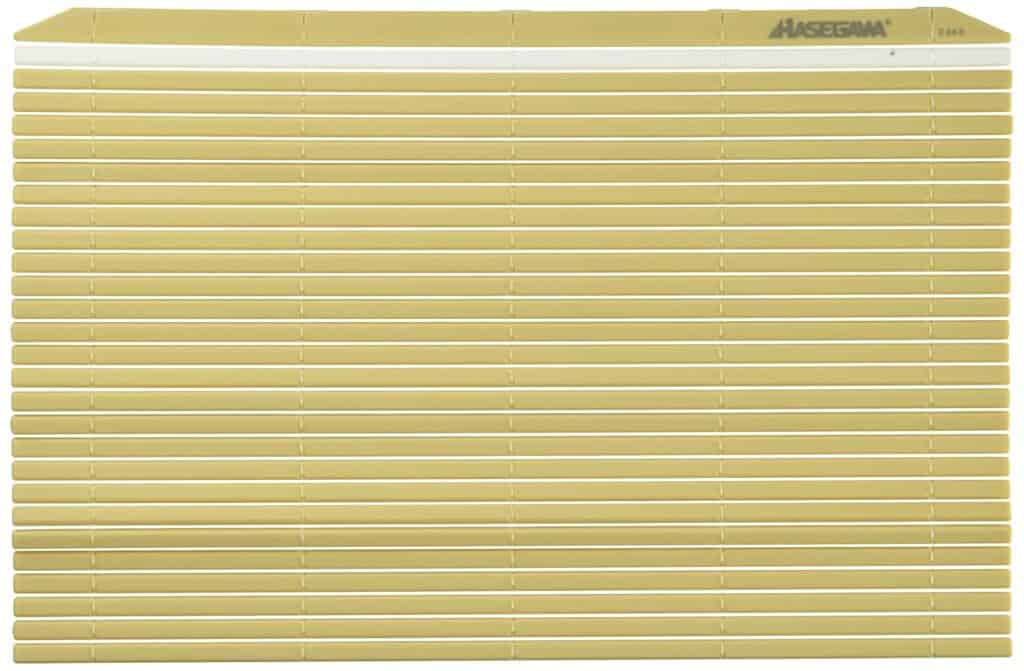 Check out prices now on Amazon.
Product Highlights
If you're ready to say goodbye to the traditional way of rolling sushi in order to gain some significant sushi mat qualities, then this is the product for you. With just a bit of care, the Hasegawa plastic makisu is a mat you can use for life.
Features
Made from durable plastic – you'll be able to use this mat in many years to come,
It's not regular sized – with a 10 x 6.5" mat, you'll be able to make various-sized rolls,
Dishwasher-safe and highly hygienic.
What We Like About Hasegawa Plastic Sushi Mat
The Biggest advantage of this plastic makisu is its durability and non-stickiness. As opposed to bamboo mats, sushi ingredients can have direct contact with the surface – no plastic wrap is needed. Even though plastic is not an eco-friendly material, keep in mind that this product you'll only buy once, but plastic wraps need to be changed with every use.
Additionally, Hasegawa makisu was the easiest to clean from all the items on our list and is not prone to mold or mildew. It dries fast, can be used immediately after cleaning, and you don't even have to hand wash it. Since it's made of plastic, you can simply place it in a dishwasher and forget about it.
What We Don't Like About Hasegawa Plastic Sushi Mat
Let us start with the disadvantage that drives away many potential buyers – its price. If you wish to purchase Hasegawa makisu, note that its price is twice as large as our top pick (and our top pick comes within a set). It's quite a lot for a single mat.
Also, it is harder to use than regular mats, so it's not such a good choice for beginners. Of course, it may not be a perfect pick for some sushi-making experts either since this roller is far from a traditional one.
| | |
| --- | --- |
| Pros | Cons |
| Durable | Not suitable for novices |
| Easy to clean | Expensive |
| Hygienic | |
| No pre-use treatment required | |
What to Look for When Buying a Sushi Mat?
A makisu is the essential part of every sushi-making kit – after all, the final look of the rolls depends on its quality. Therefore, if you're looking forward to making delicious sushi pieces in the future, you can't use just any makisu. Here are the most important aspects you should think of.
Choose the Material You Prefer
Traditional mats are made of bamboo, but they are not the only ones on the market – you can also find plastic or silicone mats.
Select the Size of the Roller
The regular sushi mat size is around 9.5 x 9.5″, and most mats you stumble upon will have these dimensions. However, you can find larger and smaller ones, if that's what you want.
Chek Cleaning Requirements
Some rollers can be hand washed only, while others can be placed in a dishwasher. Also, remember that some mats can't be used without proper initial treatment.
Consider the Level of Difficulty
It's not the same whether you're a sushi-making beginner or an expert. If this meal preparation is new for you, you want to look for mats that are easier to use.
FINAL VERDICT -THE BEST SUSHI MAT
Delamu Bamboo Sushi Mat
This makisu can be used both by beginners and professional chefs – and both would be satisfied with the choice. It is a high-quality roller, pretty easy to use (especially with the help of the beginner's guide), and is reasonably affordable. If this top-tier sushi mat is what you're looking for, note that it's easily reachable – you just have to order it from Amazon.
FAQ
Can I make sushi rolls without a makisu?
Yes, you can – buying makisu will make everything much easier.
How long does it take to make sushi with the help of a roller?
If the sushi rice is sticky enough, it should not last more than five minutes.
How to prevent the rice from sticking to the mat's surface?
If you're using a bamboo mat, all you have to do is cover it with plastic wrap.
How to clean a makisu after use?
Check manufacturer's instructions. Plastic and silicone mats are usually dishwasher safe, while bamboo ones can be hand-cleaned only.
How can I get Delamu's free guide?
It will be sent to your email address after the product is shipped.