Wagyu beef has taken the world by storm and is widely regarded as the best steak that money can buy. It's easily identifiable by its heavily marbled appearance and expert cut quality. The only problem is that it can be a bit hard to find… unless you know where to look.
So that being said, where is the best place to buy wagyu beef? 
The best place to buy wagyu beef is to find a local butcher specializing in the import and sale of authentic wagyu beef. The advantage of buying wagyu in-person is that you can verify the quality and authenticity of the meat before you buy it and ensure maximum freshness.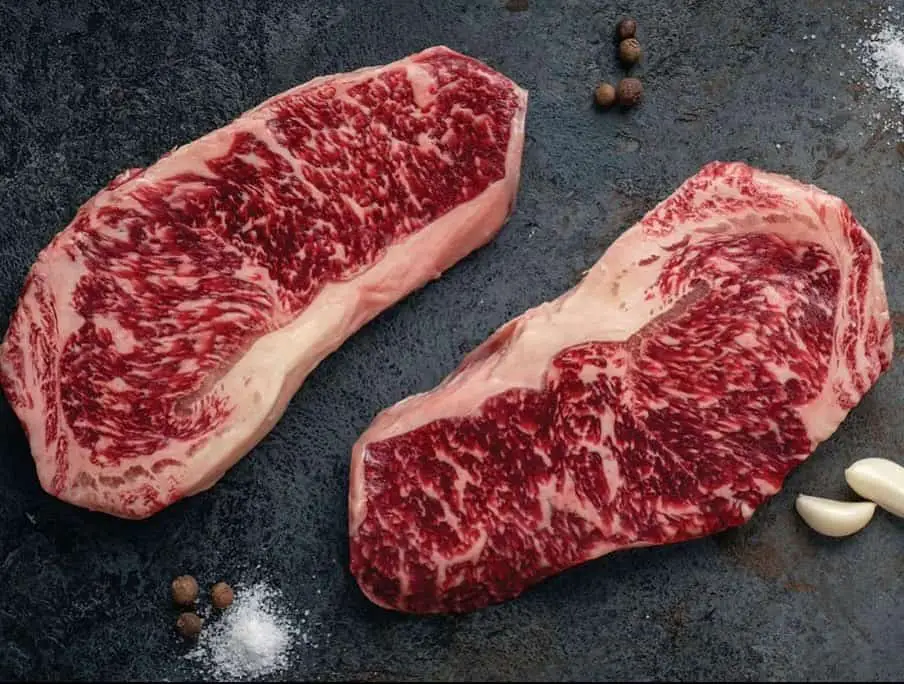 That being said, there are also several online retailers where you can buy wagyu beef if you don't have a good butcher shop in your area.
As a steak fanatic, I've purchased my wagyu from a number of different places, so I know exactly what to look for, whether I'm shopping online or in person.
So, if you're eager to try cooking your wagyu, then this is the article for you! Below, I've outlined all of the places where you can buy top-tier, authentic wagyu beef. 
Where To Buy Wagyu Beef
Wagyu is actually a simple Japanese term, meaning "Japanese (Wa-) Beef (-Gyu)." It can come from any of the four native breeds of Japanese cattle, but most wagyu is cut from the Japanese black cattle. As a result, it's become as synonymous with fine dining and luxury as caviar and fetches an equally high price. 
However, for the discerning steak lover, the immaculate taste is near impossible to beat. Some chefs even like to hand-grind their wagyu cuts into juicy burgers! However, you want to try wagyu, though the first struggle you'll have to overcome is finding it.
Thankfully, it is now popular enough in the United States that you can find it at a number of different online and brick-and-mortar retailers if you know where to look. That being said, here's my definitive list of where to buy wagyu beef so you can enjoy this delicacy in the comfort of your own home.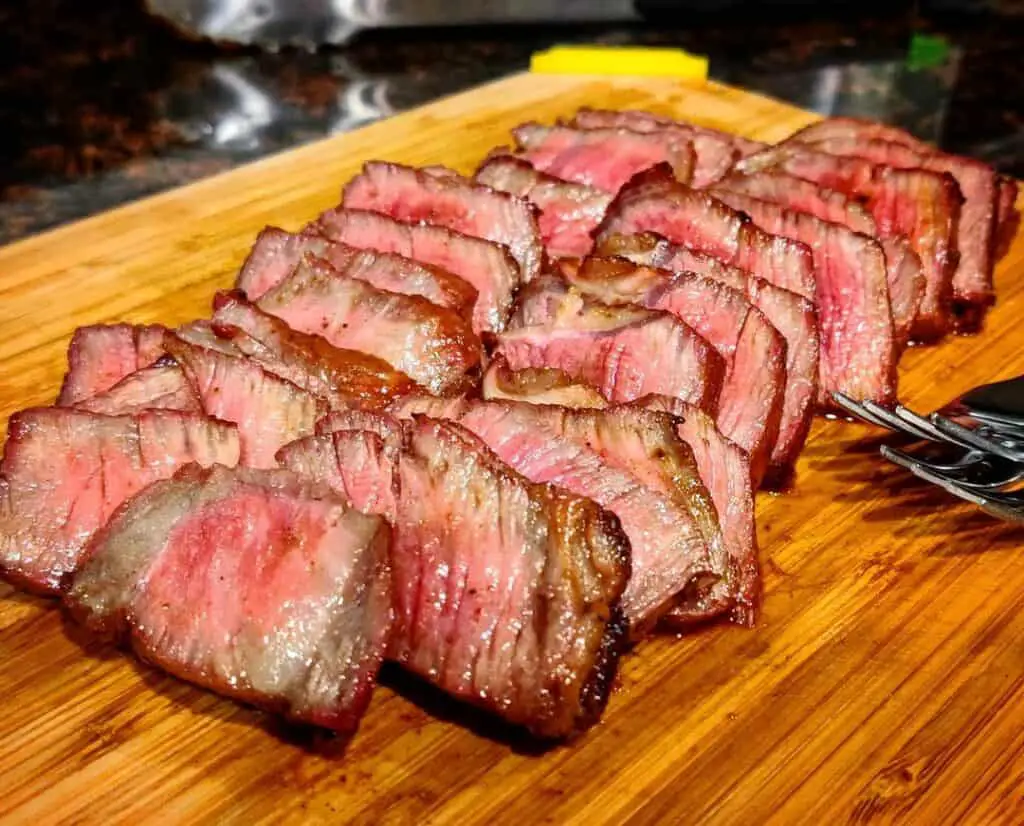 Buy Wagyu In Brick-and-Mortar Shops
If you can find a local grocery store or specialty butcher shop in your area, then this is, by far, the best way to source wagyu beef. I like the fact that I can go up to the window, look at all of the cuts in front of me, and then choose the best one for myself. While you're at it, make sure to swing by your local liquor shop and grab a bottle of Japanese Hibiki whiskey to pair with your steak! 
Local Grocery Store
If you can find a high-quality local grocer, then you'll probably get the best deal on wagyu beef cuts here. If possible, try to find an authentic Asian or Japanese grocery store as these tend to have a broader selection of cuts and can guarantee the authenticity of their product. 
High-Quality Butcher
If you don't have any luck finding a local grocery store that sells wagyu beef, then the next best idea is to find a high-quality butcher. Given the growing popularity of wagyu, most butcher shops worth their salt will at least have a small selection of the meat. If you're lucky, you may even stumble across a butcher that sells the ultra-rare A5 wagyu beef cuts! 
Buy Wagyu Online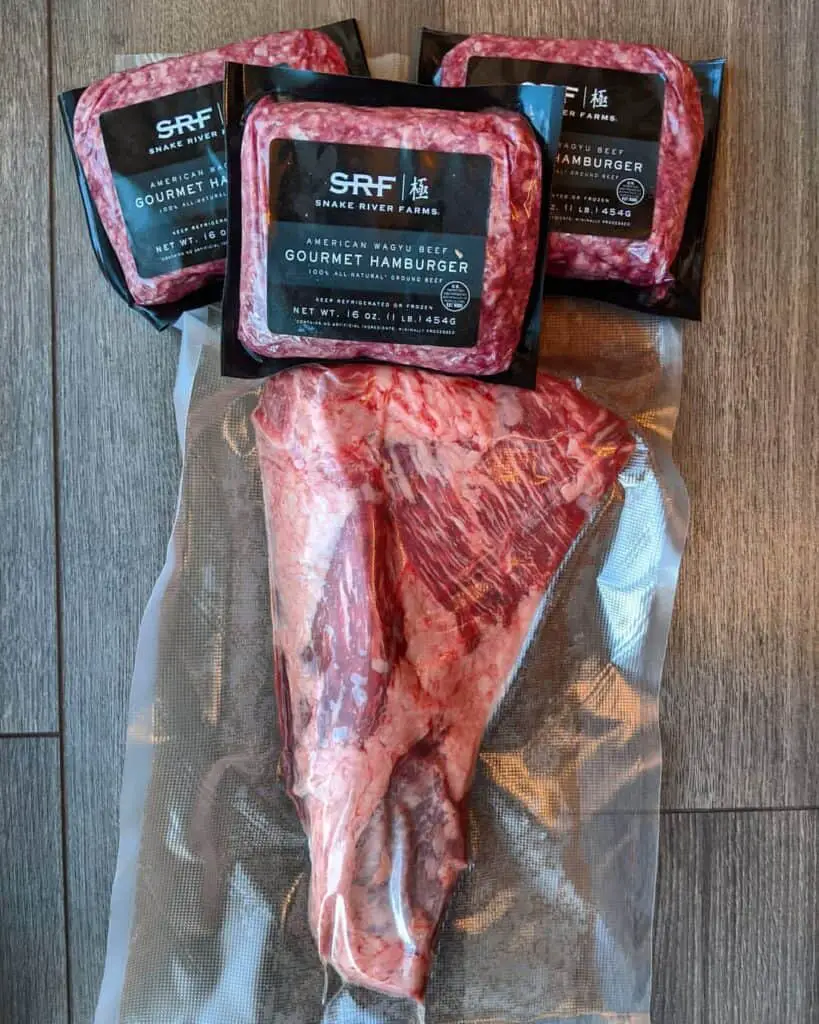 I've been blessed enough to have a local butcher shop in my area where I can source all of my wagyu from. However, many of my friends and family aren't so lucky. Whenever the holidays come around, I always like to order a small cut of wagyu and ship it straight to a few of my closest friends for their annual Christmas gift. Here are the best ways to order wagyu online. 
Farm-To-Table Online Butchers 
The blest place to source wagyu beef online is to find a website that offers true farm-to-table service. These websites usually work directly with the farms and butchers to ensure the quality and authenticity of the beef. Since their overhead isn't quite as high as a traditional brick-and-mortar store, you can also get some incredible deals. Last but not least, the sheer variety of cuts available to you means that you'll be able to cook almost any style of wagyu steak or burger you want! 
Amazon
If you have a Prime membership or you live in a city where Amazon provides same-day grocery delivery, then it's never a bad idea to check out what Amazon has to offer. They work directly with Whole Foods, which means that you can typically find some high-quality, organically-farmed wagyu. If not, there are also a number of third-party Amazon retailers who offer next-day shipping to your front doorstep. Just make sure you're home to take the delivery, so it doesn't go bad sitting outside! 
Tips For Finding The Best Wagyu Beef
If you're new to the wagyu beef scene, then here are a few helpful tips to ensure that you get the best quality steak. 
Look For The Certificate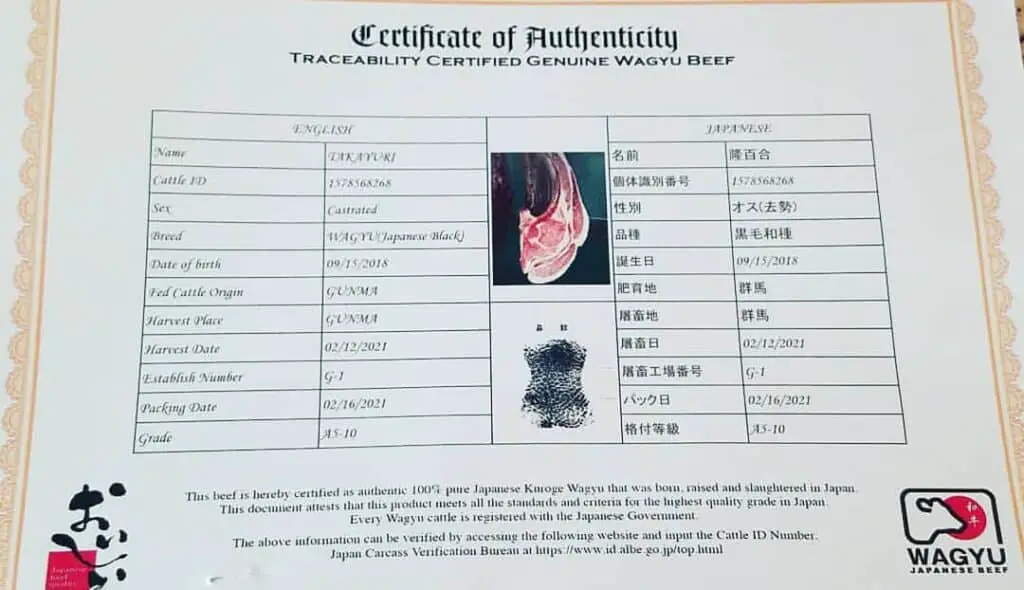 Unfortunately, where there's money to be made, there are also a number of savvy scammers looking to take advantage of unsuspecting buyers. I've seen more than a couple of shady butcher shops who are trying to pass off a nice ribeye or porterhouse steak as "Japanese wagyu." 
Many butchers will provide a certificate of authenticity, denoting the farm where the steak came from. Another key thing to look for is the bone (or rather, the lack of a bone). In accordance with trade laws, imported Japanese wagyu cannothave a bone. If you're looking at a bone-in steak, it's definitely not real wagyu.
Make Sure It's Fresh
This tip goes for buying any steak. Always look for a fresh, bright red steak with layers of juicy marbling. If the steak starts to oxidize and change color to brown or a dark maroon red, it's starting to get old. When you're spending this much money on steak, you want to make sure that it's top-notch quality. 
Make Sure Overnight Shipping Is Available For Online Orders
If you end up ordering your wagyu steak online, double-check with the retailer to make sure that overnight or same-day shipping is available. They should package your steak in a vacuum-sealed bag, which should then be shipped in a cooler with dry ice or cooling packs to ensure freshness.