Tempura is one of the most delicious Japanese specialties, and it's enjoyed by people all over the world. It comes in wide varieties and many flavors, and if you haven't tried this delicacy before, you must wonder – is tempura spicy? What does it taste like? You won't have to wonder for much longer because I've explained everything in this text.
Tempura can be spicy, but it doesn't have to be – the taste depends on the sauce you serve with tempura and the ingredient you use as a base that will be dipped in tempura batter and fried. There are many variations out there, so you can find tempura with different tastes, but it predominantly tastes like fried food (with or without sauce).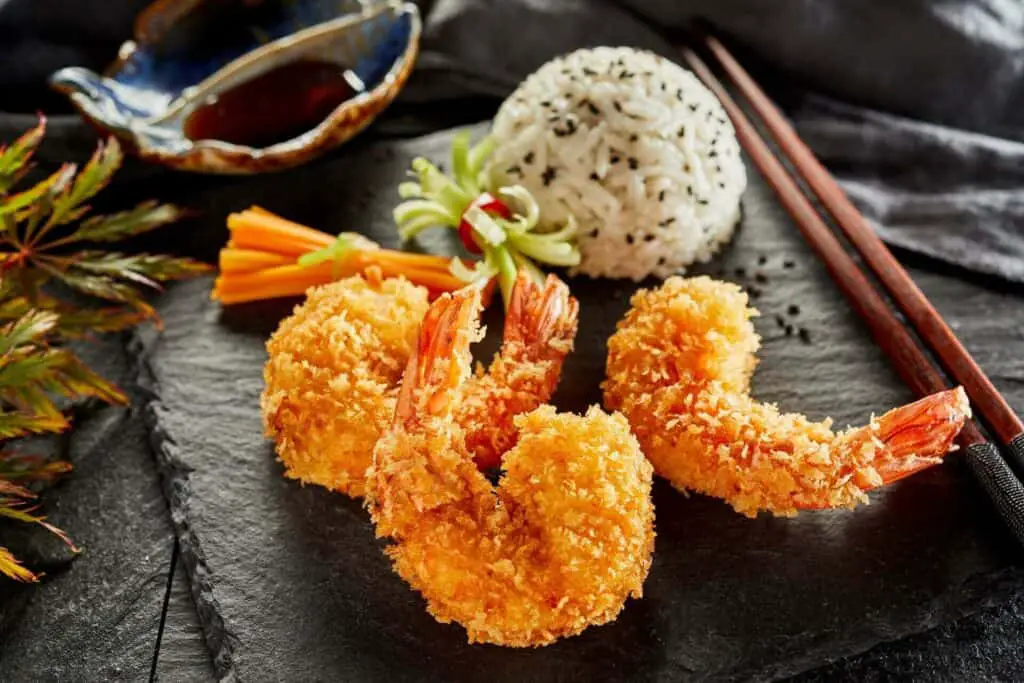 If you're ready to become a tempura expert, this text can help you get there – stay with me to find the answer to the question of what tempura tastes like. You might be surprised!
Is Tempura Spicy? What Does This Japanese Dish Taste Like?
What makes sushi and Japanese food in general amazing is the never-ending list of fantastic dishes. The diversity is unbelievable, but if you're looking for the best option out there, you must try tempura. It's an exquisite dish, but you must be wondering if it's spicy – what does tempura taste like? Tempura can be spicy but isn't always – the taste depends on the kind of sauce you serve with it. If you choose a spicy sauce, you get a spicy dish – it's as simple as that.
First Things First – What Is Tempura?
Tempura is a type of batter used for frying various ingredients. It's a popular Japanese specialty originating from Portugal, but it was introduced in Japan in the 16th century and has remained one of the most popular dishes ever since. Essentially, the batter covers the ingredient of your choice and is used for deep-frying.
Depending on where you look for a recipe, you will get different ideas on what tempura batter should contain. However, the basic elements of the batter that are commonly used are egg yolks, all-purpose flour, and ice water (or carbonated water). Once you mix the ingredients and dip the food of your choice into the batter, all that's left to do is fry it – make sure you use the best oil for tempura to get the best results.
What Ingredients Can Be Used for Tempura?
Now that you know what goes into the tempura batter, all that's left is to find out what ingredients you should fry. Seafood, vegetables, and meat can all be used to make tempura. There are many options you can choose from, but some are more common than others – I've listed the frequently used ingredients for tempura below:
Shrimps,
Winter squash,
Haddock,
Pollock,
Maitake,
Shiitake,
Eggplant,
Fugu,
Green beans,
Squid,
Crab,
Chicken.
Ideas for Preparing Spicy Sauce for Tempura
Where to start? The ideas for spicy sauces are numerous, but let's say you want to make something simple and beginner-friendly. I'd say that your best bet to get a great spicy sauce is simply mixing mayo with sriracha to get homemade spicy mayo. Of course, you can always get a store-bought one, but where's the fun in that?
One of my favorite recipes is the famous creamy spicy sauce from Nobu – it's elegant yet easy to make and will be a guaranteed success. Here's what you need to mix – one egg yolk, one teaspoon of rice vinegar, half a teaspoon of sea salt, half a teaspoon of white pepper, two teaspoons of chili garlic sauce, and 100 ml of mildly flavored oil. The original recipe calls for grapeseed oil, but you can use whatever you like.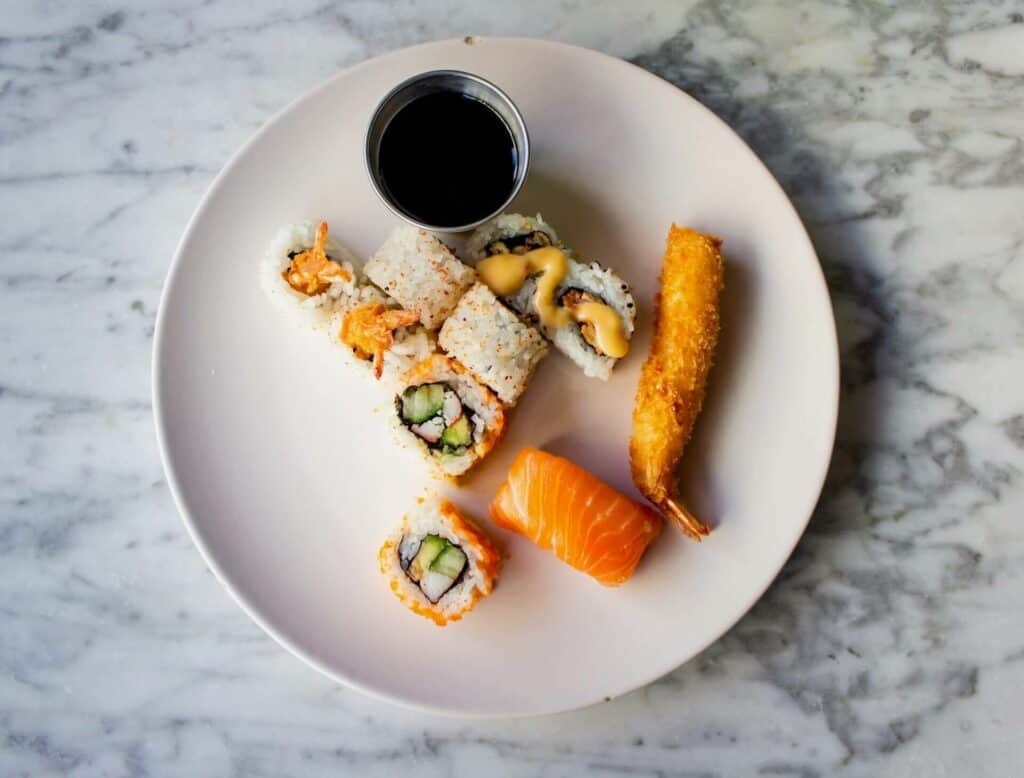 What Is the Nutritional Value of Tempura – Is It a Healthy Dish?
You probably know that eating sushi is considered healthy in moderation – can the same thing be said for tempura? Sadly, I have to tell you that tempura isn't considered a healthy meal – it's fried food, and there is simply too much fat in it to be considered healthy. Of course, some types of tempura contain a bit of protein, but this isn't a good enough excuse for us to be eating tempura every day.
So, if you care about the nutritional value of food, make sure to eat tempura in moderation – in this case, there can be too much of a good thing. I've gathered the nutritional information on a few common types of tempura in a table below, just so you can have an idea of what I'm talking about – be sure to check it out.
| | | | | |
| --- | --- | --- | --- | --- |
| Nutritional value | Calories | Carbohydrates | Protein | Fat |
| Shrimp tempura – 1 piece | 58 kcal | 3.5 g | 3.7 g | 3.1 g |
| Chicken tempura – 1 piece | 116 kcal | 11 g | 13 g | 1.5 g |
| Green beans tempura – 1 cup | 126 kcal | 13 g | 1.9 g | 7.3 g |
| Maitake mushroom tempura – 1 cup | 162 kcal | 22 g | 2.1 g | 6.9 g |
| Eggplant tempura – 1 cup | 134 kcal | 13 g | 3.4 g | 7.8 g |
What Is Commonly Eaten With Tempura?
You can eat tempura with many different side dishes, depending on the ingredients that are fried in tempura batter. Still, it's most commonly served with rice in a tendon bowl or a bowl with soba noodles. It can also be served on a plate, with some dipping sauce next to it and sushi rice.
As mentioned before, recipes for tempura sauces are countless, but the most common one is tentsuyu. This dipping sauce is made of soy sauce, dashi soup stock, and sweet rice wine (mirin). Grated ginger or grated Japanese daikon radish are optional ingredients.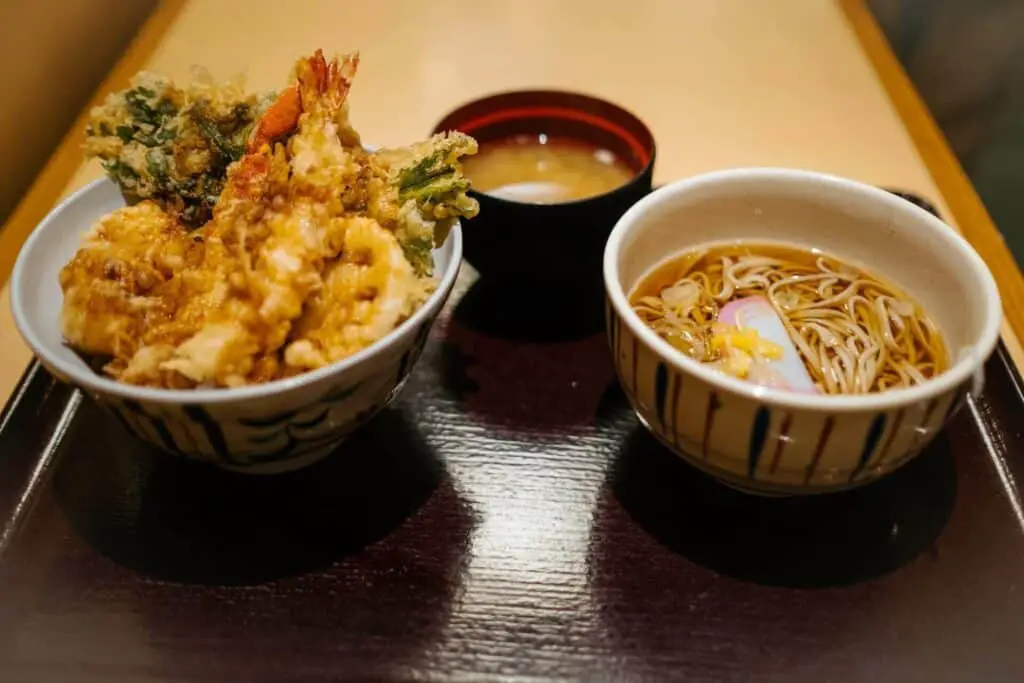 Tempura Is One of the Most Popular Japanese Dishes for a Reason – Try All the Types to Find the One You Like Best
Spicy or not, tempura is an excellent dish – whether you choose to make it with fish, meat, or seafood, you won't regret trying this Japanese delicacy. The great thing about this dish is that it comes in countless variations, so there is something for everyone. Even if you're not keen on spicy food, you can easily make or buy a fantastic dipping sauce for tempura and enjoy a delicious meal!