There's a deal about Kawaii cakes, they are too cute to slice. But go ahead with the cutting because they taste even better. Referring to the Japanese dictionary, "Kawaii" means cute. This Kawaii Unicorn cake is heavenly delicious. It also does justice to the word "Kawaii" with its oh-so-adorable rainbow-maned look. 
Kawaii cakes are very popular in Japanese pop culture. So, here's a tip. If you know any Japanese Anime or Manga fan whose birthday is on the horizon, I'm telling you, this Kawaii cake would blow their mind.
And If you're searching for its recipe, look no further. I got you. 
Presenting the lovable, adorable, and delectable Kawaii cake recipe: Kawaii Unicorn Cake.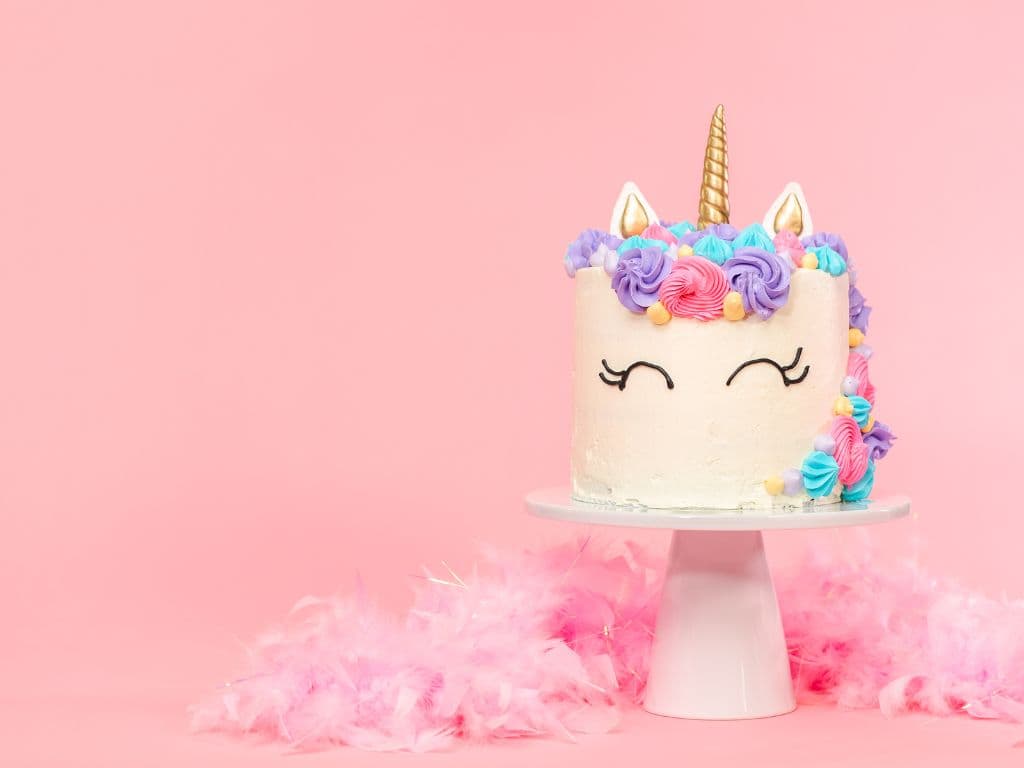 What you need to make your kawaii Unicorn Cake?
Ingredients: 
2 1/2 cups all-purpose flour
2 1/2 tsp baking powder
1 tsp salt
1 1/2 cups granulated sugar
1/2 cup unsalted butter, softened
2 large eggs
1 1/2 cups whole milk
1 tsp vanilla extract
Pink, blue, and purple food coloring
Buttercream frosting
Pink, blue, and purple fondant
Edible Gold Glitter 
The Steps
Preheat your oven to 350°F (175°C).
Take 3 round cake pans, grease and flour them.
Put flour, baking powder, and salt in a bowl and whisk them up nicely. Set aside.
Take another mixing bowl, and mix together butter and sugar until light and fluffy.
Now, one by one, add 3 eggs to the mixing bowl. Beat the mixture well after each addition.
Add the dry ingredients mixture we made in the third step to the mixing bowl in three parts. After the first round, add milk, and after the second – vanilla extract. Mix well until thoroughly combined.
Now it's coloring time. Divide the batter we made in the above step into three parts. Add pink, blue, and purple colors in three separate bowls of the batter. 
Pour each colored batter into the pans we pre-heated and bake for around 20–25 minutes. 
Let the cakes cool, and meanwhile, prepare the buttercream frosting.
Mix together 1 cup of unsalted butter, 4 cups of powdered sugar, and 1 tsp of vanilla extract. Add a few tablespoons of milk for consistency.
Assemble the three colored cakes in layers, and add buttercream frosting between each layer.
It's playtime now! So take some pink, blue, and purple fondant – roll them, create shapes out of them, and decorate your cakes with them so the cake looks unicorn-themed.
A unicorn is incomplete without sparkle, so sprinkle some edible gold glitter to make your cake sparkly. 
Add Unicorn face on the cake using fondants. Add more fondant shapes of your choice, to make a fun and vibrant cake. 
Your adorable and delicious Kawaii cake is now ready to be served. 
The End Note: 
Kawaii cakes are not only adorable, but they are also very easy to make and taste amazing. The fluffy sponge layers and smooth buttercream frosting in this cake make it an instant favorite dessert for kids and adults alike. 
The unicorn cakes are the cutest and most adorable cakes you can make. With some fun shapes with fondants, the pink, blue, and purple colors give a whimsical touch to the cake. 
So, put your aprons on. It's time to cook the cute and yummy Kawaii cake.