Is udon a soup? People are often willing to try Japanese broths and soups, but they don't know a lot about these popular comfort foods. One of the ways the soups can be prepared is with noodles better known as udon. This is why these types of soups are called udon soups or udon noodle soups.
Udon is not a soup but a specific type of noodle made from wheat flour used in Japanese hot pots, stews, and soups. It can be prepared in a variety of ways but served in soups is considered to be one of the best. When added to a soup, it becomes a traditional broth known as kakejiru.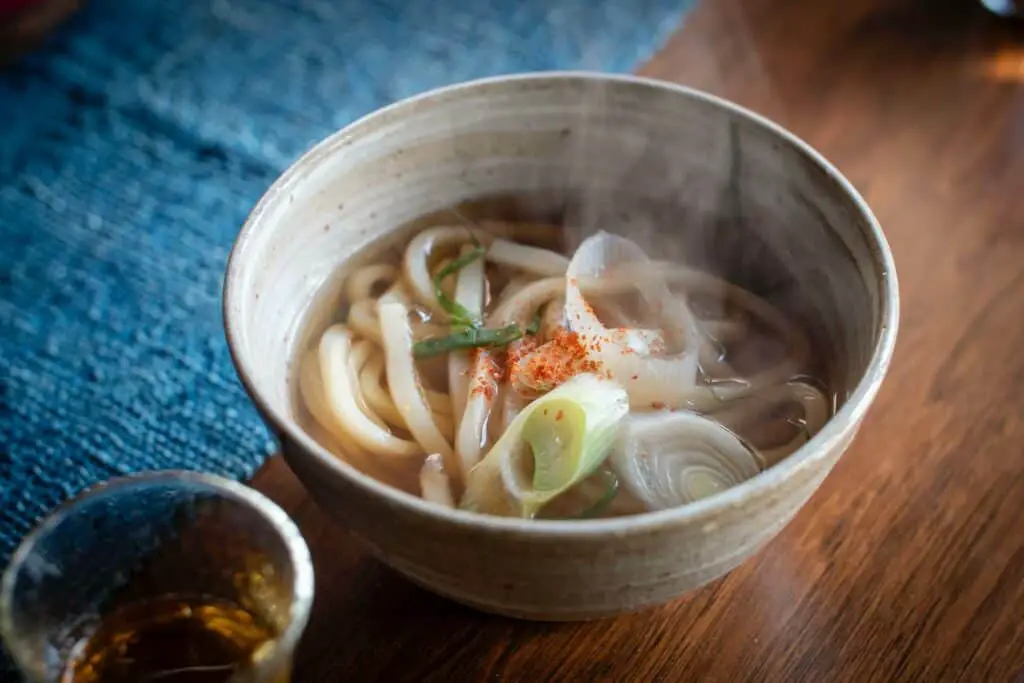 Many people believe that udon is a type of soup, not realizing that these Japanese noodle soups got their name from specific noodles used in the dishes. Compared to ramen noodles, they are springier and paler in color. Dishes with these noodles can be served cold with just a dipping sauce or in a hot broth. The noodle soup – widely referred to as udon soup, is one of the most popular dishes.
Is Udon a Soup or Something Else?
The thickest Japanese noodles made from wheat are called udon. These are different from rice noodles as well as ramen noodles. They are very chewy and can either be round or flat. When served in an umami broth, one gets a classic noodle soup which can be topped with fish cake, vegetables, tofu, or tempura. The hot broth, along with slippery noodles, makes a great dinner or a quick lunch.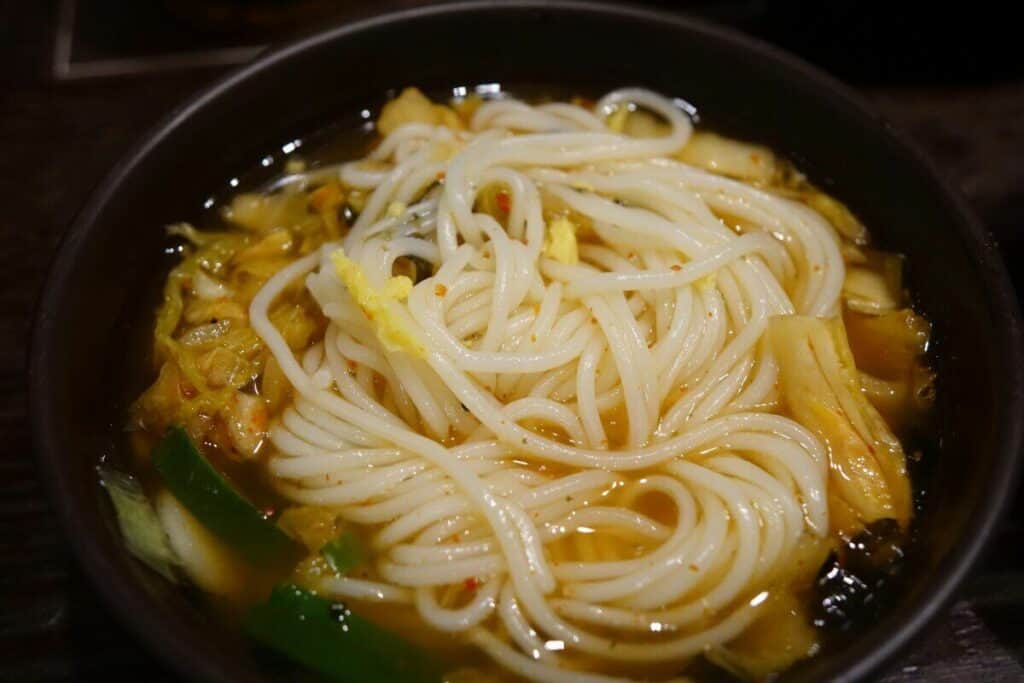 What Types of Noodles Should You Use for Soups?
When preparing soups, one should avoid using dry noodles, which taste the best when dipped in tsuyu broth. Since the dry noodles are thinner, they don't taste the best when placed in a hot broth. Fresh or frozen udon noodles should be used since their chewy texture will come to the forefront when eating a tasty broth. Apart from this, they are typically soft and firm, making them ideal for the dish.
What Are the Ingredients of an Udon Noodle Soup?
This classic Japanese meal with chewy udon noodles is a delicious dish that can be prepared in 20 minutes. All you have to do is stock up on the ingredients and start cooking. Here is a chart with all the ingredients that are required as well as the quantity:
| | |
| --- | --- |
| Instant dashi granules | 5 teaspoons |
| Water | 5 cups |
| Light soy sauce | 2 tablespoons |
| Dark soy sauce | 2 tablespoons |
| Sugar | 1 tablespoon |
| Mirin | 2 tablespoons |
| Dried udon noodles | 1 pound |
| Green onions | ¼ cup |
How Should You Prepare the Tasty Broth?
The best way to begin preparing the broth is by cooking the noodles according to the instructions printed out on the packaging. When they finish cooking, rinse them under cold water and then set them aside.
Next, place a pot filled with water on the hot stove and wait until the water boils. Add light soy sauce, dark soy sauce, sugar, mirin, and dashi granules to the boiling water. It should be cooked until the dashi and sugar dissolve.
The final step is to pour the broth into a bowl and add noodles. Season the broth with green onions or other vegetables you like. Good ingredients that go great with the broth are pickled radish hand rolls, grilled rice balls, and pickled vegetables.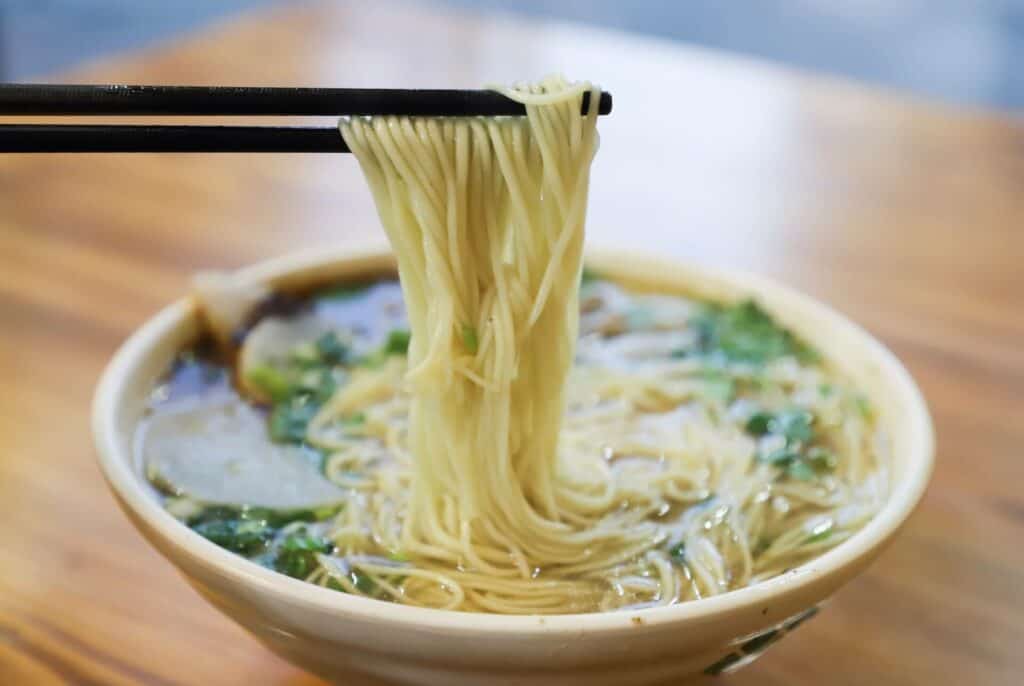 What Are Some of the Well-Known Udon Noodle Dishes?
There are a variety of ways these noodles can be prepared. People are free to explore different flavors and combinations of noodles, from hot pots to cold noodles topped with chopped scallions. Here is a list of the most popular udon dishes:
Keke udon – What many people refer to as udon soup is actually keke udon, the simplest dish with noodles. It is a broth made from mirin, soy sauce, and dashi.
Yaki udon – This is an appetizing stir-fried dish with sesame oil, veggies, scallions, and soy sauce. It can be made with or without meat.
Udon suki – A hot pot dish where noodles are topped with bamboo shoots, shrimp, bean curd, mochi, spinach, and chicken.
Miso nikomi udon – This stew dish is prepared with vegetables and noodles, which are cooked in miso soup.
Prepare Dishes With Japanese Thickest Noodles
Knowing more information about udon is crucial when venturing into Japanese cuisine. People commonly mistake udon for a type of broth, but it is simply a type of noodle that can be used in many dishes besides soups. Udon can also be used in ramen, but if you want to experience the full potential of udon noodles, don't miss out on keke udon. It is a healthy and delicious meal that an entire family can enjoy.