Although there is nothing better than freshly made sushi, we don't always have time (nor money) to visit the best Japanese restaurants and sushi bars. Luckily, many stores offer frozen sushi as a decent substitute for the real deal.
But do you know how to defrost sushi? Sushi can be defrosted in cold water, a microwave, or a freezer, or you can simply leave it to thaw at room temperature. A water bath works the best to defrost sushi since it will help you defrost these rolls fast while preserving the wanted taste and texture.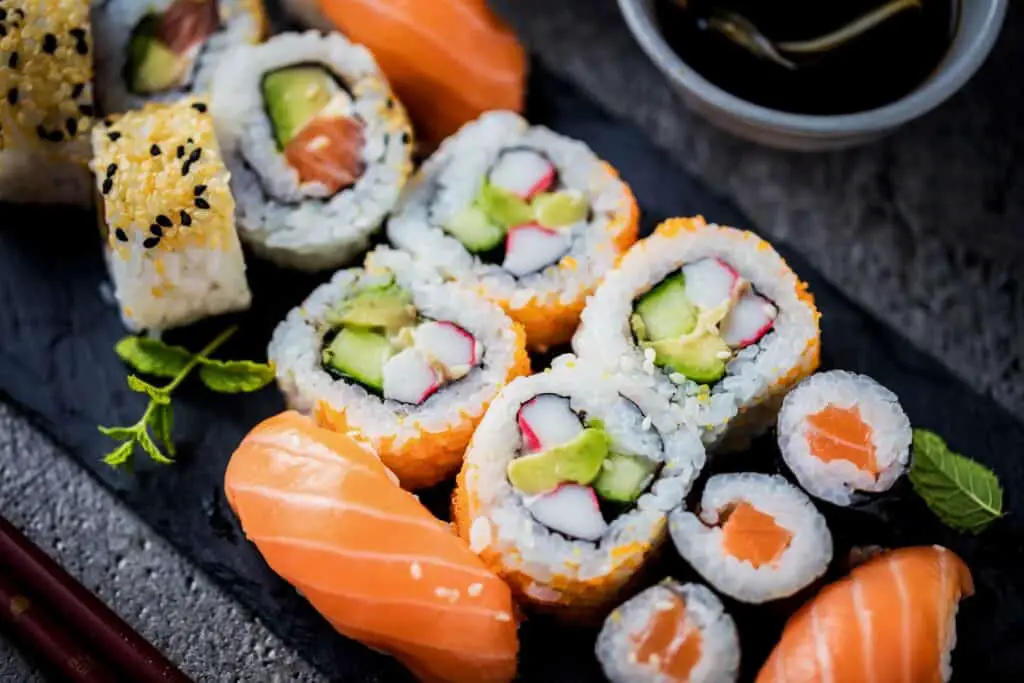 If you want to find out more about these few defrosting techniques and learn some essential thawing tips, just keep reading.
The Best Way to Defrost Frozen Sushi Is to Leave It in Cold Water
You probably know that food needs to be frozen as quickly as possible to retain its nutritional value and full flavor. What you perhaps didn't know is that it's also applicable to thawing.
Therefore, you should find a way of defrosting that will be fast and safe – and that's why thawing in cold water is the best solution for when you want to defrost sushi. Still, remember that this delicacy must be protected with water-resistant plastic and left in water for around one hour.
This method works the best when you want frozen sushi to be ready promptly but not lose the freshness and moisture.
Is There Any Other Method to Thaw Frozen Sushi?
Of course, a water bath is not the only thawing technique you can use. Moreover, defrosting in the refrigerator is probably the most common method people use with any kind of frozen food, including sushi. However, remember that sushi needs at least six hours to thaw in the refrigerator – not a good solution when you're in a rush.
Most pre-made rolls can also be thawed in the microwave. Although it would be the fastest way of preparing this delicacy, it can be a little too rough on the rolls, which will result in a changed texture or even flavor. Always consult the preparation instructions to see if microwaving is advised.
If so, follow thawing instructions. Usually, you'll have to place up to six rolls on the platter, heat one side for around 20 seconds on high, and then repeat the same process with the other side.
How to Know If Sushi Is Defrosted?
With all the options mentioned above, you must check if rolls are completely thawed before serving. To do so, use a simple touch test – if the surface is tender on touch (and slightly warm if you decide to microwave it), you are good to go.
No matter which defrosting option you choose, make sure you eat sushi in the next 24 hours (48 hours maximum) – keep in mind that raw fish loses its freshness and rice its moisture over time.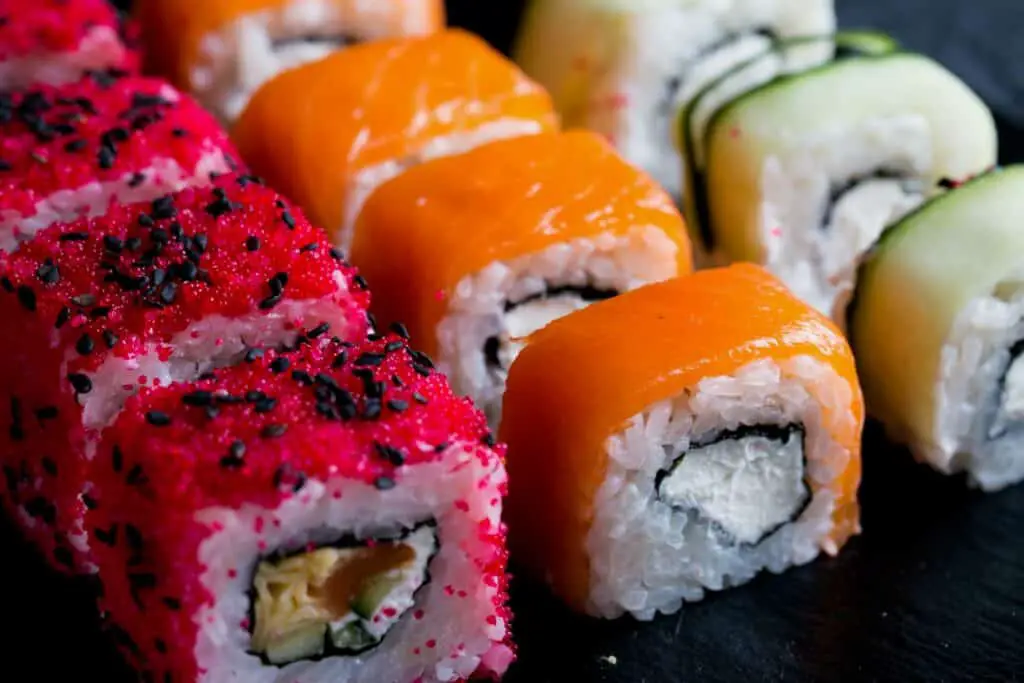 How to Store Frozen Sushi?
It's not only the defrosting method that can affect the texture (and taste) of rolls – if not stored properly, sushi, especially the rice, can become dry, which will negatively impact your eating experience.
Here are some things to consider when storing sushi in your freezer:
Set the temperature of a freezer to the lowest,
Don't remove rolls from vacuum packages,
Don't stack the vacuum packs,
Don't place packs near the freezer door in order to avoid temperature fluctuations,
If you must pull the product from the freezer at some point, return it as fast as possible.
Best Frozen Sushi Brands
First of all, keep in mind that frozen sushi can never be the same quality as the one served in restaurants. That being said, it undoubtedly can help you satisfy your sushi cravings. So, if you're trying to save up a bit or don't have time to go dining, frozen sushi is a good solution.
Still, you'll be left with the question of which frozen sushi brand to choose. Banzai Sushi is my first pick – their rolls are always fresh and delicious. Great taste even surprised me on the first try since I hadn't expected it to that extent. Of course, I can't compare them with truly fresh sushi made in Japanese restaurants and bars, but for frozen pre-packed food, it's pretty tasty.
Here are some sushi roll types this brand offers:
| | |
| --- | --- |
| Type | Current price (in Walmart) |
| Spicy Crab Roll | $6.47 |
| Shrimp & Avocado | $5.54 |
| Philadelphia Roll | $5.94 |
Another great frozen sushi brand is Fusia Asian Inspiration. It comes a little bit cheaper than Banzai Sushi, but I would say that the price difference is mirrored in the quality – Banzai Sushi holds a better taste and texture. That being said, Fusia Asian Inspiration rolls do not disappoint either.
Can You Freeze Leftover Sushi?
You can freeze leftover sushi, but not the one which was frozen before. If you're preparing homemade sushi, it's best to freeze all ingredients separately.
However, if you intend to freeze already made rolls or those bought at the restaurant (or store), ensure to wrap each roll individually and label the date. Keep in mind that already made sushi should be eaten in the next month – the sooner, the better.
Still, sushi will have the best taste immediately after it is made, so, when possible, you should avoid freezing. After all, how hard would it be to eat several more delicious rolls?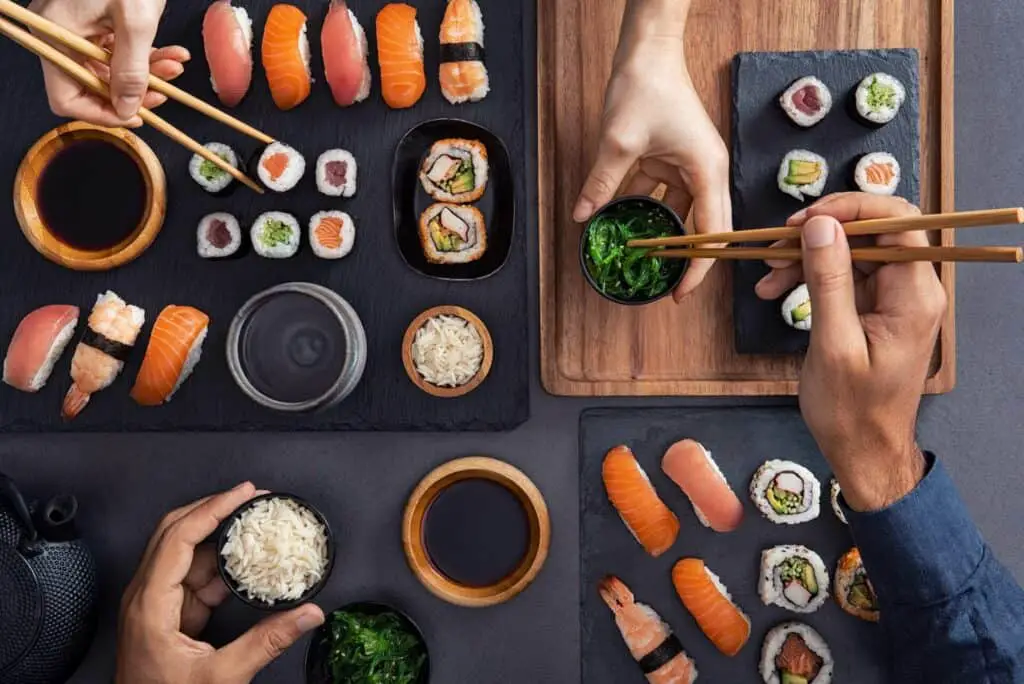 Enjoy Your Favorite Meal Whenever You Want
Frozen sushi is convenient for many people simply because of its time and cost-effectiveness. However, to get the most out of it, you must know how to defrost it properly – and there are several ways to do that. If you want decent sushi rolls at your disposal whenever you want, choose the brand and the method that fits you the best- and stock up!