Although authentic Japanese restaurants are always the best choice when it comes to enjoying sushi, they are not always the most realistic option for you (read – your budget). If you're searching for a store that can come close to the sushi taste you're used to, Whole Foods may be the answer.
So, how is Whole Foods sushi? Whole Foods sushi is some of the best sushi you'll find in any grocery store. The quality of the fish is excellent, and the sushi chefs are very skilled. If you're looking for a quick, convenient, and affordable place to get your sushi fix, Whole Foods is a great option.
Plus, they have a great selection of vegan and vegetarian options.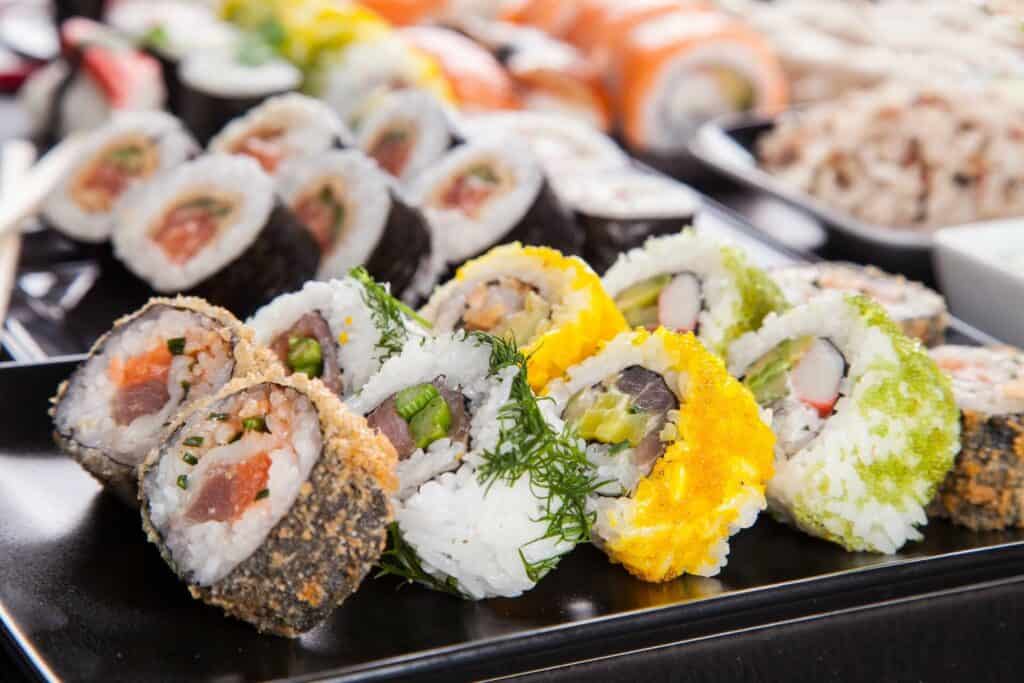 If you want to find out more about Whole Foods sushi in detail, let the following review help you learn everything you wish to know.    
Whole Foods Sushi Is Tasty and Fresh – Especially When You Choose a Genji-Made
Whole Foods has different sushi suppliers, and not all of them are present in all retails. That is why I can't put a universal grade on Whole Foods sushi.
According to my taste buds (and several other equally important factors), Genji sushi is superior to Kikka. Although grocery store sushi can never surpass the one served in quality restaurants and sushi bars, Genji sushi comes really close to it.
Fresh ingredients combined with excellent sauces made these sushi rolls my ultimate favorite when it comes to Whole Foods' pre-made rolls.
They are way ahead of what Trader's Joe has to offer, and, personally, I like them even better than the ones I've got from Wegmans or Giant (although they were both pretty decent).
However, better quality rolls come with not-so-affordable prices – one roll is usually around $10.
On the other hand, I tasted several rolls made by Kikka in several different stores, and, unlike Genji, they weren't always good. When fresh, they really come close to Genji, but, sadly, I've bought stale pre-made sushi made by Kikka once or twice in the past.
What Kind of Sushi Can You Get in This Store?
One other thing that you will absolutely love about Whole Foods sushi is the variety of options you can get. For example, if your local retail sells Genji sushi, you may be able to buy:
Avocado Cucumber Roll,
Spicy tuna avocado roll,
California roll,
Crunchy salmon roll,
Spicy shrimp tempura crunch roll,
Veggie salad roll, and so on.
Similar goes for Kikka if Genji is not an option. Whether you're in the mood for salmon avocado, shrimp, crab, or tempura roll, you're very likely to find them in your local Whole Foods store.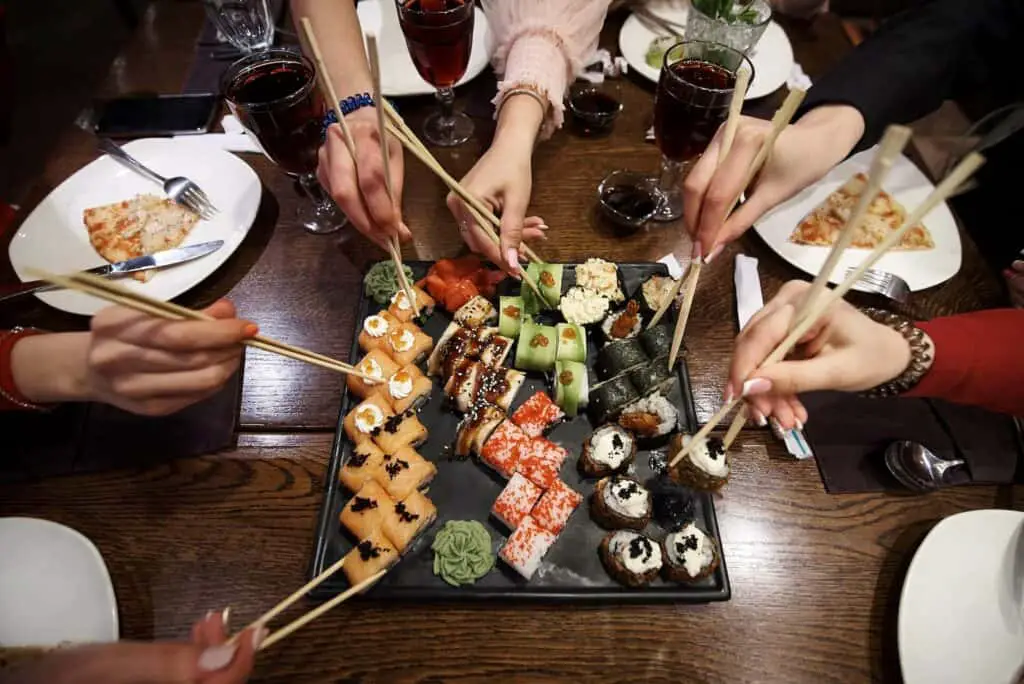 Is Grocery Sushi Safe to Eat?
So that grocery sushi is completely safe to consume, every store must meet certain standards set by the U.S. Food and Drug Administration. Keep in mind that raw fish must be preserved at a specific temperature. Remember also that rice, as a primary ingredient in all sushi types, can also grow bacteria if kept at an unfolding temperature.
In order to be entirely secure about what kind of food you're eating, it's always better to go with reputable stores with a proven quality – and Whole Foods is one of them.
Whole Foods Standards Guarantee Only the Best
Whole Foods Market, as you probably know, has high-quality standards for the food they distribute. Their assortment contains only natural food, free from artificial flavors, colors, hydrogenated fat, and the like.
This quality of food is not easy to find nowadays. However, it's undoubtedly a part of the reason why Whole Foods sushi provides its customers with the tastiest rolls.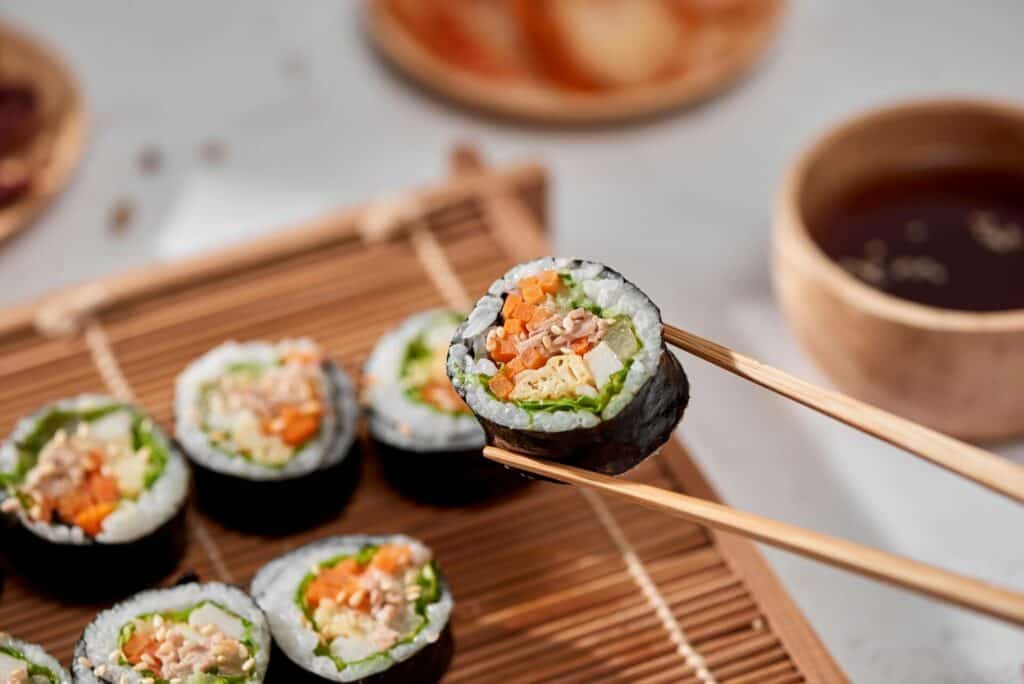 Does Whole Foods Offer Ingredients for Homemade Sushi?
Yes, Whole Foods has all the ingredients you need to prepare sushi all by yourself – inducing sushi mat and paddle and organic sushi rice. As with the premade rolls, you can expect very high quality with these separate ingredients.
However, I would suggest you stay clear from pre-made rice – I've tried it once, and the rolls were impossible to make. The taste was fine, though, but the presentation was disastrous!
Don't Forget About the Sushi Catering Option
If you're not good at making rolls, but want to serve them at a party or family dinner, don't forget to check the sushi presented in Whole Foods' Everyday Selection. Although they don't come cheap by any means, you'll get various delicious rolls without having to move a finger.
If you're interested, make sure you get informed about what your local store offers. Here are some possibilities:
Dishes included
Current Price
Classic Sushi Platter
– Shrimp California Roll (16), 
– Cucumber Avocado Roll (16),
– Salmon Avocado Roll (24),
– Spicy Tuna Avocado Roll (16).
$79.99
Combo Sushi Platter
– Shrimp California Roll (16),
– Cucumber Avocado Roll (16),
– Shrimp Tempura Roll (16),
– Rainbow Roll (16),
– Tuna Nigiri (4),
– Seared Albacore (4),
– Shrimp Nigiri (4),
– Salmon Nigiri (4),
– Edamame,
– Seaweed Salad.
$129.99
Vegetable Sushi Platter
– Carrot Roll (16),
– Mango Avocado Roll (16),
– Cucumber Roll (16),
– Vegetable Dragon Roll (16),
– Inari (6),
– Seaweed Salad.
$69.99
When Grocery Shopping Sushi, Choose Whole Foods
Eating sushi in high-end Japanese restaurants is truly a marvelous experience but a costly one as well. Understandably, you can't afford to visit sushi bars whenever you want to enjoy this delicacy.
However, it doesn't mean that you should settle for the low-quality dish. When you are in the mood for sushi, choose an option that is the closest to the restaurant-made dish – and that is most certainly Whole Foods.