Do you love sushi but don't live near a Whole Foods? Or maybe you want to try something new and aren't sure if Whole Foods has sushi. Well, don't worry! This blog post will answer all of your questions about the sushi at Whole Foods.
Does Whole Foods have sushi? Whole Foods does have sushi. Whole Foods offers pre-packaged sushi, made fresh in the store. They also have a sushi bar, where you can order freshly made sushi.

Whole Foods offers unique and healthy sushi for a reasonable price, with their customers being able to choose from a variety of sushi and seafood products. If a Whole Foods store has a sushi bar, customers can even ask for sushi rolls to be made for them on the spot.
One would think that sushi from a supermarket is something to avoid. Still, some of them are good if made with fresh ingredients the same day you purchase them. Let's find out all there is to know about sushi from Whole Foods.
I'll tell you what types of sushi they have, how much it costs, and whether or not they offer take-out. So sit back, relax, and read on to learn more about the sushi at Whole Foods.
Does Whole Foods Have Sushi, and Who Makes It?
As I mentioned above, you can buy sushi at Whole Foods, and may we say that the quality of their sushi is really excellent. This sushi is made by Genji Pacific LLC, a vendor that distributes fresh sushi to Whole Foods in more than 150 locations in the UK and US. Genji sushi is made by famous chef Takao Iinuma who worked at many renowned restaurants in Japan.
Genji is not a simple grocery supplier. They have more than 900 trained sushi chefs that work in 180 locations. You can buy their packed sushi rolls in Whole Foods or get them on the go in the stores that have a sushi bar. Genji also has restaurants that serve other Japanese meals.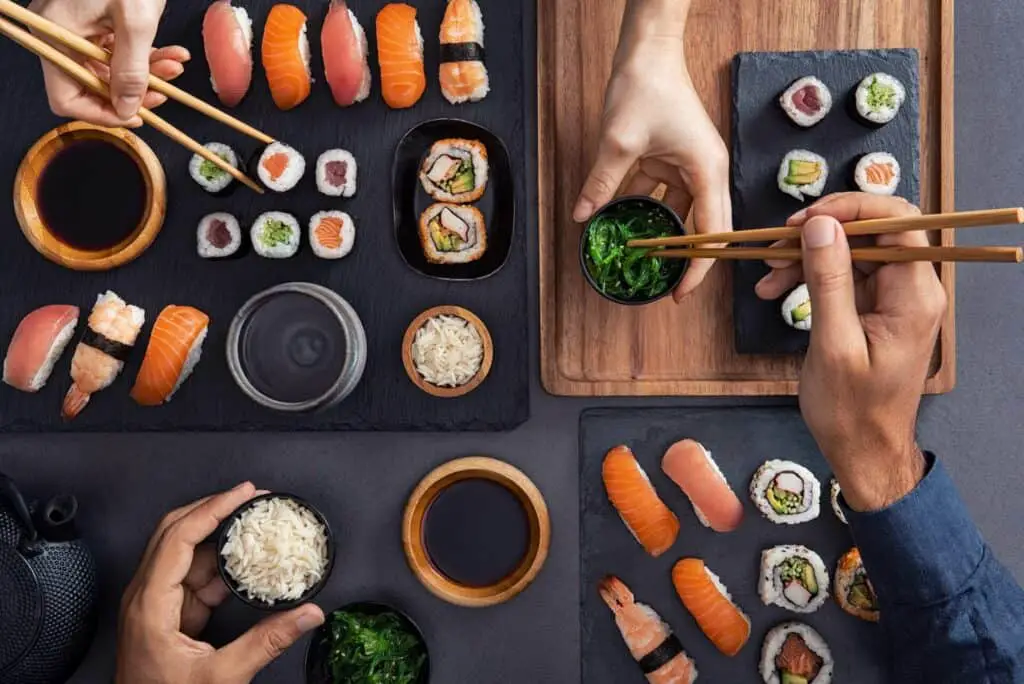 What Kind of Sushi Can You Get In Whole Foods?
The sushi available in Whole Foods does have a unique health kick. For example, they make rolls with brown rice, quinoa, and black rice. Aside from sushi, you can find other traditional Japanese meals such as seaweed salad, shrimp inari kabuki, fresh rolls with shrimps, and some stores even have poke bowls and sushi burritos. But our subject is sushi so let's see what kind of sushi rolls you can buy in Whole Foods:
Vegetable Roll,
Spicy Salmon Roll,
Spicy Tuna Roll,
Spicy Shrimp Roll,
Spicy California Roll,
Tempura Shrimp Roll,
Salmoncado Roll,
Green Dragon Roll,
Spicy tuna avocado,
Quinoa Spicy Salmon,
Cucumber Black Rice.
How Long Does Sushi From Whole Foods Last?
If sushi is made with fresh ingredients and, most importantly, with fresh fish when properly stored, it can last up to four days in the refrigerator. Even though sushi made in Whole Foods is fresh, they strongly advise customers to eat their sushi within 24 hours from the purchase.
Also, if you see that your sushi smells bad or looks strange, don't eat it – throw it away, or make a reclamation to the store.
You Can Make Your Own Sushi With Fish From Whole Foods
As you may already know, Whole Foods has its own sushi-grade fish available in the store, as well as sushi rice and other ingredients you need to make your own sushi at home.
Their sushi-grade fish is tuna or salmon, but sometimes you cannot find both available – it depends on the location of the store.
Also, if you don't like rolls that are already made, you can ask for your own combination to be made on the spot. All Whole Foods stores that have sushi bars have this option available.
You can make your own ingredients, and sushi chefs will prepare you a fresh roll.
There Are Platters You Can Buy for a Reasonable Price
Aside from rolls and custom-made sushi, you can purchase a platter with different kinds of sushi. Most of them contain up to 50 to 80 pieces of sushi, depending on the platter you choose. Here are some of them compared:
Name
What you get
Price
Happy Birthday 
84 pieces
16pc Special Salmon Roll, 8pc Salmon Avocado Roll, 16 pc dueling duet doll, 16pc shrimp California Roll, 16pc Vegetable Dragon Roll, 8pc Vegetable Roll
$90
American Dream 
50 pieces
8pc Avocado Roll, 16pc Tuna Nigiri, 16pc Vegetable Roll, 8pc Cucumber Roll
$60
Combo 
83 pieces
4pc Seared Albacore Nigiri, 4pc Tuna Nigiri, 16pc Rainbow Roll, 16pc Avocado Cucumber Roll, 16pc Spicy Shrimp Tempura Roll, 4pc Salmon Nigiri, 16pc Shrimp California Roll, 4pc Shrimp Nigiri, 2 Seaweed Salad, 1 Edamame Side,
$130
Signature
 67 pieces
8pc Vegetable Dragon Roll, 8pc Rainbow Roll, 16pc Shrimp California Roll, 16pc Spicy Shrimp Tempura Roll, 8pc Tokyo Lights Roll, 1 Seaweed Salad, 8pc Salmon Avocado Roll, 2 Edamame
$100
Are Whole Foods Sushi Any Good?
It may not be the most popular opinion among sushi enthusiasts, but we believe that sushi bought in Whole Foods can be called good. It is fresh and made in a traditional way with good quality ingredients.
Even though nothing comes close to eating sushi in a restaurant, we strongly believe that Whole Foods has some of the best supermarket sushi out there.
However, it is important to say that when eating sushi from a supermarket, one must always be careful and look for the signs of spoiled ingredients. Salmonella is probably one of the biggest risks when it comes to eating sushi from the supermarket and the fact that you must trust that the sushi was made that day.
Even if it is made that day, no one can guarantee that the ingredients, such as raw fish, are in good condition. So before you eat that sushi, inspect it carefully.