A company that had its beginnings over a century ago, Kroger is now among the biggest grocery chains in the US. But, along with other food and pre-prepared meals, does Kroger have sushi?
Kroger does have sushi. You can find sushi in the deli section near the prepared foods in Kroger. Sushi from Kroger is available in a variety of types and flavors, including California rolls, salmon nigiri, and shrimp tempura. The prices for these range depending on the type and quantity purchased, but they are generally very reasonable.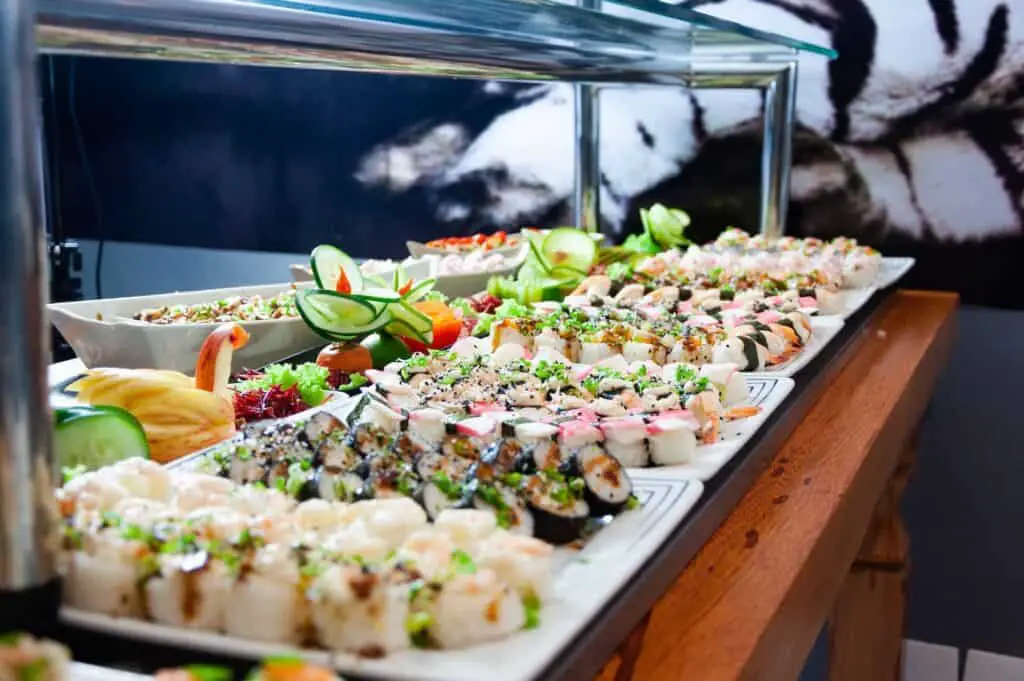 Kroger is one of the fastest-growing grocery chains in North America. It's renowned for low prices and a large variety of discount programs and high-quality service. Their most popular makizushi or sushi rolls are the California Rolls, which cost only $5.79. But they also offer different packages of fresh and daily prepared sushi.
Does Kroger Have Sushi?
Alongside the seafood department, All Kroger stores now have a section with a variety of sushi. They are prepared daily, and you can buy them fresh and packaged after 11 am. After you buy it, you can eat it out of the refrigerator for three days (although, if you love sushi as much as I do, it will be gone that same day.) Some locations even have sushi bars where you can sit and enjoy this seafood delicacy.
Alongside different makizushi, Kroger also has sashimi. And if you're not comfortable with eating raw fish but still want to try a similar dish, they offer other non-raw options or veggie rolls.
Their sashimi (thinly sliced fresh raw fish) is the Japanese Food Express Sashimi, which comes in 5 oz packages.
If you want to hear a first-hand experience of trying Kroger's makizushi before you buy, watch the following video.
Kroger Offers a Variety of Fresh Foods at Their Stores Besides Sushi
The company constantly works on opening new store locations and adding more products to improve the experience for their shoppers. They offer a variety of foods, like fresh meats, dairy products, and seafood like sushi.
Throughout the years, this chain has also added a selection of organic produce, along with prepared foods. There's a large number of Kroger locations that include olive bars with hot meals, cheese selections, and gourmet olives.
Which Rolls Does This Chain Offer?
Fortunately for all sushi lovers who can't afford to visit expensive restaurants as frequently as they would like, Kroger offers more than just one type of sushi. They make fresh makizushi each day, and here's their daily menu:
The Spicy Tuna Roll (ten pieces) – raw minced tuna mixed with spicy sauce and avocado,
Their California Roll (ten pieces) –  their most popular makizushi,
The Spicy California Roll (which also comes with ten pieces inside),
The California Crunch Roll (ten pieces),
The Vegetarian Roll (ten pieces),
Tempura Roll (six pieces),
The Tuna Roll (ten pieces),
The Philly Roll (ten pieces).
Besides makizushi and sashimi, Kroger also offers sashimi-grade fish. It's Henry & Lisa's Natural Seafood Solid White Albacore Tuna Sashimi Grade, sold in packages of 5 oz.
The California Roll Is Their Star of the Show
If you want to give this supermarket makizushi a try, I suggest you start with the chain's most popular one – the California Roll. It's made out of vinegared rice on the outside (instead of nori which is usually wrapped around a roll). Other ingredients include nori seaweed, cucumber, avocado, and crab meat.
What Are the Prices of Kroger's Rolls?
Kroger is a chain that strives to offer great quality and low prices, and it's no different when it comes to their prepared meals, including makizushi. The prices for their rolls can be seen in the table below.
| | |
| --- | --- |
| Type of makizushi | Price |
| California Roll | $5.79 |
| Spicy California Roll | $6.49 |
| Philly Roll | $5.99 |
| Vegetarian Roll | $5.49 |
| California Crunch Roll | $6.99 |
| California Combo | $8.99 |
| Mixed Combination Sushi Roll | $13.99 |
| Crunch Shaggy Dog Roll | $9.99 |
| New York Crunch Roll | $9.49 |
| California Roll Salad Cup | $6.99 |
How Long Can You Store Sushi?
The makizushi made in Kroger is fresh, and they prepare it daily. You can store your sushi unpacked for three days if you place it in the fridge right away. However, since it contains fresh and raw seafood (unless it's the Veggie option), it should be consumed right away or within the next 24 hours.
If you choose to store it in the fridge, you may notice some slight changes to it. The taste and texture of the rolls may become different, as the seaweed may become softer and limper, while the rice may become harder. Nevertheless, it shouldn't be harmful to eat it if it has been refrigerated properly.
Keep in mind that expired sushi should be thrown away. Both sushi and sashimi are dishes that contain raw fish, which can develop bacteria and turn the delicacy into a dangerous bite. If you notice that the date of expiration has passed, make sure you throw it away without consuming it.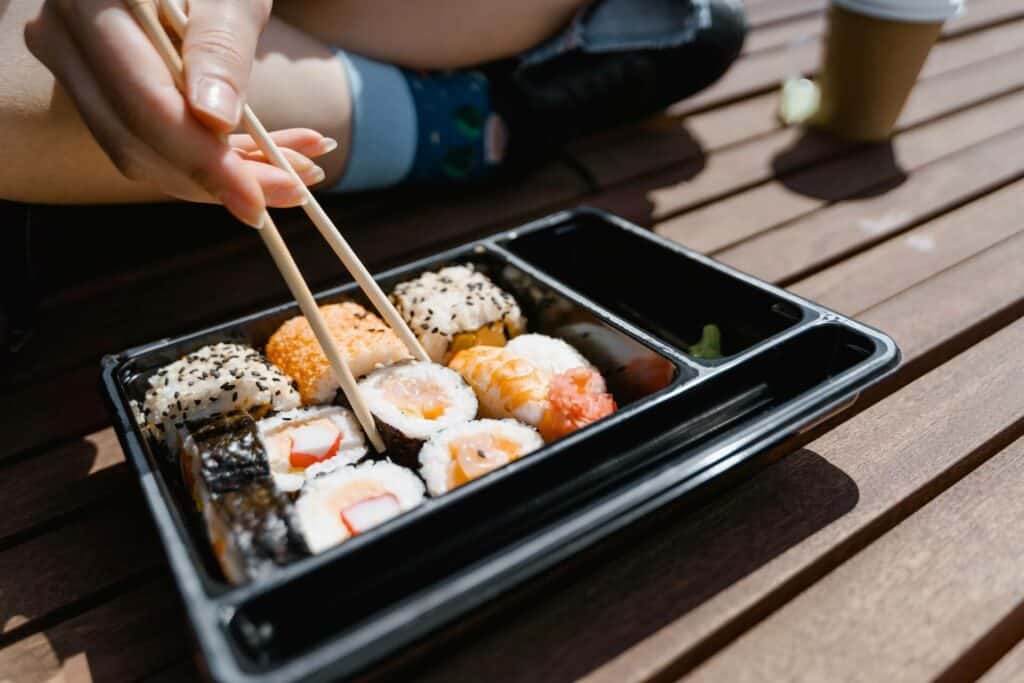 Supermarket's Seafood Delicacies Are an Affordable Alternative to Restaurant Sushi
There was a time when you had to visit an expensive restaurant in order to eat raw seafood that was prepared and served deliciously. However, as sushi grew in popularity throughout the US, they also became more available.
Nowadays, large grocery chains such as Kroger make their customers happy by offering these Japanese delights freshly prepared right next to their seafood departments.