When you want to simplify the process of cooking rice for sushi, purchasing the rice cooker is the right choice. But, between all other brands, where does the Aroma sushi rice cooker stand?
Aroma rice cookers are good yet affordable kitchen appliances that can help you prepare sushi rice easily and efficiently. Cost-effective Digital Rice & Grain Multicooker (ARC-5000SB) is one of the best multicookers in the market. However, Aroma offers other options as well that can be more suitable to your preferences and needs. 

Founded back in 1977 in California, Aroma Housewares Company is now a highly-known producer of small kitchen appliances and cookware, mostly known for their rice cookers. If you're looking for a perfect model for yourself, take some time and look at this review – you may get your answer. 
Digital Rice & Grain Multicooker (ARC-5000SB) Combines Good Quality With An Affordable Price 
First of all, keep in mind that Aroma doesn't make rice cookers that are specially designed for making sushi rice. Moreover, these kinds of appliances are usually made as multicookers, which means they have more purposes than cooking rice. 
However, today, we are discussing exactly that function in order to determine all the pros and cons of an Aroma Rice Cooker. I decided to start this review with the product that has the best quality to price ratio – Digital Rice & Grain Multicooker (ARC-5000SB). 
Keep in mind that it comes in a basic and professional style. I highly recommend going with a professional, which costs only a few dollars more.
So let's start with things I liked the most. This product has many benefits, and here they are:
It's extremely easy to use with a simple digital panel. All you have to do is add rice, water, and seasoning, click the option sushi rice on display (white rice if you have a basic model,) and that is it! You'll end up with beautifully cooked sushi rice. 
It is big enough for 10 cups of uncooked rice (20 cups of cooked,) which is excellent when you have guests coming over. 
Every part of the appliance is easy to clean, and since it includes a non-stick inner pot, you don't have to worry about difficult cleaning, even with sushi rice that sticks to everything. At the same time, this pot is marked with water measurements for the correct sushi water ratio (if you're putting two cups of rice, you should add the water, so it comes to the second mark).
All the extras (inner pot, rice cup, steamer tray, and spatula) can be stored inside of the appliance and don't occupy your kitchen space. 
On the other hand, there are things that annoy me with this device. For example, I can't stand that water falls everywhere from the lid. There is a compartment that should catch the steam, but it doesn't work the way it is supposed to. I've read several reviews where people complain about how fastly this product stopped working – this may be the reason why. 
One other thing that can be annoying for many is the size of the cup. Did you know that 1 Aroma rice cooker cup is actually 2/3 cup? I find it irrelevant, but I can see that some people are not satisfied with this. 
Also, it comes with a slightly shorter cord, which doesn't cause any bigger problems for me, but might become a big inconvenience for some. 
All in all, this rice cooker can be a good deal, especially if you consider the affordability factor. It's less expensive than many other high-quality rice cooking models. Although it certainly is not the finest rice cooker on the market, keep in mind that the current price for a professional model on Amazon is only around $45. 
Make Sure You Choose the Right Type of Rice to Cook in This Aroma Rice Cooker 
It's not all in choosing the right appliance. Not all rice types are suitable for making sushi. When making it, try to avoid placing long-grained basmati rice or jasmine in this rice cooker. For the best result, it's always better to use Japanese sushi rice. It's short-grained and sticky, a perfect type to make all sushi ingredients stay together. 
Soup, Steamy Veggies, Oatmeal – This Product Can Help You Make More Than Just Sushi Rice 
When buying this appliance, you will get much more than a sushi rice cooker, so ensure you make use out of it. One of the things I enjoy the most about this device is all of the healthy meals I am able to add to my diet. 
With it, you can steam, saute, and cook food and do so without a fuss. And if you're trying to implement healthier food in everyday life, remember that this device has an upgrade – an Aroma Housewares ARC-1120 SBL model with a stainless steel pot that drains around 30% of carbohydrates from the rice.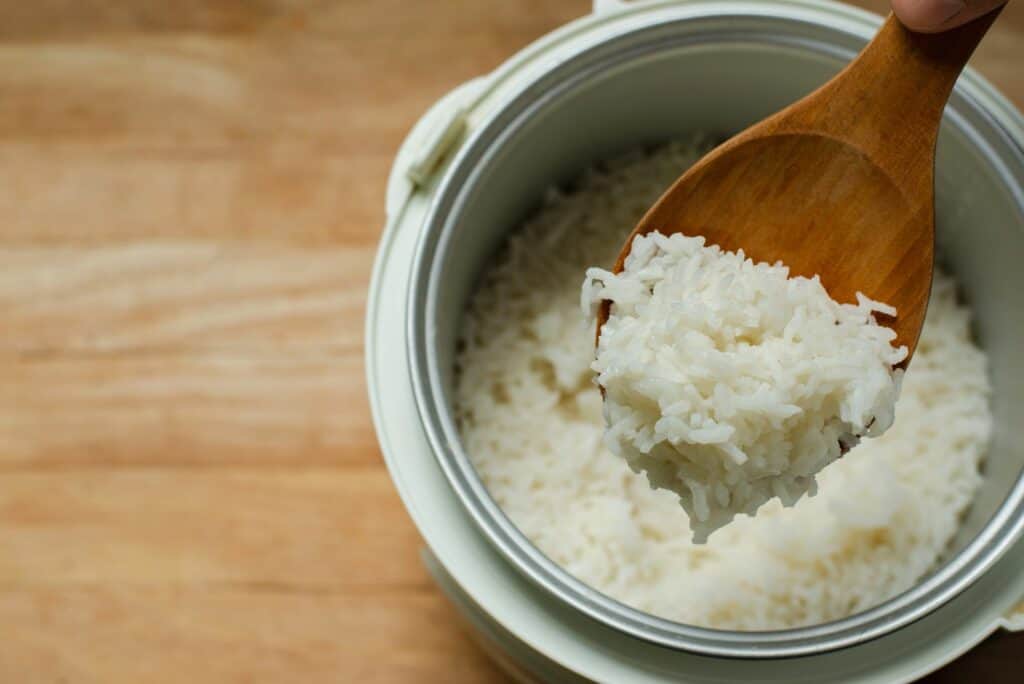 There Are Plenty Other Models to Choose When You Need a Good Rice Cooker 
Although my first choice would be this Digital Rice & Grain Multicooker (ARC-5000SB,) it's not the only option Aroma offers. Depending on your preferences and needs, you may also consider some of the following models:
Take a look at the table below if you want to compare all of the cookers mentioned above.
| | | | | | |
| --- | --- | --- | --- | --- | --- |
| Model | Digital Rice & Grain Multicooker (ARC-5000SB) | Mini Rice Cooker | Digital Rice & Grain Multicooker (ARC-1230W) | Rice Cooker & Warmer | Induction Rice Cooker |
| Capacity (in cooked cups) | 20  | 3  | 20  | 6  | 12  |
| Dimensions | 11.18 x 10.79 x 11.38 inches | 6.75 x 6.25 x 7.25 inches | 11 x 11.75 x 8.75 inches | 10.25 x 8.25 x 7.88 inches | 12 x 11 x 9 inches |
| Price | $44.99 | $24.90 | $49.99 | $39.99 | $104.99 |
Aroma Sushi Rice Cooker Can Help You Make the Perfect Sushi 
A rice cooker is one of those gadgets we can live without but is so nice to have. Sure, you can keep making rice the old-fashioned way, with boiling water in a pot. However, it demands your time, focus and even then, success isn't guaranteed. 
Maybe Digital Rice & Grain Multicooker (ARC-5000SB) comes with some flaws, but one thing is sure – your sushi rice will always be perfectly made. Not paying a fortune to achieve it is just an added benefit. This combination of quality and low price made this model my number one choice.