Origami has been a favorite pastime of mine for many years. It is an excellent way for children and adults to develop dexterity and creativity, along with patience and care. The art of origami follows hundreds of years of tradition while always finding new patterns and designs. Some of the best Origami artists can now make fantastic creatures from winged dragons to exotic parrots to deep-sea creatures. 
A great starting point for me was the more traditional cranes and flowers that provide a way to learn the phrases and instructions used in the patterns before jumping into the more complicated designs. A fairly new form of origami, called Kusudama, designed for those with a more mathematical mindset, creates beautiful spheres and 3-dimensional structures out of dozens of carefully folded paper strips. This had a lot of appeal to me as it spoke to the more analytical part of my mind, but that is the beauty of origami. There is something for everyone.
Depending on where you want to get started, I have listed some resources below that I found useful when wanting more information or variety in my paper supplies and projects.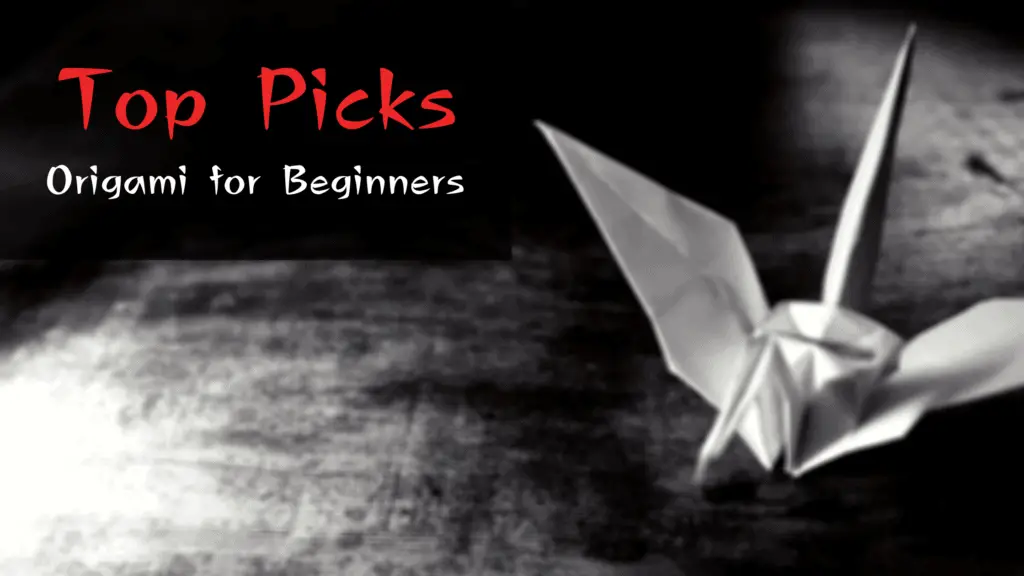 Paper for Beginners
Kids love doing origami if you can find the right entry-level paper and designs that ease them into the terminology and encourages them to use their hands and minds together. Paper used to learn on at the beginning is still thick and folds well but usually doesn't have the more traditional patterns associated with origami. 
The Paperkiddo Family Origami Paper Kit comes with 12 patterns and a colored instruction book that teaches anyone how to make zoo animals ranging from easy to difficult. The great thing about this kit is that it comes with enough paper, eight each, that multiple family members can work on the same projects together. I prefer kits like this as usually you only get enough to make one or two of each, and if there are a few of you learning at the same time, it is super helpful to all be working on the same one together.
Paperkiddo Family Origami Paper Kit  
For even more patterns, the Kool Krafts 100 Origami Paper Kit has 25 easy projects that are a great introduction to start with and make a wide variety of shapes from animals to objects. These patterns are also in color with full terminology instructions, and as they are all on the beginner level, this kit provides a great way to start learning origami. 
Traditional Paper
When I became more proficient and moved on to the more advanced patterns or even with the simpler ones that I just wanted to add a little flair to, I changed the paper I was using to the more traditional patterns and textures. Some origami paper has an almost fabric-like feel, and others have a thinner, more delicate composition. The heavier paper makes great boxes or other objects, while the thinner paper is excellent for the more complicated patterns that require numerous folds. 
Yuzen Washi Paper comes in a pack of 80 with half patterned and the other half plain. The designs vary by the pack but tend to be the very traditional Japanese patterns of birds, flowers, and scenery. They are silk-screened painted in Japan and tend to follow popular Kimono patterns.
Yuzen Washi Paper
I have used Paperkiddo Origami Paper to give a more stone looking design that fits some patterns a little better in my opinion. The geometric spheres and such look amazing when made from these marble and stone patterned papers.  It comes in a pack of 100 with 10 of each design. The bonus to this pack is that the paper is double-sided. That can be a huge boost to some patterns prone to leaving some white edges showing (though some people are firmly in the camp that the white edges that show from the single-sided paper are a sign of authenticity and tradition).
An even more economical choice, Origami Paper 300 sheets Japanese Washi Patterns comes with 300 sheets featuring 12 different patterns that are based on the slightly more expensive washi sheets. It is important to note that the washi pattern is not the same as washi paper, there is a difference in the paper's quality, but for patterns that require dozens of sheets of the same pattern, this is the best way to go. The other thing to keep in mind about this pack is that it comes in 4″ squares instead of the more standard 6″. 
Bone Folder Sets
The most important part of folding origami to make your end creation come out correctly is having crisp folds and clean edges. The folds you do at first and as you go along allow the paper to bend more easily in later steps and create the foundations for the later more delicate part of the pattern when you are trying to fold ever-smaller portions into ever-smaller pockets.  
To get those crisp folds, use a tool like Arteza Bone Folders. This set of four works wonders on any kind of paper and helps keep buckling and ridges from forming even on heavy thick paper. These are also great for anyone who has arthritis in their hands or for kids who are learning origami and don't quite have the dexterity yet to make the edges themselves. This set is made from durable and lightweight plastic, however, not bone.
Another option I've used on heavier cardstock is the ECOHU Bone Folder, a set of two made from bone and not plastic. These do come in a nice box for storage, which helps keep track of them. 
ECOHU Bone Folder Set
Books
There are many books out for learning origami. Some focus on the traditional, and some focus on the modern expanded designs. A great place to begin is the Japanese Origami for Beginners Kit. There are 96 pages, plus a DVD, with patterns, terminology definitions, and a little bit of origami history. There are also some tips and best practice techniques included that can help you get started.