Drawing manga is a lot of fun, but it can be tough to know where to start. That's why I've put together this set – it has everything you need to get started and unleash your inner artist.
I love manga and we want everyone to experience the joy of drawing their own characters and stories.
With this set of products, you can become the manga artist you always wanted to be. You'll have all the tools you need to start creating amazing comics right away. And who knows – maybe one day they'll be published in a magazine or even turned into a movie!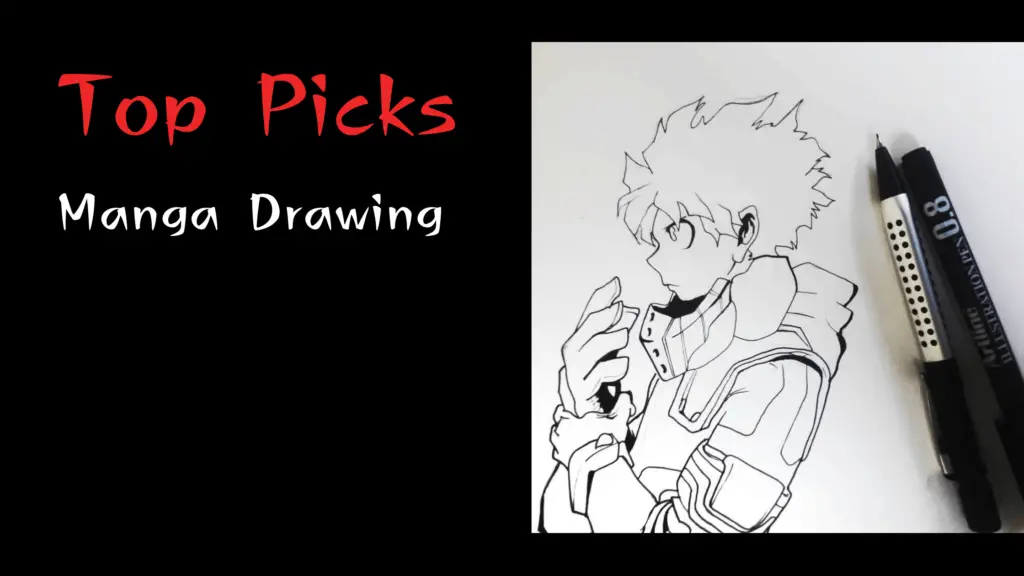 Drawing manga comics and artwork is usually done in black ink with the clever use of shading and white space to enhance it rather than color. The techniques for drawing in black and white manga is similar to making black and white films. They both require a use of light and shade that is completely different than drawing or filming in color.
On the flip side, while you may need to know more about shading to draw traditional manga, you don't necessarily need to learn about color combinations. 
Unlike western comics, manga is produced quickly and cheaply so that it can be published weekly rather than monthly. A popular manga series can sell millions of copies in a week and are sold as books between 200 to 400 pages long.
Manga has been growing in popularity in the US and can be found pretty easily in larger bookstores, so if you are interested in seeing some of the printed versions, they shouldn't be too hard to find.

If you want to learn how to draw manga, then you will want to look at some of the supplies listed below that can help you get started. The beauty of manga is that each comic is usually done by just one artist, so if you want to embark on an entire career of making your own manga strips to publish or put online, then you are following in a grand tradition.
Of course, you may just want to draw it for fun, and there you will have even more creative control as you won't be trying to please the masses, but either way, drawing manga can be very rewarding.
Paper
To start with, you will need to select the kind of paper you want to draw in. The millions of copies published use less than stellar quality paper, usually, a kind of cheap newspaper that has been recycled multiple times, but that is not what the artists themselves draw on. 
However, manga is still drawn on thinner paper than usual. Most ink drawings use an absorbent paper that doesn't allow the ink to spread. This is important for keeping the lines crisps and straight. The quality of the paper is incredibly important. A good paper can elevate the appearance of most any kind of ink and can be the better price option if you need to choose between better paper and better ink. 
Icy Manga Manuscript Paper B4 Thin
Shipped from Japan, this paper can take a couple of weeks to arrive but is well worth it. Some of the tips to using this kind of thin, smooth paper are to tape it down in the corners to keep it from bowing or curling from the ink. Keeping the paper from curling up while it dries is a common problem with ink drawings. This paper does need a little bit of a lighter touch as it can tear easily from erasing and using toning knives.
Deleter also ships from Japan but can be found with quicker shipping times than the Icy Manga Manuscript Paper. This particular paper has a 25kg of weight as well, so it is a little stronger for those with a heavier drawing hand.
Made specifically for drawing manga comics, this comes with ruled border lines already marking out the most common framing lines for printing. Both the Deleter Manuscript and this Comic Manga paper ship in packs of 40 sheets, with the Comic Manga coming in around half the price and nearly a third of the Icy Manga Manuscript.
Inks
Good quality ink will make your images look their best. It should be waterproof, marker-proof, and for manga, a matte finish instead of glossy. Though that can be a personal choice, a little glimmer never hurt anything. Ink should also be fade-resistant and not prone to feathering, where the ink bleeds a little outward from the line looking like little spikes.
While manga is usually just done with black ink, color versions have been made, though due to the amount of time it takes for published manga, it usually isn't common.
Drawing ink made to work best with nib pens and brushes, this comes in black (called Super Black) and a few other colors as well. Non-feathering covers pencil lines well and dries nicely into a matte finish with crisp lines.
At half the price of the DELETER ink, this is a very good option for pure black ink drawings. No other colors are available, but a full-size manga comic is going to need a bit of ink so sticking to a good quality low price black ink like this one can save you overall. Also non-feathering and fade-resistant.
Pen Sets
The type of drawing you want to do heavily impacts the type of pen or brush that use. Multisets like these provide a few options and different sizes in nibs, each one resulting in a different style of line, whether straight or curved. Calligraphy, for example, needs a nib that allows greater flow on the curved portions to create the signature style. 
Experimenting with your pens before you begin drawing is very helpful. Just make a few random shapes and lines to get a feel for what they do.
The Tachikawa Comic Pen Holder & Zebra Pen Bundle Set
This set comes with ten nibs and a holder for all of them. They write smoothly and are a good quality option when starting out because it gives multiple nibs to choose from, so while it is a little more expensive than other sets, you do get a good value for the price.
Tachikawa Comic Pen Nib Holder(T-40) + Zebra Comic G Model Chrome Pen 10 Nibs
This set provides about the same amount of nibs and comes in at just under half the price. A difference can be felt in quality with pens of any kind but when just starting out, the more economical options are a good entry point.
A kit that comes with a pen holder, three nibs and the sheets of manga paper to practice on. This is half again of the Tachikawa and makes a great option for complete beginners who may not want to invest a lot at the beginning. 
Illustration Markers
These markers are great for shading in larger areas than trying to use the finer pen nibs. These are similar to regular markers in that you don't have to dip them in an ink bottle but their ink is still the dark black preferred in ink drawings. 
Faber-Castell Pitt Artist Pen Mangaka Wallet – 6 India Ink Manga Illustration Artist Markers (Black and Grey)
Using India ink, which tends to be a little thicker than what comes in the bottles for nibs, these markers create a smooth swath of black ink that does not bleed through, is waterproof, and permanent.
Prismacolor Premier Manga Illustration Markers, Assorted Tips, Black & Sepia, 8-Count
On par price-wise with the Faber-Castell markers, these offer fine, brush, and chisel tips for creating different kinds of lines and shading effects. These are mostly black ink markers but do have 2 sepia markers included. 
Kuretake Manga pens 9 Set Black
A set of 9, they provide multiple thicknesses and are great for drawing lines and framing. They come in about half the price of the Faber-Castell and is great for starting out with.
Tool Kits
Kits like these provide cutting knives, small mats for cutting the paper on, and a few other utensils for making a complete manga comic. These are a great way to start drawing manga as nearly everything you could want at the beginning are included. 
Upgrading your paper, pens, and ink can come in time when you are more comfortable and know what you like but if you are looking for something that has everything try a manga tool kit.
It comes with a tray to hold all of the various pieces, including a cutting knife, mat, toning knife, instructional booklet, pen set, and more. It is the pricier of the two here but with all that it includes, it is a very good value with good quality items included.
Made by the same brand as the SPDX, both coming from Japan, this kit is about two-thirds of the price but also is as complete a kit as you would need to begin with. It comes with sample paper, two drawing instruction books, a spatula, tone knife, and a pen with nibs.
Books
Whether you are just starting out or have already ventured into manga drawings a good resource is The Master Guide to Drawing Anime: How to Draw Original Characters from Simple Templates (Volume 1). This book focuses on not only help you develop your drawing skills and techniques it helps you learn the basics of the most common types of manga. The character types, settings, and facial expressions.
Manga comics are great fun to read, and even better to draw so you want to try your hand it get a few supplies and dive in. The best part of artwork is that comes from you and it is wholly yours to develop as you like.