For the cold months, nothing is better to me than serving my friends and family a hot bowl of Nabemono. If you aren't familiar with Nabemono, it is a Japanese dish served communally from the middle of the table made with a variety of ingredients all cooked together in one pot. 
This is a favorite for the family as we have perfected our own recipes over the year of what kind of ingredients to include and the best way to serve it. Seafood, sliced meat, vegetables and noodles can all be included and are cooked in a broth usually made of sake, soy sauce, and dashi.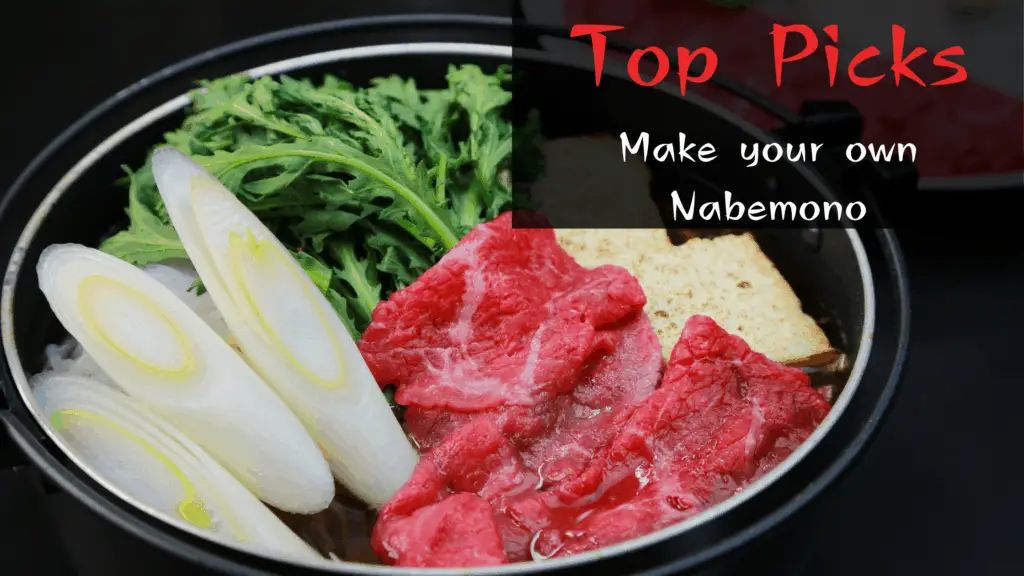 The best way to serve it is to put a portion of the ingredients in to cook and then everyone helps themselves to a portion in their own bowls. While they are eating, the next round of ingredients is cooked and will be ready to be eaten by the time everyone has finished the first round. We often have a dipping sauce on the side but that isn't always necessary or to everyone's taste. 
Through a lot of trial and error, I have used a variety of products from the donabe (lidded pot) to various kinds of chopsticks that we prefer. The ones I liked the best are listed below, some worked better than others, and sometimes price is a factor when cooking on a budget like I do so some of the more budget friendly options are also included. 
Everything listed can be found on Amazon, though many of them can also be found in cookware stores or elsewhere online.
Books
If you would like to learn more about the art of cooking Nabemono, here are a couple of excellent introductory cookbooks to choose from. Both of these have numerous recipes for main dishes plus broth recipes (I always recommend making the broth in advance to allow the flavors to really combine). Both Kindle and hardcover options are available and prices range from $15 to $35 USD. 
Simply Hot Pots: A Complete Course in Japanese Nabemono and Other Asian One-Pot Meals has 75 recipes with 15 base broths and is a great overall introduction into Japanese one-pot cooking. 
Donabe: Classic and Modern Japanese Clay Pot Cooking has a little more detail in this book of the history of some of the dishes plus more general information on seasoning the traditional clay pots, donabe, as well as ideas for substitutions if ingredients in your area are harder to find. Price ranges from $19 to $35 USD.
Portable Gas Stoves
The best way to cook a pot of food in the middle of the table, without building a fire, is to use a portable gas stove. These handy little devices make cooking anywhere super easy. Below are a few that I've used, the first is the one I prefer but the other options may be a little more budget friendly; prices range from $30 to $345. 
Iwatani Amorufo Premium is an amazing little burner, imported from Japan, where it is very popular for everyday cooking. The fuel is liquefied petroleum gas, or a butane fuel canister, which can be easy to find if you have an Asian market near you or a camping supply store. I've also found them in the big box stores like Wal-Mart and Home Depot. 
Gas ONE GS-3900P 15,000 BTU Portable Stove or Gas ONE 10,000 BTU Portable Stove both of have been used many times for camping and are a great addition to have during power outages. The GS-3900P uses either butane or propane making its canisters a little easier to find. 
Sukiyaki Pans
Making the traditional Sukiyaki dish in the Nabemono style is easily done with either cast-iron pots or the more traditional clay (donabe) pots. A quality sukiyaki pot should be made from solid cast-iron and some will have a wooden lid to help with steaming. The beauty of these pots is they are nearly indestructible (trust me) and they can give a little bicep workout when full. Fortunately, they come with handles. Prices range from $35 to $140.
The Oigen Nambu Ironware Sukiyaki & Dumplings Iron Pan comes with a solid wood lid that fits nicely over the wide cast iron pot. On a hungry day, you can fit about 20 dumplings into this pot!
The Iwachu Iron Sukiyaki Pan does not come with a lid but it does have a nice handle across the top instead of two on the sides to make carrying a little easier. The Iwachu and the Fuji Merchandise Japanese Style Cast Iron Sukiyaki Tetsu Nabe Pot are both a little more budget friendly than the Oigen Nambu but are both made from solid cast-iron and provide the evenly heated surface that is all important. 
Japanese Style Donabe Pot
The traditional donabe pots are made from clay which provides a little different cooking experience which took some getting used to though the quality definitely pays off. The clay allows heat and moisture to pass through the walls of the pot, unlike metal pots, which makes cooking rice or steaming dumplings better than you can imagine. There is a definite reason this has been the way to cook Nabemono for hundreds of years. Remember though, clay takes a little while to heat up but once it does it retains the heat beautifully! Prices range from $35 to $400.
The Nagatanien Donabe Rice Cooker serves about 5 cups of rice, which if you use it for Nabemono dishes means enough for a family to share is cooked each round, and is the best option I've found. 
To start off with, before going all in on the Nagatanien, try the Kotobuki Shigaraki Tenmoku Hakeme Donabe Japanese Hot Pot which is a lovely traditional pot big enough to serve three or four people. If you only need to make enough for one or two people, the Japanese Style Donabe Rice Cooker is a nice little pot perfect for small batches. Both are a good entry point into learning to cook with the traditional clay pots.
Electric Grill With Hot Pot
Instead of going the traditional route of a separate pot over a burner, using a combination electric grill and hot pot is a great option for cooking multiple types of food all at once. These types of cookers come with a center lidded pot surrounded by a circular grilling surface. These make great eye-catching display of food that can be fun to watch and encourages each person sitting around the table to keep an eye on their portion while it's grilling and adding their favorite choices as space becomes available. Prices range from $70 to $365.
The best combination grill and pot I've seen, this allows for dual-control for both cooking areas and will automatically cut off if it reaches 220 degrees Celsius.
Made for family servings, this combination pot and grill can serve up to six people. Might need a little larger table if you want to use it as the centerpiece on the table it can certainly free up using multiple pieces of cookware by combining it all into one on the counter. 
With a 1.6 liter lidded pot in the center and a surrounding grill area, this is a great option for cooking for one or two people and makes cooking super convenient right on the table it probably wouldn't suit to make a bigger family size meal.
Serving Tray and Platter
Food presentation is always important, and while Nabemono is intended to be taken straight from the cooking pot to your bowl or plate using good quality wooden trays to hold the waiting ingredients can dress up the table or they can be used as plates as well. 
Solid wood trays and platters make a lovely display on the table and have non-slip handles for lifting and passing around. They also have raised edges which can be very helpful when loading them with vegetables or noodles that might try to slip away. 
These three long wooden trays, who also have raised edges, made from acacia trees are dishwasher safe and resistant to stains. Great for parties or serving dishes on the family table, they can also double as plates for an attractive way to arrange your selections from the pot. 
Chopsticks
Learning to use chopsticks can sometimes take a while or picked up immediately. Children may find it easier to use a training set, and adults should never shy away from a good practice pair either. 
For Adults
 Made for right-handed individuals, this single pair of chopsticks is meant to help train your hand to hold chopsticks properly but not necessarily use for eating. I have found it useful if it has been a while to just hold these for a few minutes to readjust then switch to another kind of chopstick.  
This set comes in 5 different colors making it a little easier to distinguish who's is who's on the table. They are made from different types of wood including rosewood, ebony boxwood, chestnut, and cherry and come varnished for easy care and cleaning. They also have a non-slip design at the top for easier grip and can be stored in their box when not in use and make a great gift.
Made from natural wood, these chopsticks are dishwasher-safe and are 8.8 inches long so meant more for adults but kids who are proficient with chopsticks will find them easy to use as well. These are a good quality option and meant to last for years.
For Kids
A set of two Mickey & Minnie chopsticks perfect for kids to learn how to hold their chopsticks correctly. The toppers can be removed and placed on other chopsticks, but the included chopsticks are made from easily cleaned, dishwasher safe, plastics. This set is for right-handed kids and has training brackets along the side to help them learn finger placement.
When learning to use chopsticks both kids and adults can run into trouble figuring out how to hold them and keep them together. This is a great set of 4 colorful chopsticks with little animal figures at the top that slide over the ends to hold them while practicing with picking up food. The animal toppers are designed to come off and will slide over the ends of many other chopsticks if the others are lost or more traditional wooden ones are desired. 
Chopsticks Rest
 Made from ebony wood they are the more traditional style of chopstick rests that feature a concave curve to place the chopsticks neatly on which helps to prevent them from rolling away or getting sticky sauce on the table. Comes as a set of six.
These wooden stands are a great multi-purpose option. Not only can they be used as a chopstick rest but the hollowed out section can be used to hold dipping sauces which can eliminate an extra dish at each place setting. They are made from restaurant-grade wood and are easily cleaned.  This set comes with 4 rests and 4 chopsticks.
 Each of these rests are about 1.2" in diameter and are great to slip into your purse or pocket to take with you to restaurants or easily stacked out of the way at home. They are made from ceramic and each have their own design making these great gifts as well.