Ramen has grown in popularity outside of Japan in the last few decades – and with good reason: this delicious noodle soup provides the ultimate in hearty, filling, and healthy comfort food.  Which is why it pains me to see most people enjoying unhealthy and underprepared instant noodles instead of the international delicacy ramen can be!  
I love cooking ramen at home with homemade noodles and filled to the brim with delicious meats and vegetables.  And I want you to be able to have the same delicious experience.  So put down the dollar store instant noodle packets with a week's worth of sodium per serving and let's look at some ways to upgrade your ramen dishes.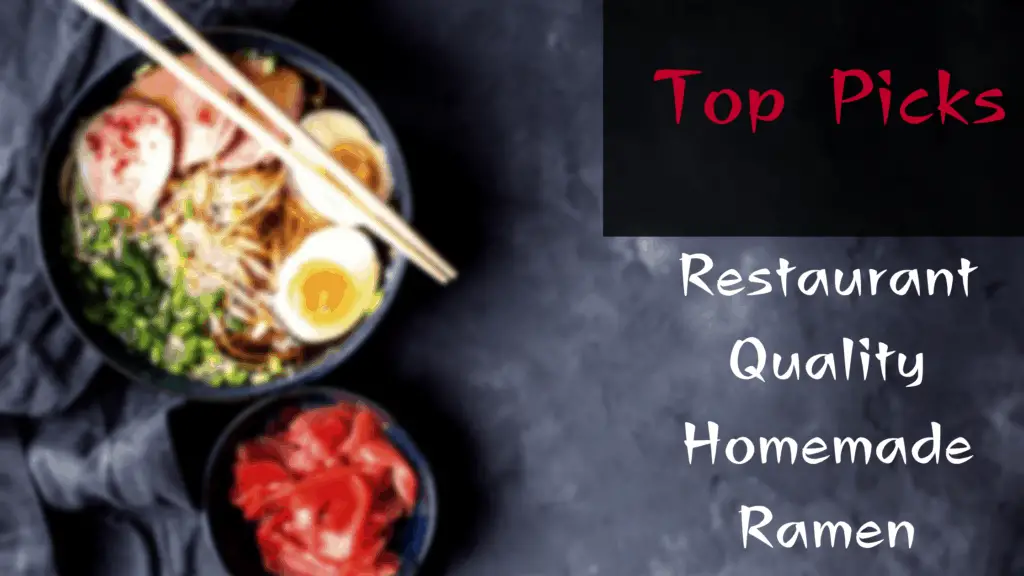 Finding The Perfect Ramen Bowl
First, ramen bowls. The perfect bowl will keep your soup warm even on a cold night.  It will have plenty of room for as many noodles as your heart desires – long noodles bode a long life, after all – and healthy meats and vegetables.  Bonus points if the bowl is dishwasher safe and easy to clean, use, and store.  Here are some of my favorites:
I use this large ceramic bowl any time I make ramen and any other noodle dish. The textured ceramic feels traditional and sturdy and I love the way drinking soup out of the bowl feels. The high-quality ceramic keeps soup hot and is heavy enough that I never worry about knocking it over. It's the highest-priced bowl on this list, but worth the extra money.  The dishwasher-safe set comes with two bowls, two soupspoons, and two sets of chopsticks. I love the wooden utensils and their traditional, beautiful design. And with a capacity of 51 oz. — almost double the average ramen bowl! — it holds huge portions so I can make sure that everyone has had their fill.
If the extra-large ceramic bowl is out of your price range, Vallenwood's ceramic bowl is a great middle-priced alternative. The restaurant-quality ceramic is safe to use in the microwave, oven, freezer, or dishwasher, which makes it a convenient option for families always on the go. Besides two beautiful ceramic ramen bowls, it also comes with beautiful utensils, including two spoons, two forks, two sets of chopsticks, and two chopstick rests.
This red and black melamine bowl is the quintessential ramen bowl and perfect for those looking for a more budget-friendly option. It was the first ramen bowl set I ever bought and every time I used it, it would bring back fond memories of drinking ramen in a tiny ramen shop with friends from identical red and black bowls. 
Melamine is built to last. I still have my set and use it regularly, even after upgrading to a ceramic bowl. They keep soup hot and are microwave- and dishwasher-safe, which makes them perfect for everyday and family use. Each set of two bowls comes with two soupspoons, two sets of chopsticks, and a chopstick stand.
I recommend working with homemade noodles at every opportunity. They taste delicious and have an unbeatable texture. But I know that not everyone can make noodles at home, and I even need to use store-bought from time to time for convenience. That's when I use Ichiran.
Ichiran is a popular Japanese restaurant franchise that serves delicious ramen, and they offer these instant noodles so you can replicate your favorite dishes at home. They're delicious on their own as a standard instant noodle meal, or you can use them as the base for a full ramen meal with eggs, meat, and vegetables of your choice. Ichiran's instant ramen is the closest to authentic tasting ramen I've ever experienced in an instant noodle.
It can be pretty difficult to make tonkatsu ramen from scratch. It requires some ingredients you might not have at home and getting the flavor and consistency right takes a lot of practice, which is why I recommend this tonkatsu ramen pork soup. As much as I love cooking, I rarely have pork bones lying around and I'm sure you don't either. It's so convenient to have a bone soup base in my cabinet, and this particular base makes the perfect ramen. It's got great pork flavor without tasting gamey. Real pork fat stays intact and it makes a silky-smooth broth. Its flavor is just neutral enough that you can customize it to your taste. I love making it spicy or adding miso.
Before I got a copy of Simply Ramen, I pretty much stuck to the basics: vegetables, slices of meat, and an egg. Now I feel confident that I could make a ramen bowl with any ingredient I happen to have on hand or for any mood. The only con is that some of these recipes can be a little intense. Still, the end product is delicious, so I think it's worth it!
This book features 70 – yes, seventy! – different ramen recipes and every single one I've tried so far has become my new favorite dish. You can feel the care author Amy Kimoto-Kahn put into researching and writing this cookbook, filled with family recipes, traditional meals, and more innovative offerings.  There's so much more to ramen, and Simply Ramenshows you just how large the world of ramen can be.
Conclusion
Any ramen lover knows that ingredients and place settings make a huge difference in the meal.  It's the difference between a 99¢ instant noodle packet microwaved in a cereal bowl and a creamy, flavorful soup with eggs, meat, condiments, and vegetables served in an authentically Japanese-style noodle bowl.  I love making ramen at home, and these bowls, soup base, noodles, and cookbook help me create delicious meals for myself and my loved ones, so I heartily recommend all of them if that's something you would like to do, too.  
Now all this talk of noodles has made me hungry, so I think I will go eat some ramen.