Bonsai trees are gorgeous, finicky, hardy, delicate, needy, and long-lived all at once. The oldest I have is 22 years old and still going strong through three moves, a cross country drive in the back seat of a hatchback next to four pots of gigantic African Violets and a confused looking spider plant that left little pieces of itself in five different hotel rooms.   
My little Bonsais have had a few near death experiences but have always rallied back around to thrive again once more. Poor choices in soil and pruning disasters being the biggest culprits, the trial and error years have yielded some valuable information. Below are some of my best recommendations for each aspect of caring for a Bonsai tree including different types of soil, repotting tools, and nutrients to use to keep your Bonsai looking and feeling its best.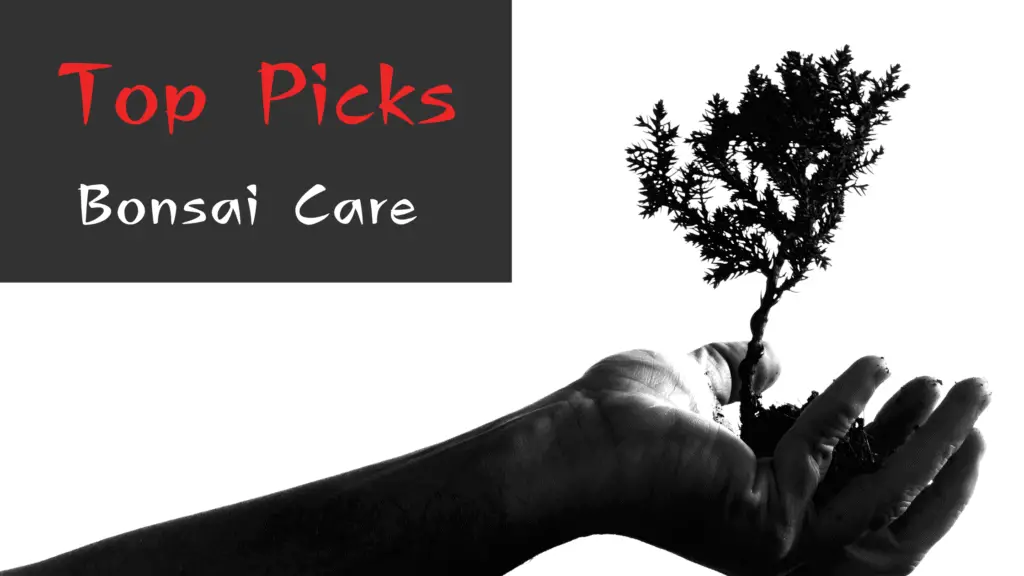 Books
The Secret Techniques of Bonsai: A Guide to Starting, Raising, and Shaping Bonsai 
Knowledge is power and when it came to my Bonsai trees I needed all the help I could get. This book is a favorite of mine that covers growing and caring for Bonsai from seedlings to shaping. The author, Masakuni Kawasaumi III, is the first qualified tree doctor for Bonsai in Japan and he and his son co-wrote this book combining their years of experience. 
Soil
All- Purpose
Tinyroots Bonsai Soil Premium Blend
You can get pretty specialized soil specifically for the type of Bonsai you have (see Conifer and Tropical below) but this is the best all-purpose soil I have found. Designed for Bonsai, I have actually used this on other small plants when I was running short during re-potting and my Money Tree in particular did well in it. Bonsai need a lot of moisture and drainage to thrive and this is a mix of mulch and clay that gives just the right amount for a Bonsai's root system.
Conifer
Conifer Bonsai Soil by Tinyroots – 100% Organic Formulated for Junipers, Black Pine, White Pine, Cedar Cypress and Other Conifers
As suggested in the product title, this soil is specifically designed for conifer trees. If you find that your Bonsai isn't responding like it should to an all-purpose soil or you just want to give it a bigger boost this is a trusted soil to use but do make sure that your Bonsai is a confer and not a tropical tree. The soil content is a little different for each.
Tropical
Tropical Bonsai Tree Soil Blend – from Tinyroots
The tropical blend of soil can be used for Bonsai and for some succulents as well as various cacti. This type allows for very fast drainage while helping the roots retain the necessary moisture. I have had to do a little trial and error with some of my trees and succulents and this soil has certainly benefitted quite a few who didn't seem to be getting everything they needed from the all-purpose soil.
Tool Sets
Bonsai Tool Set by Tinyroots – 11 Piece Set
This is the best set I have used so far and while some of the tools may be more for advanced Bonsai trimmers (which I do not count myself one of) getting the complete set like this of high quality tools ensures that you always have any kind of tool you might need. They come in a bamboo case with each tool in its own particular spot, it also comes with a roll up bag carrier that you could use to carry the tools around in but I haven't found it be particularly useful and much prefer the box.
Bonsai Tool Kit by Tinyroots – 5 Piece Set
This is a mid-range set price-wise and comes with the most commonly needed tools for caring for your Bonsai including butterfly shaped shears, a concave cutter, wire cutters, and a hemp broom, all neatly kept in a bamboo case. Made from carbon steel they should last a very long time with proper care.   
POWERENG Bonsai Tree Pruning Carbon Steel Tool Kit – 15 Piece Set
A fifteen-piece set made of carbon steel, this has tools you didn't know you needed until you had them. It comes with a leaf trimmer, Jin pliers (for peeling back small pieces of the bark to dry out the wood), a root hook, and more. It also comes with some small rolls of aluminum wire of various thicknesses for shaping the branches though if you spend any time shaping branches you will probably find that you need more wire than what comes with this set and it only comes in one color which makes camouflaging the wire more difficult. 
Soil Scoops
If you need an all-purpose scoop, and who doesn't, this a great one to have as it comes with lightly serrated edges to help with cutting root systems and can also be used to open the potting soil bad (cannot count the number of trips back I had to make to get something to open the potting soil bag before this). The opening on this scoop is a little bit bigger than is usually done for transplanting Bonsai but it is perfect for sifting soil and filling the new pots. 
Bonsai Tree 3pcs Soil Scoop Set from BonsaiOutlet
A set of three stainless steel scoops that will not rust if left outside, these are a very durable, long-wearing option that are great for transplanting. When trying to move plants out of little pots into other little pots you can find yourself making a giant mess of soil so these are the perfect size for maneuvering around in confined areas.
This is a set of two small scoops, made from hardened plastic, that are great for transplanting your smaller trees or other plants that have more condensed root systems. The openings measure 2 ½" wide and 1 ¾" wide and about 6" long with a round end for your hand to hold onto.
Nutrients
Uncle Bill's 0-10-10 Fall Fertilizer
Expressly for use in the winter months, this will help keep the roots healthy and is great to use for newly transplanted Bonsai trees that can sometimes react portly to new soil. This does not encourage the leaves to grow, important during the winter months when the tree should focus on its root system and getting ready to bud and flower in the spring. This little 8-ounce bottle is a concentrated formula so it definitely needs to be diluted per the instructions and can make up to 16 gallons.
Bonsai Fertilizer Plant Food for Live Bonsai Tree in Pots Starter Kit
One of the best things I have found for keeping my Bonsai healthy, after a few mishaps wondering why they were losing their color and vitality, year round is adding good quality nutrients to the soil. This is very important for indoor plants who aren't receiving anything through the ground but are relying entirely on what's present in the soil in their pots. This starter kit is a great all-purpose source of nutrients that can be used year round and can be used every time you water without risk of burning the leaves.  
Pots
BonsaiOutlet Bonsai Tree Pot – 6″ Yixing Pot
The 6" Yixing pot is made by hand and comes from the purple clay found in China near the Yangtze river. These are very traditional in shape and if you want to have a more uniform arrangement of pots these look great all lined up with the different Bonsais providing the color and attracting the eye more so than the pot.
Dahlia 5.2″ Top Virtue is Like Water Zisha Bonsai Planter Flower Pot with Saucer
These little pots come with a saucer to catch draining water and have about eighteen designs to choose from. They do run a little small and are better for young trees or ones that don't have an extensive root system just yet, tending to run between 2.5" to 4" tall and 4" to 5" wide. Most of the pots come with a little design or saying etched into the side of the pot. I have also used these for starting African violets or other small plants that do better with the smaller size until they grow and need to be transplanted. The best thing about having eighteen designs is that they all look different but arranged together they still flow nicely making a very visually lovely display. 
Training Wire
Zhanmai 9 Rolls Bonsai Wires Anodized Aluminum Bonsai Training Wire
A great option for training the branches and providing support to your Bonsai as it grows. This comes with nine rolls of wire in three different sizes and you have a choice of color to help with camouflaging its use within the leaves and branches. It is very important to use the most appropriate size for the area of your Bonsai you are working on; use the finer wire on the smaller more delicate branches and the thicker wires on the trunk and main branches. Copper is also used frequently but this aluminum wire is considerably easier to bend which is very helpful when working around small delicate leaves and branches.